[ad_1]

'There's a lot to see at this year's show for anybody that came in 2019, because it's just a different world'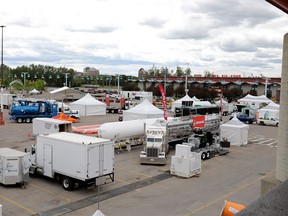 Article content
It might be the longest wait ever for an energy speech in Canada.
Article content
Former U.S. energy secretary Rick Perry was slated to deliver a keynote address to the 54th annual Global Energy Show in June 2020, coming as the oil and gas universe had just been turned upside-down like a snow globe.
Benchmark U.S. crude prices tanked to negative $37.63 a barrel in April 2020 as the COVID-19 crisis steamrolled energy demand, while an oil-price clash between OPEC and Russia was finally over.
However, for the first time in its history, the popular exhibition and conference — formerly called the Global Petroleum Show — was cancelled because of the pandemic.
By 2021, just a few days before the forum was slated to meet again in person in September, the province declared another public health emergency, again bumping a scheduled speech by Perry.
Article content
Next week, however, the former governor of Texas and a number of other key speakers — including Cenovus Energy CEO Alex Pourbaix, Nigeria's minister of state for petroleum resources, and the chief operating officer of Ukraine's state oil and gas company — will mark the return of the annual in-person event after a 36-month absence.
"From when we closed the show in June of 2019, and here we are coming up in June 2022, has been an absolute odyssey. But we are still here," show director Nick Samain, a vice-president with dmg events, which runs the exhibition, said Tuesday.
"There's a lot to see at this year's show for anybody that came in 2019, because it's just a different world."
Indeed, it's a much more uncertain and complex time for producers and consumers.
Article content
Global energy prices have taken off this year. Consumers have faced record pump prices and surging electricity and natural gas bills.
West Texas Intermediate crude prices jumped past US$119 a barrel on Tuesday before closing at $114.67 as European countries agreed to ban Russian oil imports by the end of 2022.
The invasion of Ukraine by Russia has revived long-dormant concerns surrounding global energy security. European countries are now looking to invest heavily in renewables to speed up the energy transition.
In Alberta, billions of dollars in proposed hydrogen and carbon capture projects have been announced in the past year. And six of the country's largest oilsands producers are working together to reach net-zero emissions by 2050.
Article content
Meanwhile, oilpatch drilling activity is picking up, and the Canadian oilfield services sector faces ongoing labour shortages.
"We have an opportunity to make the world a better place (by) reducing energy poverty and that's a huge topic right now for everybody," said Petroleum Services Association of Canada CEO Gurpreet Lail.
"We need to get on a world stage and start talking about unlocking Canadian energy — and that can be all forms of energy."
It seems appropriate that the theme of this year's show is about shaping the future of energy, given the transformation taking place.
"There's an acceptance that no single source of energy can meet Canada's or the world's energy needs. That's what this show addresses," Samain added.
Article content
Such events are important to the local economy and for the broader business conversation, and many larger gatherings are just coming back after a two-year hiatus.
The three-day Inventures conference, hosted by Alberta Innovates, begins Wednesday in Calgary. Organizers expect just under 2,000 people to attend the annual technology and innovation summit.
"It's all about empowering innovation in Alberta to make things happen, to get people back to work, to get people gainfully employed, to match entrepreneurs with investment," said Dwayne Brunner of Alberta Innovates.
The in-person Inventures event was also cancelled the past two years due to the pandemic.
Three years ago, the Global Energy Show was estimated to have attracted $45 million in economic impact to the city through the direct spending of attendees, organizers and exhibitors.
Article content
This year's show, which begins next Tuesday, is expected to attract up to 30,000 people over three days, along with more than 500 exhibitors. Sessions include topics on financing the energy transition, the oilsands moving to net-zero emissions and energy security within North America and Europe.
With projects like LNG Canada and the Trans Mountain pipeline expansion moving forward, Canada will soon have the ability to provide additional oil and gas supplies to the world, noted Kevin Birn, a vice-president of S&P Global Commodity Insights and part of the panel on North American energy security.
"We are not an island and we are connected to the world," Birn said. "North America has the potential to become a major pillar of energy stability in the world. And we have to square the environmental story still within our own continent, though."
Article content
There will also be sessions on hydrogen, how the war in Europe is a catalyst for long-term renewable investments, as well as the future of geothermal energy and small modular reactors.
"Energy is transitioning and there's more to energy in Alberta than just petroleum," said Dan Balaban, who will speak at the show and is CEO of Calgary-based renewable energy company Greengate Power.
"The energy conversation is changing rapidly and in real-time … I expect there to be a lot of conversations around net-zero as well, and how we transition our energy system. So, it's a really exciting time to be in energy."
Chris Varcoe is a Calgary Herald columnist.
[ad_2]

Source link