Article content
The energy industry is in the early stages of a bumpy transition, but the Canadian oilpatch is eyeing two critical moves that will define its future: shifting the oilsands to net-zero emissions and accessing global markets for natural gas.
Article content
Separate events in downtown Calgary this week highlighted the progress being made, but also the road ahead to decarbonize the oilsands and get natural gas from Western Canada to export markets.
It won't be easy, but if both are successful, it will position the sector for the future as global demand continues for safe, secure — and cleaner — sources of energy.
"The biggest puzzle piece right now on both gas and oil is what do we want to do with this resource, particularly now that the value of the resource has improved so much," said industry analyst Ian Archer, an associate director with S&P Global Commodity Insights.
"We're at a real crossroads."
At the Inventures technology and innovation conference in Calgary on Wednesday, one panel delved into the steps being taken by the Oilsands Pathways to Net Zero Alliance.
Article content
Formed last year by Canada's largest oilsands producers, the companies have agreed to work together to reach a net-zero emissions target by 2050. The alliance's foundational project would build a CO2 trunk line connecting oilsands operations near Fort McMurray to a carbon sequestration hub in the Cold Lake area.
In the future, the group will also look at deploying solvents in thermal oilsands operations to lower emissions, using more electrification — potentially involving small nuclear reactors — along with the production of hydrogen and direct-air capture initiatives.
The six companies, including Canadian Natural Resources and Imperial Oil, now have about 120 people working on various pathway projects.
Article content
"This is an initiative that's bigger than any one of us," Joy Romero, executive adviser of innovation at Canadian Natural Resource, told the conference.
"This is not just about oilsands. This is about getting to net zero around the globe. This is about solutions, not just (in the) oilsands but for Canadian industries."
Many of the technologies under the microscope have broader applications for other emissions-intensive industries, such as cement or petrochemical manufacturing.
Varcoe: Alberta's oilpatch faces daunting reality of tough new emissions targets

Varcoe: Carbon capture odd couple — Kenney and Guilbeault share stance on oilsands and carbon capture
In the first phase, the alliance expects to eliminate 22 megatonnes of annual emissions by 2030, with 10 megatonnes coming from carbon capture, utilization and storage (CCUS) projects.
Article content
An application for pore space needed to store the CO2 deep underground has been made to the province, Mark Cameron, the alliance's senior adviser for external relations, said in an interview.
The estimated capital cost for the first phase is around $14 billion, including the pipeline hub and carbon capture developments. The solvent-based oilsands projects would be another $5 billion to $6 billion.
"Research is going to be required for us if we're going to win the energy transition — and we're going to win it," James Dunn, Imperial Oil's director of sustainable technology integration, told the conference.
While oilsands producers are busy charting a road to net zero, natural gas producers hope to export LNG to other countries, displacing higher emitting energy sources, such as coal used in power generation.
Article content
Benchmark U.S. gas prices have jumped more than 120 per cent this year as global demand for LNG has surged following Russia's invasion of Ukraine.
Canadian natural gas output is rising, with Archer forecasting that production will average about 16.9 billion cubic feet (bcf) per day this year, up from 16.1 bcf last year.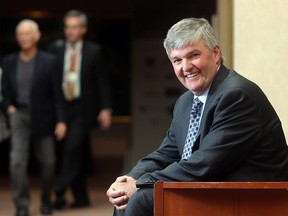 At the annual meeting Wednesday of Tourmaline Oil Corp., the country's largest gas producer, CEO Mike Rose emphasized the potential for the industry to increase output from the prolific Montney formation.
Located in northern Alberta and British Columbia, the Montney is already producing about 8.6 bcf per day, Rose noted.
"As far as where it sits in its development life … from all the various estimates on what's left, we are not just in the first inning, we're almost at the first pitch," he said.
Article content
"It will backstop — if we choose to — a very large Canadian LNG business and hopefully that materializes."
Only the LNG Canada project on the Pacific coast is currently being built in the country. With the decision by European countries to shift away from Russian gas imports, the federal Liberal government is examining the prospects of moving LNG off of Canada's Atlantic coast.
Yet, it's uncertain if any new projects will proceed or the timing required to make it happen.
LNG holds great potential and Canadian producers such as Tourmaline and ARC Resources have already announced long-term deals to supply natural gas to U.S. LNG export facilities on the Gulf Coast.
Getting additional projects going in Canada would require more pipeline capacity in this country.
Article content
"The federal government is more interested in natural gas than they have been in the past. And we'd like to see that continue and maybe accelerate," Rose said in an interview.
"But what we need is the federal government to be supportive and help with the regulatory process for those pipelines — new pipelines — to move ahead."
When it comes to developing an LNG industry, Canada's biggest challenge is getting the necessary infrastructure through various review processes, which can take a decade or more, said Jackie Forrest, executive director of ARC Energy Research Institute.
For the oilsands to get to net-zero, much of the technology to lower emissions is understood, but the key will be making the economics work.
With Russia's invasion of Ukraine, the world will require safe and secure sources of energy to support the transition, Forrest noted.
"There will be a preference for stable, secure hydrocarbons from countries like Canada, but also (be) clean," she said.
"We are well equipped to supply that — assuming, in the case of LNG, we can build the infrastructure, and in the case of C02, we get these projects going on CCUS."
Chris Varcoe is a Calgary Herald columnist.