[ad_1]

'These core ideas are really building upon our strengths, but also reimagining what energy, what food, what health could be in this province'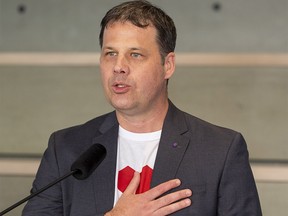 Article content
There are no shortages of complex economic and social problems on the horizon today.
Article content
But a new 10-year economic blueprint released Thursday says Alberta can "take on and deliver solutions" to three daunting global challenges — keeping people healthy, feeding the world and providing low-carbon energy in the coming years.
The new report from the Business Council of Alberta is the culmination of a nearly year-long consultation and research process by the group, setting out a game plan for the decade ahead.
"We feel Alberta's best days are ahead of us," the document states. "But to secure prosperity for all Albertans, we must plan that future on purpose."
Alberta can help produce more food with its access to clean water, air and land, the report states. In fact, the province has the expertise and strong trade links "to become an agriculture and agri-food powerhouse."
Article content
The province also has a bounty of natural resources to supply energy globally. The oilsands contain the world's fourth-largest proven oil reserves. Albertans have the skills to develop low-carbon energy, grow hydrogen production and deploy carbon capture, utilization and storage technology, it states.
With a single health-care authority, along with post-secondary institutes working on biomedical, virology and brain research, Alberta can also play a role on the medical front.
"These core ideas are really building upon our strengths, but also reimagining what energy, what food, what health could be in this province," said task force co-chair Cory Janssen, who is also the co-chief executive of AltaML.
Article content
"The biggest challenge is getting co-ordinated and rowing in the same direction."
The study also highlights a series of potential needle-moving ideas that could propel the strategy forward.
Some recommendations are strictly economic, such as launching a blue-ribbon panel on Alberta's future revenue model and earmarking a portion of provincial resource revenues to be saved in the Heritage Fund.
Others deal with environmental issues facing Alberta, including a call to increase the land base that's set aside for parks and protected areas, and a separate recommendation to develop a strategy to clean up orphaned wells.
The study talks about improving the quality of life for Albertans, and supporting equity, diversity and inclusion. It recommends developing a provincial arts and culture strategy, a separate physical and mental wellness strategy, and creating a Truth and Reconciliation Museum.
Article content
On education and employment, Alberta should craft a workforce development plan and establish and "adequately fund a provincial post-secondary education enrolment growth strategy."
Other proposals include the creation of an Alberta Venture Capital Investment Fund and ensuring high-capacity broadband service is available to people across the province.
"At the end of the day, it always comes back to people," said Janssen. "It goes beyond just GDP or trade numbers."
To reach these goals, the report recommends setting up two "catalyst" organizations.
The Heartland Economic Region would deal with transportation and infrastructure issues, along with attracting investment, for the province's cities and Indigenous communities.
Article content
And the Alberta Mission Agency would operate independently from government, but ensure the public and private sectors work together.
It would be modelled on the success of the Alberta Oil Sands Technology and Research Authority, which helped with the resources' development after the Crown corporation was formed by the Lougheed government in the 1970s.
"Give it sufficient funding. Give it sufficient connections to everything from the post-secondary research community to the business community, to put in that high-risk, early-stage patient capital that's needed," said business council president Adam Legge.
"All of those potential moon shots are going to require early stage, arm's-length activity that isn't constrained by the typical cycles of government."
Article content
With the province's economy on the ascent, energy prices rising and the jobless rate falling to its lowest point in seven years, conditions have shifted since the task force led by Alberta business executives was first announced last summer.
Alberta is in a much stronger position today. But during a period of transition, now is the time to discuss new possibilities — and begin planning — for Alberta's next economic chapter.
"This is a great piece of work and I hope people who are thinking about running for office or thinking about the next election will look at it carefully," said Calgary Chamber of Commerce CEO Deborah Yedlin, who is also chancellor at the University of Calgary.
"This is Alberta's golden age. I think we're entering another era of incredible opportunity and we have to allocate our resources properly so we can seize it."
Chris Varcoe is a Calgary Herald columnist.
[ad_2]

Source link