'This latest round just showcases this is a global company that can build, grow and scale here'
Article content
Attabotics, one of the city's high-profile tech-sector firms, is set to announce one of the largest fundraising rounds in the province's recent history.
Article content
The company, which designs and manufactures an automated storage and retrieval system that uses robotics, will announce Tuesday it has raised US$71.7 million (nearly C$96 million) in a Series C-1 fundraising round.
Article content
The round was led by Export Development Canada (EDC) and includes the participation of the Ontario Teachers' Pension Plan Board.
The funding will help accelerate the commercialization of the company's warehousing technology "in the wake of growing post-COVID-19 demand," the company said.
"When you want to build something that disrupts an industry, it's a path that takes lots of support," founder and CEO Scott Gravelle said in an interview.
"Now that we've come to the commercialization phase, it's time to now grow the company into all the market opportunities that exist globally. So this next round of funding is to keep moving the idea forward."
Article content
Founded in 2016, Attabotics designs and manufactures an automated storage and retrieval system that uses robotic shuttles. It reduces the amount of warehouse space for clients through its vertical storage structure, which was initially inspired by the framework of ant colonies.
The latest fundraising round increases Attabotics' total funding to date to US$165 million since 2019.
In August 2020, the Calgary-based firm raised US$50 million in funding led by the Ontario Teachers' Pension Plan Board.
"The market keeps validating the opportunity that's there, so (we're) thrilled to have the support, especially in the market that we're in — and I can't stress that enough," Gravelle said.
"We are in one of the lousiest funding markets (for the sector) that has existed in a very, very long time."
Article content
No longer a one-trick pony, perception of oil-town Calgary is changing

Varcoe: Tech sector gets more traction in Calgary as big investors target Attabotics

'I got this wrong': CEOs can't stop saying sorry amid mass layoffs and job losses
The company has more than 300 employees, including about 250 in Calgary.
It has become part of a new wave of growing tech firms in the province, along with companies such as Symend, Neo Financial and Edmonton-based Jobber, that have expanded rapidly, raising tens of millions of dollars and hiring hundreds of employees while diversifying the economy.
Two years ago, Attabotics was included on CNBC's Disruptor 50 list, and it recently was selected to install its storage and retrieval technology at a U.S. Marine Corps 5G smart warehouse in Georgia.
Article content
Attabotics was also one of the first funding recipients of the Opportunity Calgary Investment Fund (OCIF), launched by the city in 2018.
The $100-million fund, administered by Calgary Economic Development (CED), was created to kick-start growth and create jobs in strategic sectors in the city.
In December 2018, OCIF agreed to award up to $4.5 million to Attabotics to expand its local operations by constructing a new production facility near the airport, and to support the hiring of up to 150 employees.
"The thesis was bang-on. It was a disruptive technology that's done here in Calgary," said Brad Parry, CED's president.
"This latest round just showcases this is a global company that can build, grow and scale here."
Article content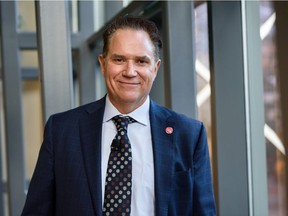 Tuesday's announcement by Attabotics takes place during a tough period as recessionary fears, rising interest rates and an economic downturn have hammered the North American tech sector.
Layoffs have hit large firms such as Meta, Twitter, Shopify and — according to a report on Monday by Bloomberg News — Amazon.com.
According to the Canadian Venture Capital Association, Alberta-based tech firms raised $509 million through the first nine months of this year in 75 separate deals, putting it on track to break last year's record of $631 million.
"All of the provinces are seeing a pretty remarkable slowdown whereas Alberta is, I would say, defying gravity for the time being," said association vice-president Christiane Wherry.
Article content
"The tech sector remains strong for now, but I wouldn't say that Alberta is immune to a slowdown that the rest of the country is seeing . . . Tech companies are going to have a very hard time raising capital, especially the ones who have not been profitable."
(The largest-single venture capital investment round announced by an Alberta-based tech firm during the past five years was $76 million raised by Jobber in 2021, according to the association.)
Sandi Gilbert, who is on the board of the National Angel Capital Organization and managing director of Calgary-based private venture fund InterGen, said the city and province are bucking the downturn of tech companies struggling to access capital.
"We're not feeling that here. Potentially, that's because we were not caught up in the frothy valuation situation that happened over the past 12 to 18 months," Gilbert said.
Article content
"We are not feeling the doom and gloom at all."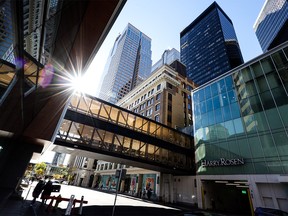 James Lochrie, managing partner and co-founder of Calgary-based Thin Air Labs, said some of the exuberance that drove funding for some tech firms in North America has been "corrected" by the downturn.
Now, there's more investor caution and a greater focus on funding quality companies.
"Great companies that are performing, that are going after big markets, that are seeing success happen and are continuing to gain investor confidence, they will always be funded," he said.
He noted the deal flow in Alberta is different from other parts of Canada, given the industrial nature of the economy — and the provincial tech sector is at an earlier stage of development compared with more mature markets in the country.
Article content
However, Calgary is also beginning to be recognized as a promising place to build such companies, with several homegrown success stories.
Gravelle said the sector's recent success is acting as a flywheel, driving more momentum, even in such uncertain times.
"There is a lot of opportunity here and I think we need to let the world know that this is a great location if you want to work in tech," he added.
"We are taking this funding and we're leaning into the opportunities globally (with) the expectations that we will continue to grow like we have been for the last six years."
Chris Varcoe is a Calgary Herald columnist.