[ad_1]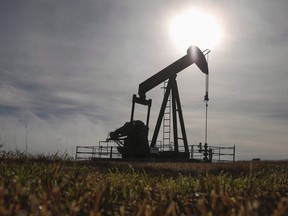 Article content
More hydrogen, more geothermal, more oil and more natural gas.
Article content
Alberta is an energy powerhouse and output is expected to keep climbing through the next decade — with production topping $163 billion in value this year — even as the debate grows about peak demand for fossil fuels and decarbonization efforts continue to gather steam.
The Alberta Energy Regulator's annual outlook report, released last week, forecasts the province will see production of most energy sources increase through 2031.
Overall oil supply is projected to expand, climbing by almost a quarter to top 4.6 million barrels per day (bpd) by 2031 — up from 3.7 million bpd last year — driven mainly by more oilsands production.
Marketable natural gas output is expected to inch up slightly to 10 billion cubic feet per day, while hydrogen production jumps 48 per cent and geothermal electricity generation is forecast to take off.
Article content
Only demand for old King Coal is fading fast, which isn't much of a surprise as Alberta is already phasing out all coal-fired electricity generation.
The regulator's report indicates total estimated production of all sources of energy will climb by 18 per cent over the next decade, along with modestly higher capital expenditures coming from the oil and gas sector.
"It does not seem overly optimistic to me, (but) it is certainly on the optimistic side of things," said economist Kent Fellows with the University of Calgary's School of Public Policy.
"But we will have new pipeline capacity coming online … and we do have a lot of oilsands operators who've steadily increased their capacity by adding more capital to brownfield projects."
Article content
Canada is the world's fourth-largest crude producer and Alberta pumps out 85 per cent of all domestic oil output, and 62 per cent of the county's natural gas.
The Alberta Energy Outlook report captures the impact of the major forces hammering markets today, from soaring gas prices to oil pushing through US$100 a barrel following Russia's invasion of Ukraine — sparking efforts by western countries to shift away from Russian supplies.
"The theme here is really that we need all forms of energy when we are transitioning from fossil fuels. So that transition … depends on energy security," AER principal economist Afshin Honarvar said in an interview.
"We have definitely that diversity in our portfolio."
The clearest sign of the tumult rolling through today's markets can be seen in the regulator's commodity price forecasts.
Article content
In last year's report, the AER's base-case scenario was based on benchmark West Texas Intermediate (WTI) crude prices gradually strengthening to $70 a barrel by 2030.
This year, the base-case scenario projects WTI prices will average $95 a barrel and dip to $77 within two years, before slowly recovering to $88 a barrel by 2031.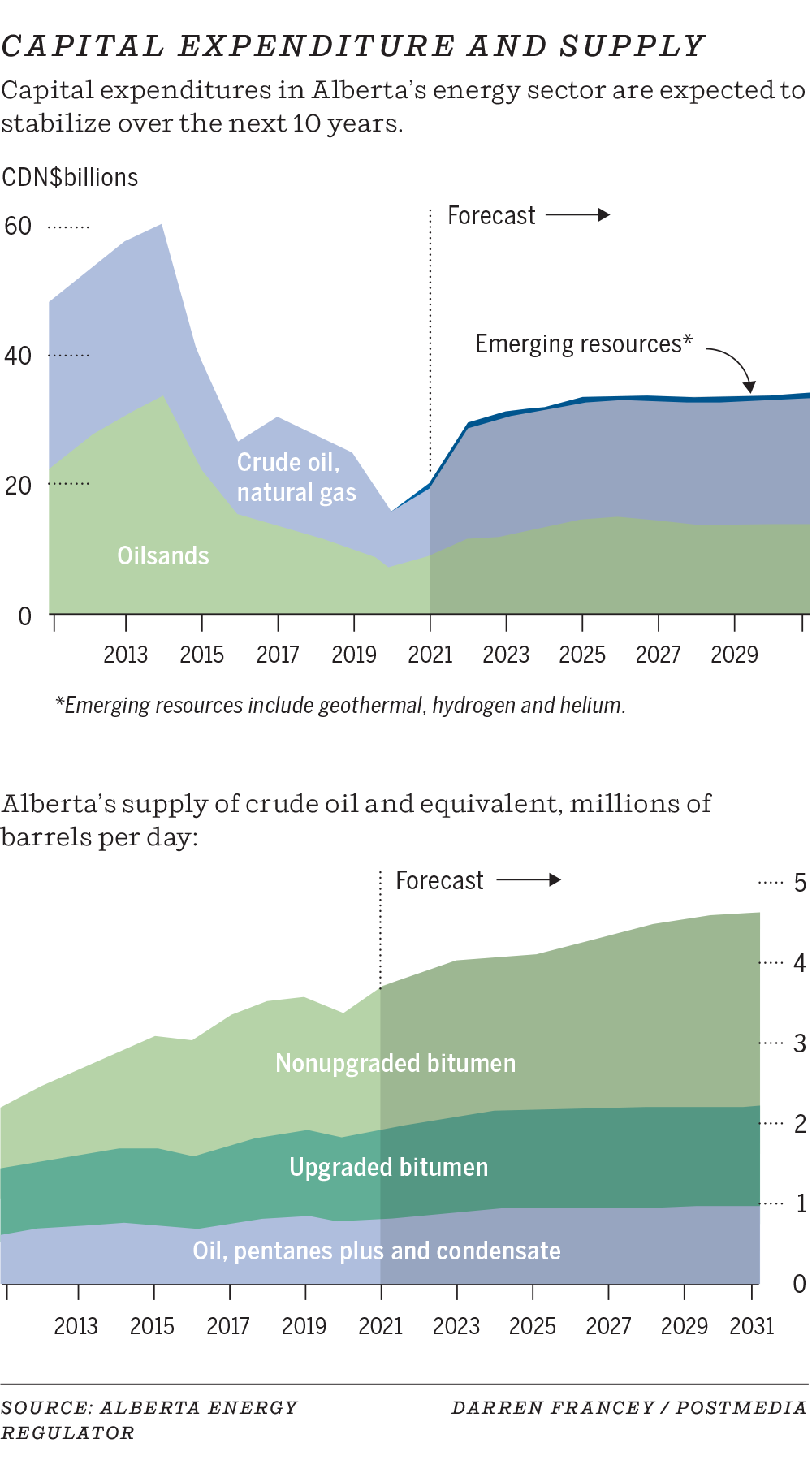 "The long-term forecast largely depends on the demand for liquid fuels. In the absence of policies that would reduce fossil fuel consumption, it is too early to predict a rapid decline in crude oil demand," the report states.
It's unclear how long geopolitical tensions will reverberate through energy markets. Other factors, including climate considerations and government policies, can't be ignored.
Article content
But the impact of the Russian invasion has altered the conversation around energy security.
"The shift in oil trade flows that we're seeing as a result of the Russian invasion will require more energy from North America — and Canada and Alberta are major energy producers," said Kevin Birn, a vice-president of S&P Commodity Insights in Calgary.
For Alberta natural gas producers, the regulator's new outlook is less bullish, but it projects AECO prices will average $3.55 per gigajoule this year and remain largely flat at $3.59 by 2031, while production increases marginally.
However, domestic demand for natural gas is expected to climb by 20 per cent over the next nine years, with most of the increase coming from the power generation and the oilsands sectors.
Article content
Last year, the value of all crude oil, bitumen, natural gas and natural gas liquids produced in Alberta topped $107 billion.
With higher prices and output, it's projected to climb to $163.5 billion this year, and reach $168.5 billion in 2031, according to AER projections.
"This is a sector that is certainly going through changes … but in the same vein, it is something that will be here for a long time," said Tristan Goodman, president of the Explorers and Producers Association of Canada.
"We continue to diversify our economy, but it's still a fundamental driver to the economy."
As global energy demand increases and prices remain strong, the AER forecasts higher capital expenditures by the oilpatch, although not to the heights seen in 2014, when annual spending topped $60 billion as new oilsands projects were built.
Article content
Capital expenditures by the oil and gas industry are projected to increase by 46 per cent this year to $28.6 billion from last year's levels.
By 2031, total industry capital spending will rise to $33.5 billion.
"It will be a fairly modest growth rate from where we were," said analyst Tim Monachello with ATB Capital Markets, noting petroleum producers are expected to maintain their financial discipline.
"For the industry, this is a good signal of strengthening fundamentals and that is starting to come through in spending."
Up to $800 million a year in capital spending will flow into helium, geothermal and hydrogen and other "emerging sources" this decade, the AER says.
Several proposed hydrogen production projects have been announced in the past year in Alberta. Domestic hydrogen production, which sat at 2.5 million tonnes last year, is expected to jump to 3.7 million tonnes next decade.
Article content
The AER also forecasts that installed geothermal capacity power generation will grow by an average 19 per cent annually by 2031.
"The development of helium and geothermal industries in Alberta is in its early stages, but the growth potential is high," the report states.
Total coal output, which fell by 30 per cent last year, will drop "significantly over the forecast due to rapidly declining demand for sub-bituminous coal as operators of coal-fired power plants transition to other sources of power generation," the report states.
Chris Varcoe is a Calgary Herald columnist.
[ad_2]

Source link