Article content
Alberta has hit its lowest unemployment rate in seven years.
Article content
The April Labour Force Survey from Statistics Canada on Friday shows Alberta with an unemployment rate of 5.9 per cent, the province's lowest mark since June 2015 when the rate was also 5.8 per cent. The unemployment rate in March was 6.5 per cent.
The improvement is due to employment rising by almost 16,000 for a monthly increase of 0.7 per cent. Full-time positions increased by 9,800 (0.5 per cent) and part-time employment went up 6,100 (1.4 per cent).
Article content
Calgary, however, is at 7.2 per cent unemployment, an improvement on March's 7.7 per cent. It is still the highest mark for a major metropolitan centre in Canada. Edmonton was at 6.9 per cent.
Trevor Tombe, a University of Calgary economist, said the statistics can be misleading if taken out of context. He pointed to the participation rate in the city which is actually improving, meaning more people are re-entering the workforce.
Article content
"What that does, even if the employment rate is rising, the unemployment rate can be rising, too," he said. "It is possible for unemployment rates to be high but as a consequence of a good thing. You don't want the unemployment rate to be low or falling because people are giving up searching for work."
Alberta is still playing catchup in the workforce market with most of the rest of the country. The national jobless rate hit a record low of 5.2 per cent — only the Atlantic provinces had higher unemployment rates than Wild Rose Country.
Article content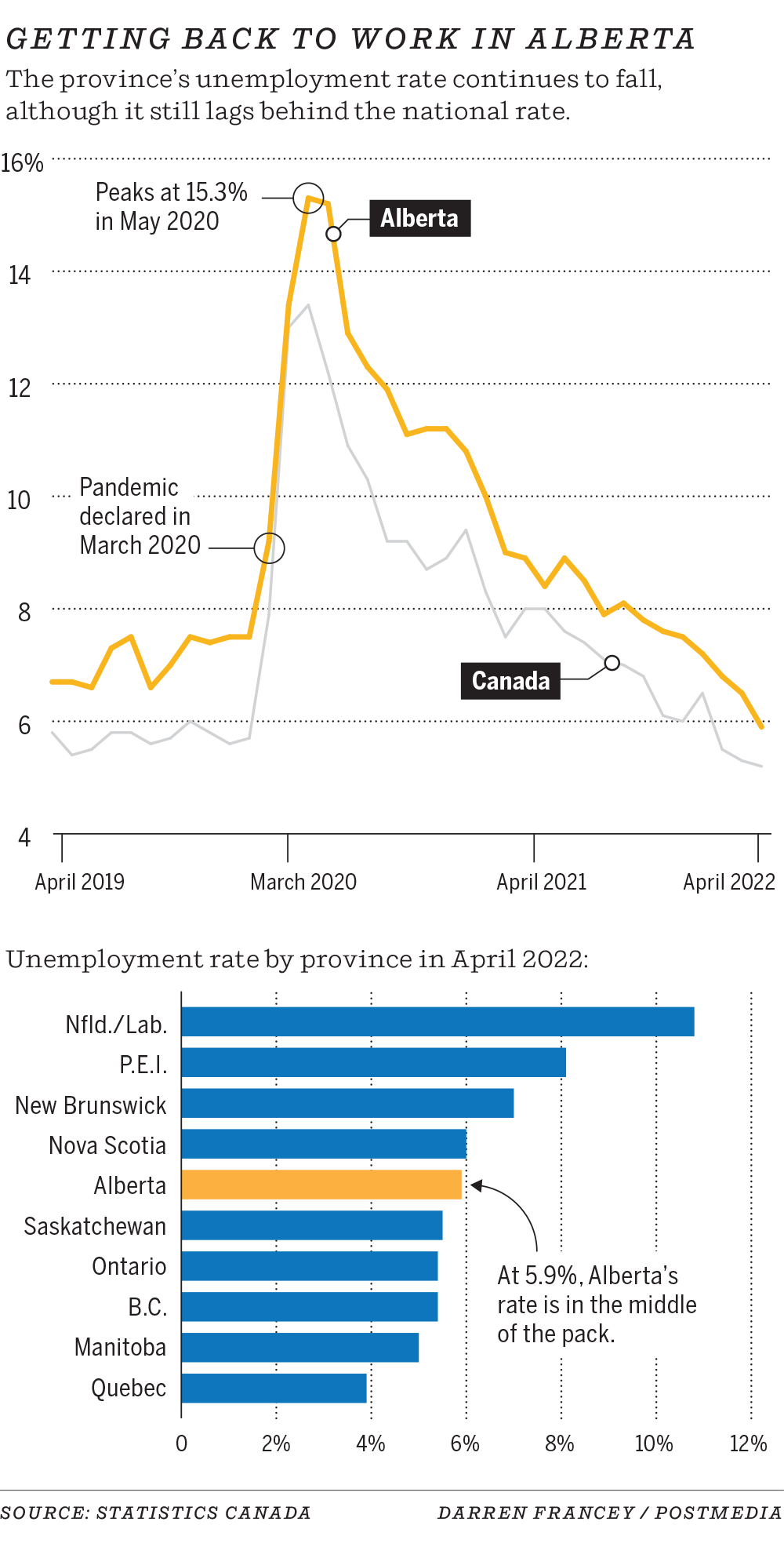 The job gains in Alberta were carried by the service sector, accounting for 17,500 new positions. This included 11,000 jobs in trades, 4,500 jobs in health care, 3,000 in transport and warehousing and 3,000 in education. There were losses of 4,000 in building and other supports, another 4,000 in other services and 2,000 in information, culture and recreation.
Article content
There was a decline of 1,400 jobs in the goods-producing sector, though agriculture did see an increase of 1,000 positions.
Hospitality still struggling
The accommodation and food service sector remains 20 per cent below its pre-COVID levels and lagging behind levels across the rest of Canada.
Ernie Tsu, president of the Alberta Hospitality Association, said his industry has been working with the provincial and the federal governments to address the issue. The biggest change would be to make it easier for temporary foreign workers to return. The sector, particularly in Banff and the Bow Valley, depended on this to staff restaurants, bars and hotels, with a heavy dose of Australians.
It goes beyond that, however. Tsu said the damage done to the industry through the last two years is about more than just the bottom line and debt loads.
Article content
"The pandemic changed everything for our industry," said Tsu, pointing to the multiple rounds of closures, openings and layoffs. "When you do that with somebody's income, there's a lack of trust for our particular industry … a lot of people left our industry for a different industry that might have had more stable hours."
He said hospitality provides a lot of benefits, like a flexible schedule, the chance to work around a passion and the opportunity to make it a career as opposed to a temporary job. Tsu said he started out as a busboy.
Long-term issue
While most of the data points were encouraging for Tombe, he did pause at one critical stat — long-term unemployment.
Currently, 32.9 per cent of Alberta's unemployed have been out of work for six months or more, by far the most in the country. Alberta was still working its way out of a recession due to the collapse of oil and gas when the pandemic hit. The next-highest rate in Canada is Newfoundland and Labrador at 22.3 per cent.
Article content
To put it in context, the last time Alberta had an unemployment rate this low, long-term unemployment made up 12 per cent of that mark.
"That's a big challenge," said Tombe. "The longer you're unemployed, the more that skills can depreciate, the harder it is to find a job, the worse your signal is to potential future employers."
Economy, Jobs and Innovation Minister Doug Schweitzer said in a news release the province is addressing these types of issues through its $600-million Alberta at Work program, which mostly focuses on retraining and re-skilling the workforce.
"We know there are high-paying jobs available for Albertans and we are working with our partners to ensure that Albertans have the skills needed to fill these positions," he said.
Twitter: @JoshAldrich03