TRAIKOS: Was the Oilers' playoff run a fluke? If so, GM Ken Holland has his work cut out for him this summer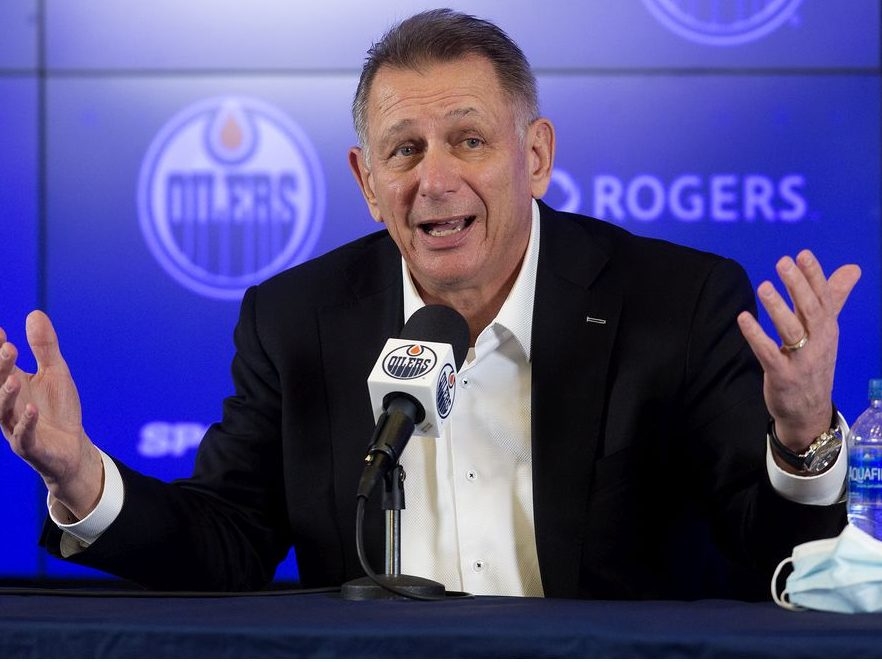 Article content
The busiest — and most important — summer of Ken Holland's career begins now, a day after the Edmonton Oilers were swept in the Western Conference final. And it begins with a question that must be answered honestly and objectively. 
Article content
Was this playoff run, which went longer than anyone envisioned, really a sign of things to come? Or was it a one-time fluke of good luck and happenstance?
If the Oilers GM is being honest with himself, Holland will lean towards the latter. Because for every reason why the Oilers might look like they are on the doorstep of winning a championship, there are two or three more reasons why they could end up missing the playoffs next year.
Article content
That might sound unnecessarily harsh for a team that reached the Final Four and went further than any other Canadian team this year. And yet, even with most of the core coming back, there remains a lot that needs to be fixed if the Oilers are going to join Colorado, Tampa Bay and the other true contenders of the league.
Article content
That's not Edmonton. Not yet, at least.
Not with this goaltending, this defence, this continued reliance on two superstars to carry the offensive load.
Not without Holland making some serious changes to a roster that remains as flawed as ever. 
So many things lined up perfectly for Edmonton, a team that spent most of this season on the bubble in the worst division in the NHL, during the first two rounds of the playoffs? Too many things for even the most optimistic fan to count on happening again next year.
What are the chances that Connor McDavid and Leon Draisaitl will once again combine for 65 points in 16 playoff games? Or that Mike Smith, who turns 41 next year, will have a .913 save percentage despite also having a 3.37 goals-against average? Or that the Oilers will face two opponents who played as poorly as Los Angeles and Calgary did? 
Article content
In other words, don't count on Edmonton returning to the conference final. Not unless Holland goes out and gets a true No. 1 goalie to share the net with Smith, along with a better defence that can hold a lead and some depth up front that can take some of the pressure off McDavid and Draisaitl. 
This was a weird and wild playoff run from a flawed team. Maybe even more flawed than Montreal was a year ago when the Habs came out of nowhere and reached the Cup final because Carey Price stood on his head. 
This year, Edmonton took an entirely different approach. They got little in the way of goaltending and won and lost games by scores of 6-0, 8-2, 6-9, 6-8-and 5-6. They blew leads, regained leads, blew them again, allowed 132-foot goals, and relied heavily on magic from McDavid and Draisaitl to get further than they had been in a long time. 
Article content
It was entertaining hockey. But it was not playoff-style hockey. At least, not from this decade.
And like Montreal, which went from playing in the Cup final to finishing with the worst record in the NHL, there's no guarantee Edmonton will be back here again.
That doesn't mean Edmonton will finish in last place next year. Or even miss the playoffs. But if you think the Oilers are suddenly ahead of the Flames or Blues or Wild when it comes to being a Cup contender, think again. After all, there were several times this year when they weren't even sure they'd made the playoffs.
The good news is that unlike Price, who didn't play for the Canadiens this year, McDavid and Draisaitl will be back again next year for the Oilers. The same goes for Zach Hyman, who had 11 goals in the playoffs. Unfortunately for Edmonton, Duncan Keith and his $5.5-million cap hit will also be back, along with Tyson Barrie ($4.5-million) and Cody Ceci $3.25-million).
Article content
That once again limits what Holland can do.
A year ago, Holland's hands were tied and he couldn't make all the changes he wanted to make. So he used what little money he had at his disposal and signed Hyman, brought back Smith because he was cheap, and traded for Keith. This year, he will have to be just as selective in his approach.
With Mikko Koskinen's $4.5-million cap hit coming off the books, does Holland go out and get a No. 1 goalie, such as Toronto's Jack Campbell or maybe even Colorado's Darcy Kuemper. Or does he use that money to bring back Evander Kane, who scored 13 goals in 15 playoff games and relies on a tandem of Smith and Stuart Skinner? Does he ask Keith to waive his no-trade clause and try and package him and Jesse Puljujarvi for a defenceman? 
Article content
Does he stick with Jay Woodcroft as a head coach? Or, with Bruce Cassidy and Barry Trotz both available, does he go with someone with a longer resume? 
There are more questions. More uncertainty. And even more expectations now that the Oilers have had a taste.
"We're hungry. We're a hungry group," defenceman Darnell Nurse told reporters following the Game 4 loss on Monday. "You get to the conference finals, and there's a long, long road to get back even into the playoffs next year. Then the grind begins."
For Holland, the grind begins now and goes through July 13, when free agency begins.