Article content
DENVER — Backs against the wall, the Tampa Bay Lightning find themselves in a familiar spot and preaching a familiar message after losing 4-3 in overtime in Game 1 of the Stanley Cup final on Wednesday.
Article content
This is a team that has lost the first game in three of four rounds this year. It's also a team that has lost two games in a row only once since the start of the 2019 playoffs.
In other words, there's no panic coming from the two-time defending champs.
"It's about winning the series. It's not about winning Game 1," said Lightning head coach Jon Cooper. "Would we like to win every single game? There's no question. But we've also started out on the road for all four series. So the fact that we've won one of them is kind of a bonus on our side. But it's about winning the series. 
Article content
"Yeah, it sucks we lost Game 1, but let's turn the page here and let's see if we can get Game 2. It's about the series."
This is where Tampa Bay's experience should come into play. It's one thing to say that one loss doesn't matter or that this series is more of a marathon than a sprint. But it's another to have actually lived it and come back — as Tampa Bay has — after being down 2-0 in a best-of-seven series to the New York Rangers in the Eastern Conference Final or after trailing the Toronto Maple Leafs 1-0, 2-1 and 3-2 in their first round series. 
Article content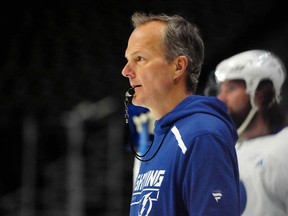 "It's not about riding the wave of one game," said Cooper. "If this was a best two-out-of-three, well, then maybe our emotions would be a little different. But it's a best-of-seven … it's kind of about getting our feet under us, understanding we're playing a different team. We can't win the series all in one game, and they've been really good at that. That's taken some time for us to kind of fall into that mindset, but we've really developed that over the years and hopefully one more series we can carry that through and take another step forward in Game 2."
As for the Avalanche, who have gone 13-2 in the playoffs, they know that defeating Tampa Bay will not be quite the same as sweeping Nashville or Edmonton. They are expecting a push back. They are also expecting to raise their own game.
Article content
"When the other team is making a push and we lose a five-minute segment of a period that we have to bounce back from and get it turned in the right direction," said Avalanche head coach Jared Bednar. "And we also talk about specific things that can help us do that."
LEAFS GET HIGH PRAISE FOR NARROWLY BEATING THE LIGHTNING
A day has seemingly not gone by in these playoffs without someone mentioning Tampa Bay's first-round series against Toronto.
Sometimes, it's done to illustrate the Lightning's resilience in elimination games. Often, it's to rub salt in the wound of the Maple Leafs, who might have gone on to reach the final had they managed to win one more game.
But on Thursday, Bednar said there was a lot to like — and learn from — how the Leafs had pushed the pace against the Lightning.
Article content
"There's certain things that we have to do I think to be successful and one of the teams that we looked at closely, and I spent a lot of time on, was the Leafs," said Bednar. "It was obviously a great series. It was a dynamic series. And I see a lot of similarities in the Leafs' play and personnel to ours. And some of the things that they do with the puck in their offensive strategy, structure, tactics, whatever you want to call it, there's a lot of similarities. 
"We learned that from playing against them this year. So they have a lot of success. It's tough to get that timely goal against (Andrei) Vasilevskiy. But they had some really strong pushes throughout that we looked at really closely."
GREEN MEANS GO
Cale Makar currently leads all Colorado players with 22 points in 15 playoff games. A big reason for that is that he — along with pretty much all of the Avalanche defencemen, who have combined for 14 goals and 57 points in the playoffs — have been given the green light to join the offensive rush.
Article content
It's a strategy that leads to a lot of odd-man rushes. But there's rules involved to prevent an odd-man rush from the going the other way.
"I think more of the rules are when they're joining what our forwards are supposed to do," said Bednar. "There are guys that have to fill in for your D if they're joining the rush. We see most of our D just like another forward in a lot of situations and there's responsibilities for the puck carrier, there's responsibilities for the D joining if they're not carrying it, and there's responsibilities for the other forwards."
As well, there's an awareness of which defenceman is up on the play.
"It's different for Erik Johnson than it is for Cale Makar and so on down the line," said Bednar. "The forwards have to know that Jack Johnson isn't going to do the same things that Cale Makar is. So you have to react differently to the puck and support it in different ways and kind of learn each other's tendencies and habits and what they're going to do and they get it."
Article content
LOOSE SNAPS
With two days off between Games 1 and 2, neither team practised on Thursday. But Nazem Kadri, who has been out since injuring his thumb in Game 3 of the Western Conference final, skated on his own. And, in what was surely an encouraging sign, he used a stick for what might have been the first time … Nathan MacKinnon saw a lot of shutdown centre Anthony Cirelli in Game 1. But considering MacKinnon had an assist and five shots on net, Bednar wasn't too concerned with the matchup. "You guys know Nate. He's not afraid or intimidated to go against anybody," said Bednar. "In fact, he embraces some of those matchups" … Cooper said there's a very simple way of preventing Colorado's defencemen from joining the rush: don't give up the puck. "You make those defencemen have to play (defence) 20, 30, 40 seconds and they're not going to jump into the rush like they want to," he said. "And if they do, they're not going to have near the energy."