TRAIKOS: Bettman says NHL plans on releasing its finding of Hockey Canada's sexual assault investigation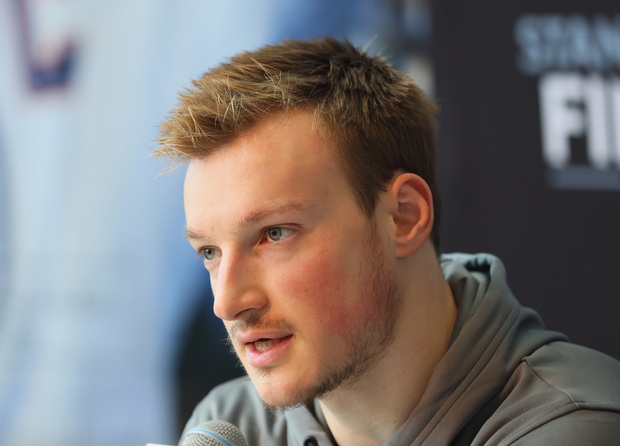 Article content
DENVER — You can cross Cale Makar's name off the list.
Article content
The Colorado Avalanche defenceman confirmed on the eve of the Stanley Cup final that he had been contacted by the NHL as part of its investigation into the 2018 sexual assault allegations against Hockey Canada. But Makar, who was a member of the world juniors team that was being honoured in a Hockey Canada Foundation gala six years ago, also said he wasn't present when a woman claims to have been assaulted by eight players.
Article content
"I don't know how much I'm able to talk about it, because I think it's an ongoing investigation, but I did receive an email and obviously I'll be very cooperative in the investigation," Makar said during Stanley Cup Final media day. "Whatever they need from me, I'll be very cooperative."
There appears to be no timeline on the NHL's investigation, which coincides with Hockey Canada's investigation as well as next Monday's standing committee on Canadian Heritage, where four members of Hockey Canada's executive will be questioned in Ottawa. But NHL deputy commissioner Bill Daly said on Wednesday that the league has so far received full support from the NHL Players' Association.
Article content
"We're underway," said Daly. "We've ben in touch with the Players' Association. They've been cooperative — extremely cooperative — to this point in facilitating and arranging interviews with each of the players. We expect to be able to interview each of the players on that team and we have been in touch with Hockey Canada as well."
When asked if the league planned on releasing its findings after the investigation is complete, commissioner Gary Bettman said "I assume so." But that comes with a caveat.
"Unless the only access we have to certain information would prohibit us from doing that," said Bettman. "But in the ordinary course, we try to be transparent."
ALL BETS ARE OFF
On the morning of Game 1, no one knew whether the Avalanche planned on starting Darcy Kuemper or Pavel Francouz. Or whether Colorado's Nazem Kadri or Tampa Bay's Brandon Hagel would be ready to return from injuries.
Article content
For a league that has gone all-in with sports betting, it's a complicated and confusing way to do business.
But don't expect it to change anytime soon.
"The most important thing for us is what happens on the ice and the health and safety of our players is something that is paramount importance to us and is directly related to performance on the ice," said Daly. "If that means that our betting interests or our betting partners have to take a backseat to the safety of our players, then we plead guilty to that. 
"It's got to be policed. But I think it's adequately policed."
DYNASTIES ARE GOOD FOR BUSINESS
Bettman has long been a fan of parity within the league, simply because it spreads the wealth around. But even the NHL commissioner had to admit that the Lightning's bid for a three-peat has generated the kind of excitement that goes beyond the city of Tampa Bay.
Article content
"Dynasties create interest at a macro level, particularly in the market where the dynasty is being created," said Bettman, "but by the same token, I think having a great competitive balance where at the start of the season through most of the regular season fans have a hope and belief that their team can make the playoffs and once the playoffs begin anything can happen. 
"So I think there are two sides of the story that happens. If you're getting a little bit more specific, having a 'dynasty' in the hard cap era is quite a feat."
LIGHTNING ARE NOT GAMING THE SYSTEM
A year ago, Tampa Bay's Nikita Kucherov missed the entire regular season to recover from off-season surgery only to lead the playoffs in scoring. It was a savvy — if not controversial —move that saved the Lightning $9.5-million under the salary cap.
Article content
But Bettman took offence when a reporter suggested the Lightning's repeated success was a by-product of the team finding creative loopholes to exploit the salary cap.
"I don't think they have been using loopholes," said Bettman. "They've been using the agreement as it's been drafted. I thin that's an unfair characterization. I know there's been discussion and perception about the long-term injury exception, but it's been around for 17 years. They're not using loopholes. They're using effective cap management."
Daly added: " I see all 32 clubs operate and I can tell you Tampa would not be one that I put at the top of the list."
QUICK HITS
After two years in which attendance was affected by the COVID-19 pandemic, Bettman said the league returned to normalcy this season — and has the revenues to prove it. "Our buildings are back to basically where they were — maybe even a little better. We think it will be in excess of $5.2 billion," said Bettman, adding "that may be conservative based on the viewership numbers we've seen so far in the playoffs. Our playoffs this year in the first two rounds generated 88% of the revenues that we did in the first two rounds the last time we had normal playoffs." … It sounds like you can circle Feb. 24, 2023 as a potential date for the World Cup of Hockey, though Daly said it remains "a work-in progress" … There was no new news on the Ottawa Senators' search for a new arena — or new ownership. "The ownership is the ownership," Bettman said of Eugene Melnyk's daughters' inheriting the Senators. "The franchise is completely stable and functioning in the ordinary course and I know that the Senators are involved in a process to see what the opportunity might be for the new arena with LeBreton Flats. Nothing has changed."
twitter.com/Michael_Traikos