The big cat expert faces 20 years in alleged caper linked to human trafficking, the feds say
Article content
Tiger King star Bhagavan "Doc" Antle shot to fame with his bizarre romantic entanglements and self-constructed image as a big-cat guru.
Article content
However, the feds say the 62-year-old is a crook.
Antle was charged with money laundering and now faces 20 years in the slammer, federal prosecutors say. The money-laundering scheme was allegedly tied to human trafficking, the feds say.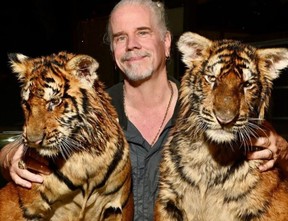 According to authorities, the big cat bwana allegedly laundered $505,000 in cash that investigators say came from the scheme to smuggle undocumented immigrants from Mexico to the U.S. across the Rio Grande.  Partnering with Antle in the alleged caper was his business associate Andrew "Omar" Sawyer, 52.
The feds say the two suspects would launder the dough by providing bogus paycheques for construction work at Antel's Myrtle Beach Safari, a the 50-acre wildlife preserve.
"(The cheques) were simply a means to allow the recipients to appear to have legitimate income," the criminal complaint read, according to the New York Post.
Article content
Both men received a 15% fee of any amount laundered, the U.S. Attorney's Office said.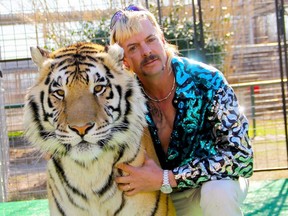 Antle also faces allegations that he had illegal sex with minors, and abused women.
The sleazy sage allegedly planned to hide the illict cash by wildly inflating the number of visitors at his Myrtle Beach Safari. Earlier, he used bulk cash receipts to purchase exotic animals.
Antle emerged into the cultural consciousness as a friendly rival to Joe Exotic in the Netflix pandemic megahit, Tiger King.
Both Antle and his partner face 20 years in federal prison if convicted. It isn't the first time the good doctor has run afoul of the law. He has also been accused of wild animal trafficking and abusing the animals under his care.
In the Tiger King follow-up, allegations were hurled at the pony-tailed cognoscente that he was a fraud, had sex with teens, and abused women.
Former employees said Antle created a cult-like enviornment at the Myrtle Beach park. He has denied the allegations.
@HunterTOSun