[ad_1]

'My favourite songs I've ever written are like someone handed them to me in secret in the dark,' songwriter says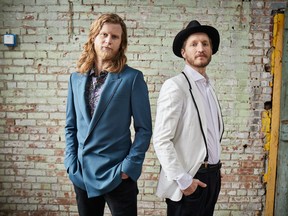 Article content
Don't be surprised if you see Lumineers frontman Wesley Schultz running through the crowd next week when his band touches down in Toronto for two shows at Budweiser Stage.
Article content
As the coronavirus first emerged in 2020, Schultz, the affable frontman for the folk-rock collective, gamely made his way into the stands during an emotive moment at the first of two sold-out shows at Scotiabank Arena in March 2020.
I tell him that his actions left me assured — incorrectly — that my pandemic fears were maybe a little overblown.
Article content
"I had to be told by my wife that it wasn't a good idea for me to be doing that at those last few shows," Schultz, 39, says with a slight laugh in a phone interview. "That really broke me up."
In the midst of a tour behind the band's addiction-themed concept record III, Schultz and co-writer and multi-instrumentalist Jeremiah Fraites were forced off the road and had to decamp back to their home base in Denver to rethink their next musical steps.
Article content
For Schultz, he worked on Vignettes, a 10-track collection featuring renditions of classic songs from Bruce Springsteen, Sheryl Crow, Bob Dylan, Tom Waits, Warren Zevon and more.
Eventually, though, the friends — along with bandmates violinist Lauren Jacobson, pianist Stelth Ulvang, bassist and backing vocalist Byron Isaacs and multi-instrumentalist Brandon Miller — had to figure out a way to soldier on and craft new songs they could sing to crowds celebrating in a post-pandemic world.
As a result of this introspection, the group's fourth album, Brightside, was born.
The nine-track LP, which hit No. 1 on Billboard's Alternative National Airplay and Adult Alternative Airplay charts, revels in its quiet moments (the stripped-down A.M. Radio and Big Shot), but moves purposefully (on the title track and the catchy Where We Are) with a sense of hopefulness fuelling one song to the next.
Article content
"A big inspiration for me was artists like Neil Young or Kurt Cobain," Schultz says. "They were able to convey a feeling and I wanted to try and do that as opposed to telling a linear story … What Jeremiah and I were trying to do was not to say to people, 'Here's what it means.'
"It was a feeling and an ephemeral moment we were trying to convey."
After the runaway success of their 2012 self-titled debut, which went four-times platinum in Canada, the two-time Grammy nominated band solidified its reputation as one of the best live bands through Schultz's determination to put on concerts fans will remember.
"My favourite songs I've ever written are like someone handed them to me in secret in the dark. It's not like I wrote them. I was just around for them and someone handed them to me in a paper bag," he laughs.
Article content
In the midst of a tour that touches down in Toronto later this week, with additional Canadian shows planned for Winnipeg, Calgary, Edmonton and Vancouver, Schultz reflected on shifting gears and being back on the road again.
I remember when you and I last spoke in the fall of 2020 for Vignettes, you predicted a lot of bad music would emerge from the pandemic. How did you approach Brightside to avoid that pitfall?
"Firstly, I'd like to say I'm happy I was wrong. I think a lot of good music actually came out of this period, and that's been beautiful to see. I think for us, the pitfall we wanted to avoid was being really literal about referencing a pandemic. The trap is to be so myopic that you make a record you wouldn't want to listen to in a couple of years because it only made sense in that moment. There was a lot of music in the late '60s, early '70s that still holds up to this day, and that was such a cataclysmic and traumatic time for so many people. A lot of artists were pushing off that energy and reacting to it … We were all pretty moved and touched by the trauma in varying degrees. You talk to anyone and it has affected them in some deep way. You can't get out unscathed and a lot of great art comes from those moments."
Article content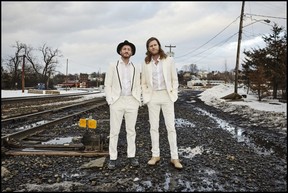 Do you think the lifespan of your last album got cut short prematurely?
"Inevitably that's just what happens. III was sort of given a disadvantage because we weren't able to fully tour behind it. But there are certain records from every artist's catalogue that are underdog records. A lot of people reference Pinkerton from Weezer. It's a lot of people's favourite, but it wasn't the most commercially successful. For us, when that pandemic hit, I realized that if the music on that album affected you, it did so in a really deep and good way. It got through all your armour and into your heart. We still play songs from III on the Brightside tour and I can see them still having an effect — Gloria, It Wasn't Easy to Be Happy for You, Salt and the Sea. It makes me happy that they meant something to people."
Article content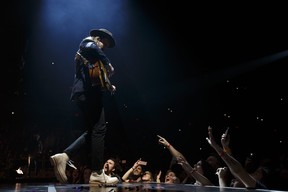 Lumineers were the last band I saw live before the shutdown. How have you imagined the next few months being back on the road playing in front huge crowds every night?
"It's going to be cathartic. I just had COVID a few weeks ago and in a strange way to get over it — officially — is a good feeling … I'm hoping that our reality can slowly go back to one where people don't feel unsafe in a roomful of strangers. Beyond my desire to play shows, I think there's something objectively healing and cathartic about people gathering. You'll never get that virtually and I'm looking forward to breaking that in."
Article content
You're not going to run through the crowd, though, will you?
"I might (laughs). I'm asking around. I do have musician friends who are doing that. I'm not trying to make other people uncomfortable, but I'm OK with it. I don't want to diminish or make light of something that has hurt a lot of people. It's just … we'll see. I don't need to do it; it's just something that I really enjoy doing. When the time is right, I'll do it. Because of that choice, I've gotten sick all sorts of ways. That's a lot of germs I encounter when I run by several thousand people in a matter of minutes. It's not the best idea, but it's a hell of a lot of fun to break down that wall especially in the bigger venues where you can feel so distant."
I know that bands aren't overnight successes. What was your luckiest break?
Article content
"I would say, in a funny way, it was having a couple of friends mention to me that they were moving to Denver. I was living in New York and it was very expensive. I was working a bunch of different jobs just to pay the rent and writing music in my spare time. But when these guys told me about Denver and how much cheaper it was, Jerry and I ended up going. From there, all these clubs we really wanted to get into in New York that kept saying no to us started to say yes to us when we were coming from Denver. I think just putting ourselves in a spot where we were forced to travel and tour, that was a strangely lucky break. And it all came from these friends that asked us if we wanted to rent a house with them in Denver."
The Lumineers play Toronto's Budweiser Stage June 11 and 12. For additional dates, visit thelumineers.com.
The Lumineers' Wesley Schultz on lighting the darkness on new LP

The Lumineers' Wesley Schultz covers Springsteen, Dylan on solo album

The Lumineers manage second-album pressures by opening hearts
[ad_2]

Source link