Article content
ANAHEIM, Calif. — Industrial Light & Magic, the visual effects company founded by George Lucas, is getting the documentary treatment in a new six-part series set to premiere on Disney+ later this summer.
Article content
Directed by The Empire Strikes Back, Return of the Jedi, The Force Awakens and Solo screenwriter Lawrence Kasdan, details on the upcoming series were unveiled to fans at Star Wars Celebration on Friday. A panel presentation moderated by ABC's Chris Connelly featured Kasdan appearing virtually alongside filmmaker Ron Howard; VFX greats Dennis Muren, Phil Tippett and Joe Johnston; production supervisor Rose Duignan; and Lucasfilm executive vice president and general manager Lynwen Brennan.
Kasdan told the crowd gathered at the Celebration Stage at the Anaheim Convention Center that he was drawn to making the docuseries because he wanted to tell the story of the people who created the greatest special effects house in the world.
Article content
Founded more than 40 years ago to build the spacecrafts and practical effects that went into Lucas' first Star Wars movie in 1977, Kasdan said he was inspired to make the series because he saw ILM as a "house of geniuses" made up of visionaries who were unafraid to push boundaries and try new things.
"For 40-50 years, it's been the kind of environment where geniuses help geniuses," Kasdan said.
Howard, who directed Solo and worked with Lucas for the first time on 1973's American Graffiti, recounted his experience seeing Star Wars for the first time in a movie theatre telling the packed crowd that he lined up for hours with his wife Cheryl and then immediately queued up to watch it again the moment it ended.
"Larry's a great storyteller," he said. "The entire series is its own kind of adventure story."
Article content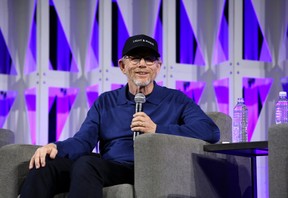 The early episodes will capture how Johnston designed X-wing starfighters and the Millennium Falcon in Star Wars and Tippett sculpted Tauntaun and Admiral Ackbar, who he called "Calamari Man." As well, Kasdan dives into the transition that ILM made as it shifted into digital work with the first Jurassic Park film in the early 1990s.
Muren candidly admitted he didn't think the company could capture an emotional resonance with computerized dinos in the Steven Spielberg adventure epic. But after they were able to convincingly pull off the VFX, every studio wanted CGI.
"When you open that box for a 12-year-old, it's like kablam! You've got them for life," Tippet said.
And the company has continued to evolve, building large format LED screens for projects like The Mandalorian and pioneering motion capture as seen in Marvel's films.
Article content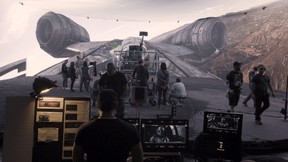 "It's like a brain that's always thinking," Brennan said of working for the outfit.
Kasdan said he was inspired to make the documentary because he wanted to get to know the creative minds who have touched cinema beyond the Star Wars universe with their work on films like Back to the Future, Mission: Impossible, Black Panther, The Avengers, Forrest Gump, the Jurassic Park series and more.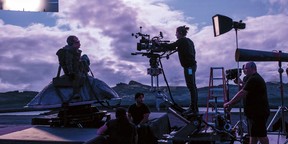 But the real reason he wanted to make Light & Magic, was to inspire his grandchildren and other young people.
"At the heart of this is the idea that problems can be overcome and people can be inspired at any moment," Kasdan said.
Light & Magic debuts on Disney+ July 27.
Harrison Ford crashes Star Wars Celebration with 'Indy 5' news

'Book of Boba Fett' stars on unlikely return of 'Star Wars' fan fave

Daisy Ridley on Star Wars: The Rise of Skywalker: 'There's real sadness at the end'