[ad_1]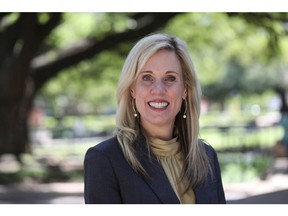 Article content
The new president of St. Mary's University will be introduced Monday by Gary Strother, chair of the board of governors, and welcomed by faculty, staff and students.
Article content
Dr. Sinda Vanderpool will assume her role on July 1 as the first female and fourth vice-chancellor and president of the university.
Before accepting her new position, she was at Baylor University, a national Christian research university in central Texas with 20,000 students, where she held various leadership roles with increasing levels of responsibility over the past 18 years.
In her high school junior year, she was privileged to be a visiting student at the Faculte des Lettres in Montpellier, a beautiful and historic city in southern France. Her experience there led to a bachelor's degree in French at Davidson College in North Carolina, followed by Princeton University in New Jersey, where her focus on 16th century French poetry through the lens of female identity was capped off with her PhD in French literature, earned in 2005.
Article content
While at Princeton, Vanderpool says she immersed herself in the Catholic intellectual and spiritual tradition, and feeling the invitation to grow deeper in her personal faith, became a Roman Catholic in 2006.
Vanderpool began her career at Baylor as a French professor, but after a couple of years involved in administrative matters by establishing the professional advisement team for the dean of the College of Arts & Sciences, she moved up the ranks to become the associate vice-provost for enrolment management.
During her time at Baylor she worked with the deans of nine academic colleges and schools across campus to enhance enrolment strategy and processes. Under her tenure the undergraduate population increased by 2,100 students, while the academic quality, and ethnic and geographical diversity all increased simultaneously.
Article content
A gifted speaker on educational matters, Vanderpool served on numerous external committees, including as a board member of the Texas Women of Higher Education and in various leadership roles with local parishes and the St. Peter Catholic Student Center — connected to Baylor.
Thrilled to accept her new role at St. Mary's, she says she was prompted to apply for the position by a close friend at Baylor who had moved to the Maritimes with her husband and began working for an international executive search firm. When her friend heard of the posting here, she reached out Vanderpool and said, "You would be perfect for the job."
Intrigued, Vanderpool did her research, made the application and flew to Calgary for an interview with the selection committee, and obviously wooed them with her experience and personality.
Article content
Known to her colleagues as an open-minded, highly collaborative and visionary leader with a reputation for having a genuinely welcoming and people-first philosophy with a passion for building and leading expert teams, she will fit in well with the mission of her new university to prepare students to become lifelong learners, engaged citizens and compassionate members of society.
The desire is obviously to grow St. Mary's University — founded as a college in 1986 and granted university status in 2004 — that currently has 1,025 full- and part-time students, and 70 full- and part-time faculty.
She knows that facilities have to be expanded to reach a goal of doubling the number of students, while continuing to celebrate its identity as a Catholic Liberal Arts University.
Article content
Vanderpool's husband, Terry, who is an attorney and practices business law, and 13-year-old daughter Kalin will be moving to Calgary, but leaving behind sons Jordan, currently working on his master's degree in Spanish who recently married a Catholic school teacher, and Nathen, an undergraduate student at Baylor.
Sinda, Terry and Kalin enjoy the outdoors and are looking forward to experiencing mountain biking, hiking, camping and skiing in Alberta.
Notes:
It's back to an in-person Canadian Council for the Americas of Alberta keynote annual program, The CCA Breakfast of the Americas, being held June 7 at the Calgary Petroleum Club. Using the theme of Energy Transition in the Americas, guest speakers from Alberta, Canada and Latin America will make presentations about the energy transition and opportunities in their countries, and the effects for Canadian businesses.
David Parker appears regularly in the Herald. Read his columns online at calgaryherald.com/business. He can be reached at 403-830-4622 or by email at [email protected]
[ad_2]

Source link