Sidetrade is an artificial intelligence-powered order-to-cash platform that has chosen Calgary to be its hub for Canada and the United States
Article content
Global tech firm Sidetrade is set to open its North American headquarters in Calgary on Tuesday with a $24-million investment and a promise of 110 jobs.
Article content
Sidetrade is an artificial intelligence-powered order-to-cash platform that already has offices in Paris, London and Dublin, but it has chosen Calgary to be its hub for Canada and the United States.
Article content
"In this kind of business, we need to rely on people and people are the key element — the key success factor to reach our ambition," said Olivier Novasque, Sidetrade CEO. "In Calgary you have very well-educated people, young people in tech — more and more it is not just an oil and gas city or region."
Article content
He said Calgary has a growing reputation globally as a tech centre and as one of the best places in the world to live, pointing to the Economist Intelligence Unit's recent ranking of the city being the third-most livable in the world.
Article content
Sidetrade is the latest major tech company to look to Calgary as the sector continues to boom in the city. They are following in the footsteps of IBM, Infosys, MPhasis, Unity and others who have turned their sights on the city. Sidetrade has taken up residence in The Ampersand's north tower and has space for 35 to 45 workers, but with room to expand for expected growth.
Article content
Daniel Lefebvre — Sidetrade's director of business development for North America — has been in Calgary for 18 years, has worked for WinSport and spent the last six years in oil and gas. He has watched as the tech sector has taken root and exploded, and that environment is important for Sidetrade growth.
"This is true tech, true AI," he said. "A lot of young talent today, coming out of school and with other companies, are super thrilled about it. They want to be part of something that has something; it's an actual tech, it's something that's disruptive."
Article content
The investment and job growth will take place over three years and the company is already having success in hiring locally, growing from a workforce of three last year to 15 people already working out of the downtown office.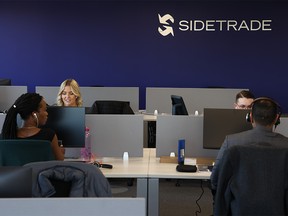 The growth of the sector has put a strain on the available talent pool, especially with a number of new companies and already established companies promising expansion here. The shortage is occurring despite a heavy focus on transitioning people from other sectors, like oil and gas, and development of programs through post-secondary institutions. One of the issues is that some companies are looking for multiple years of experience for people applying for entry-level positions.
Sidetrade has dealt with this issue in other markets and has its own free coding academy to train those without related experience.
Article content
Andrew Lion, global vice-president of talent acquisition for Sidetrade, said it is also developing partnerships with local post-secondary institutions like SAIT to further grow the next generation of talent.
"What we really want to do this week is work closely with the universities … on their tech programs, so we can have a funnel between the two of us to support the code academy," he said.
Lion said growing a culture where people want to work — where they are excited to come into the office and not work remotely — has been critical to the company's success.
Lefebvre has taken cues from the company's other offices in developing its new North American headquarters as a place where that culture can develop.
Tech giant Infosys opens downtown office with plans to hire 1,000 workers by 2024

Calgary rises to third most livable city in the world

'A challenge': Shortage of talent a hurdle for growth of burgeoning local tech sector
Mayor Jyoti Gondek said in a news release the announcement adds momentum to the city's growing tech sector.
Article content
"As our reputation for innovation grows, more companies like Sidetrade are recognizing the competitive advantage Calgary offers given our deep talent pool, our infrastructure, and the low cost of doing business," she said.
Sidetrade has developed an artificial intelligence system — Aimie — to assist companies in their order processing and payment structure.
Novasque said collecting and processing payments is often a struggle for companies and Aimie helps guide them through the best methods to do so, boasting a 53 per cent collection success while cutting back on delays and inefficiencies.
In the last three years, they have processed more than 593 million invoices worth more than $6.2 trillion. With an office set up in Calgary, they will be able to grow their customer base throughout the continent. This is not a short-term plan; they are not opening other offices in North America. Everything they do in Canada and the U.S. will be run through this office from contacting potential customers, implementing their product and providing support.
Novasque estimates the North American market to be worth about $5 billion — about the same size as the European market.
"In Calgary, the plan with this office is to create a site for the future, to promote Sidetrade DNA across all the North America region," he said.
Twitter: @JoshAldrich03