Article content
A fan-led petition aimed at convincing Warner Bros. to dump Amber Heard from the upcoming Aquaman sequel has reached a record high.
Article content
As of Wednesday morning, the petition has racked up 4.43 million signatures — which is just shy of the 4.5 million goal fan Jeanne Larson set for herself when it first launched in 2020.
In her original post, Larson called Heard a "domestic abuser" and urged Warner Bros. to remove the actress from the project.
"Since Heard's divorce from Johnny Depp, she has systematically crusaded to ruin Depp in Hollywood, repeating multiple accounts of fake incidents in which she had actually abused Johnny Depp, but lied and created false accounts of him being the abuser," Larson alleged in her scathing petition.
She continued, "Heard recounts fabricated incidents of Johnny Depp hitting her in the face when she had, in fact, punched him."
Article content
The former couple is battling in a Virginia courtroom, with Depp suing his ex after she penned a 2018 op-ed for The Washington Post, in which she referred to herself as a survivor of domestic abuse. Depp, who is seeking $50 million, claimed the article harmed his career and led to him losing a series of projects, including a sixth Pirates of the Caribbean film.
Heard argued that her article was protected under free speech and countersued Depp for $100 million, accusing the actor's former lawyer Adam Waldman of ruining her career when he called her claims an "abuse hoax."
During her testimony last month, Heard alleged that the studio was looking to cut her from next year's Aquaman and the Lost Kingdom and testified that she had to fight to stay in the film.
Article content
Heard said she appears in a "very pared down" role as Queen Mera in the sequel. "I was given a script and given a new version of the script that had taken away action between my character and another character … they basically (reduced) my role."
She also claimed she had been "released" from her contract. "I fought to stay in it, and they kept me in it. I just don't know how much I'm in, actually, of the final cut."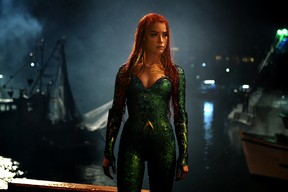 Depp-Heard jurors face daunting task as deliberations in libel trial resume

Johnny Depp's lawyer Camille Vasquez casts star as 'romantic hero'

Amber Heard expert says Depp 'caused own demise,' spoils 'Aquaman 2'
However, Walter Hamada, the president of DC Films, told jurors that she was almost axed because she lacked chemistry with the film's lead, Jason Momoa.
Article content
"They didn't really have a lot of chemistry together," Hamada said. "The reality is, it's not uncommon on movies for two leads to not have chemistry. It's sort-of movie magic to put two performances together and with the magic of a great score and how you put the pieces together, you can fabricate that chemistry. So at the end of the day, if you watch the movie, it looks like they have great chemistry. But I know that over the course of post-production, it took a lot for it to get there."
Article content
Heard has maintained that statements from Waldman affected her compensation on the sequel and harmed her career, with her legal team comparing her future acting prospects to those of Gal Gadot and Zendaya, among other names.
But Hamada told the courtroom that Heard was not the star of Aquaman and that Warner viewed the film as a "buddy movie" between Momoa's titular hero and King Orm (Patrick Wilson), his brother.
Heard also didn't get a raise for the sequel because of the company's policy to hold its talent to pre-negotiated contracts.
Article content
Kathryn Arnold, an entertainment industry consultant, revealed that Heard was ultimately allowed to stay in the sequel because Momoa and the film's director James Wan lobbied on her behalf.
According to film journalist Grace Randolph, Heard has approximately 10 minutes of screen time in the sequel, with Arnold further revealing that Mera appears briefly at the beginning and end of Aquaman 2.
Article content
After hearing over six weeks of sordid testimony that exposed the private life of one of Hollywood's biggest star couples, the seven-person jury is currently deliberating a verdict.
On Tuesday, the group asked Judge Penney Azcarate to answer whether they should consider the entire article or just the headline. The headline said Heard "spoke up against sexual violence — and faced our culture's wrath."