[ad_1]

Old Age Security cheques are now more than seven per cent higher than a year ago.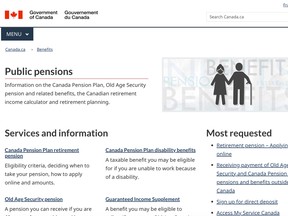 Article content
The latest cost-of-living increase for Old Age Security recipients and wait times for death certificates in Quebec were among the topics raised in recent reader letters. Here's what they wanted to know.
Article content
Q: Are old-age pensions going up again in October?
Article content
A: They are. The latest cost-of-living increase for Old Age Security (OAS) and Guaranteed Income Supplement (GIS) recipients will be 2.8 per cent for the three-month period from October to December, reflecting average Consumer Price Index (CPI) numbers from May through July relative to the previous three-month period. It follows a bump in OAS of 2.8 per cent in July and leaves the pensions more than seven per cent higher than a year ago.
The latest CPI numbers indicate prices are up seven per cent for the 12-month period ended in August, down from 8.1 per cent for the 12 months ended in June. The maximum monthly OAS pension is now $685.50, up from $666.83 in September, for those who started receiving it at 65 and are younger than 75. Canadians 75 and older got a further, permanent boost of 10 per cent in July.
Article content
Q: How long should it take to get a death certificate from the government? It's been months.
A: Quebec's register of civil status had difficulty issuing death certificates promptly prior to the pandemic, which it corrected significantly with extra staffing after a pledge to do better by Labour, Employment and Social Solidarity Minister Jean Boulet, but problems appear to have surfaced again, based on your experience and that of others.
Delays of several weeks and even months after the paperwork has been submitted are more common than exceptional, according to Jane Blanchard, an aftercare counsellor at the Kane & Fetterly Funeral Home who has helped families with the paperwork to settle estates for the past 17 years. Followup calls used to speed up the process, but they're no longer as effective, she said. "I don't know what's going on there."
Article content
The ministry responded that its August numbers show the average wait period for a death certificate using the regular stream was 8.3 working days after the death had been registered. But it also said 27.23 per cent of all submissions for registration required supplementary analysis and verification, adding unspecified time to the process. Delays in the issuance of death certificates can drag out and add costs and stress to the settlement of estates. 
Q: The government has announced so many things to help lower-income people in these difficult times. What about something for seniors who are not rich, but have watched the value of their RRIFs (Registered Retirement Income Funds) decrease like crazy this year? My minimum RRIF payment for this year was calculated using the 2021 year-end value, and that will be a big chunk of the current value. A lot of people are in this position. Would it not make sense for the government to reduce or maybe even waive the obligatory withdrawal rate? You don't want seniors to use up their saved capital quickly and then need to rely on government programs in the future.
Article content
A: It's too late to do anything this year, but the federal government could ease the pain for seniors by reducing the mandatory withdrawal rates from RRIFs for 2023, as it did in 2020 (by 25 per cent) when the stock market briefly tanked at the start of the pandemic.
For Canadians whose RRIFs have significant stock positions, this will be a much worse year than 2020, with double-digit drops on both Canadian and U.S. equity markets through September. That decline in value, coupled with the mandatory annual withdrawals (which are calculated according to the age of the plan-holder or their spouse or common-law partner and the value of their plan on Dec. 31 of the preceding year), has significantly eroded many RRIFs in 2022. A break on the mandatory withdrawals would give them a chance to recover some of that lost ground.
Article content
As things stand, the annual RRIF withdrawal minimums — which rise progressively as you age — are four per cent at 65, five per cent at 70, 5.40 per cent at 72 and 6.82 per cent at 80. You can defer converting an RRSP to a RRIF as late as Dec. 31 of the year you turn 71.
The Montreal Gazette invites reader questions on tax, investment and personal finance matters. If you have a query, please send it by email to Paul Delean at [email protected]
Paul Delean: How do federal dental — and rental — payouts work in Quebec?

Paul Delean: Canadians have a new incentive to buy a home as of 2023

Paul Delean: Plan ahead for how to manage finances in your final years
[ad_2]

Source link