A Calgary company that specializes in office networks thinks telepresence will be a major part of offices in the future.
Article content
A visit to Z3 Network Solutions' office in Calgary's southeast does not require a trip in a car or a train. All you need is a web browser and the right login information.
Article content
The Calgary company that started out specializing in printers, toner and computer networks believes that AI and telepresence robots will be a large part of the office of the future.
With help from their "Double 2" robot — which looks like a Segway scooter with an iPad attached — you can meet with company president Darryl Graham.
"We've always had the product available, but due to the new norm and the pandemic this is something we felt is needed for the people," he said.
"I guess COVID has changed the workplace and how we interact."
Logging onto the Double 2 is not unlike logging into a Zoom meeting. It's done via a web browser. The difference is that once logged on, the user can move around the room with their arrow keys. The driver can also raise or lower the screen on the robot's telescopic arm.
Article content
Moving around is a bit slow — slower than a walking pace — but it is easy to control. A smaller picture-in-picture shows the user a view of the floor as they drive, so they can avoid obstacles.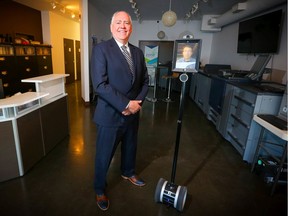 Graham said the Double 2 robot could work in any office, but also in light industrial settings where someone might need to move around and inspect machinery. He also imagines its applications in continuing care homes, where family members could use the robots to visit residents.
The Double 2 isn't the only product Z3 has brought in to address pandemic concerns. Graham's company is also offering up Alice, an automated receptionist, and thermal cameras which can detect people who may have a fever.
Graham said that like any company, they're trying to adapt and find solutions to deal with the COVID-19 pandemic.
Article content
"Employees and companies are concerned, and the services we offer will certainly help alleviate that," he said.
His company has been following the evolution of the office as network technologies allowed people to work remotely more often.
"It's been happening slowly, but now due to the pandemic we're thrust into this," he said.
Mahdi Tavakoli is also seeing the world suddenly take notice of work he's been doing for years. The professor of telerobotics and biorobotics systems group at the University of Alberta said the technology has been around for 20 years or more in various applications, but is now finding new uses due to the pandemic.
"All the applications of this go back to nuclear reactors, or minefields," he said. Anywhere it was dangerous for humans to go, robots were sent in to do the job.
Article content
In a recently published essay which he co-authored, Tavakoli made the argument that telehealth and telepresence services could help patients and health care professionals remain safe during the COVID-19 pandemic.
He said using the technology doesn't necessarily mean the doctor and the patient need to be miles apart, although it can be the case in certain situations. His team has been demonstrating how robotic devices with haptic feedback can aid physiotherapists with their patients remotely, but while still in the same room.
One device he developed allows an ultrasound technician to control the ultrasound probe remotely from across the room. This allows everyone involved to maintain physical distancing.
Article content
Tavakoli is adamant that his machines will not replace workers, but will be used as tools by health care professionals.
As for privacy, he says it's not something he has studied as much, but he does see the need for basic precautions when it comes to data.
"There has to be standards about how data is accessed, and when it's destroyed," he said.
Sharon Polsky, president of the Privacy and Access Council of Canada, has larger concerns about how the convenience of robots and Zoom meetings could chip away at our privacy.
"The problem is — all too often — the operational convenience and the cost reduction tends to take precedence over individual's privacy," she said.
She noted cameras that look for temperature might also be used to measure a person's gait — the unique way they walk.
Article content
"Gait is a way of identifying an individual, the same as a fingerprint. Our gait is a biometric that is individual to each person," said Polsky
"Once this little factoid is available — who else gets use of it, for what purpose?"
She said the vast majority of people agree to terms of services on apps without ever reading them, and that people are in effect giving consent without knowledge. She worries that the scope of those agreements will continue to broaden as people remain unaware.
Polsky notes that people could continue to sign away their privacy like never before, as they turn to the convenience and potential safety of technology.
"Now that the response to COVID has decimated national economies, governments are desperate to rebuild economies and diversify with technology, as if it is going to answer all of society's ills and all of the budgetary problems and all the health care scheduling issues," said Polsky.
"Technology is a tool is a tool — that is all. It is how it's used or abused that determines its worth, and from whose perspective."