[ad_1]

Homeowners will be allowed to repay the cost of the energy upgrades over time on their property tax bills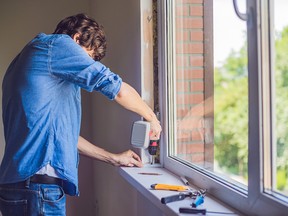 Article content
The federal government is committing $25.6 million to four Alberta communities to fund energy retrofit financing programs for residents.
Article content
The cities of Calgary, St. Albert and Lethbridge, as well as the Town of Canmore, will be splitting the home energy investment which is delivered through the Federation of Canadian Municipalities' (FCM) Community Efficiency Financing initiative — with Calgary receiving the biggest share of funds.
Article content
Each municipality will use grants and loans from FCM's Green Municipal Fund to establish financing programs for homeowners that will allow them to repay the cost of the energy upgrades over time on their property tax bills.
This kind of program helps homeowners overcome the high upfront cost of energy upgrades and know where to get started.
Federal Minister of Natural Resources Jonathan Wilkinson said the announcement with the FCM in Calgary on Monday afternoon will result in more efficient and comfortable homes in multiple Alberta communities.
Article content
"We are working with municipalities across Alberta to deliver greener buildings and support sustainable economic growth," said Wilkinson, adding that the increased energy efficiency not only lowers the bills for families but is an action against climate change and creates jobs for workers.
The City of Calgary is set to receive $15 million, while St. Albert will get $5,017,400, Lethbridge will receive $3,814,300 and Canmore will be given $1,622,960. Funding for FCM's Community Efficiency Financing initiative comes through the federal government.
Calgary Mayor Jyoti Gondek said climate change has serious implications for the city now and into the future.
"Calgary city council is committed to taking action on important climate initiatives, but we must work collectively as a city to make real progress," she said. "This fund will open the door for Calgarians to make their homes more energy efficient, reduce their carbon footprint and save money."
Article content
Through each community's clean energy improvement programs — which will use the Property Assessed Clean Energy (PACE) financing mechanism — homeowners will pay for the cost of their home energy projects through a charge on their property taxes, administered by Alberta Municipalities.
The Alberta Ecotrust Foundation, a Low Carbon Cities Canada partner for Calgary and Edmonton, receives funding through the Community Efficiency Financing initiative to assess the feasibility of complementary financing models to the clean energy improvement programs, led by qualified contractors who encourage energy retrofits.
Pat Letizia, the president and CEO of Alberta Ecotrust Foundation, said the group is appreciative of the investments.
Article content
"We are confident in the potential for this kind of programming to complement clean energy improvement programs and be adapted to other municipalities through our extensive network of partners and collaborators," said Letizia.
Lethbridge Mayor Blaine Hyggen said the funds will ensure the city's residents can make tangible sustainability improvements to their homes.
"It also means job creation in our community and with 20 per cent of this funding dedicated to supporting affordable housing providers with their properties, we'll see some of the most vulnerable in our community experience improved facilities," said Hyggen.
St. Albert will be launching the clean energy improvement program this fall with grant and loan funding from the Green Municipal Fund, according to St. Albert Mayor Cathy Heron.
"The City of St. Albert is committed to taking action against climate change and this funding will not only help reduce greenhouse-gas emissions in our community but improve the energy performance, comfort and affordability of existing homes and generate local economic opportunities," Heron said.
The Town of Canmore will be starting the program to manage the human impact on the environment, something that's top of mind for the town's council, said Canmore Mayor Sean Krausert.
[email protected]
Twitter: @BabychStephanie


[ad_2]

Source link