Article content
Adil El Arbi and Bilall Fallah, known in the film world as Adil & Bilall, have enjoyed a few pieces of good luck.
Article content
First, there was their meeting at film school in Belgium, where they bonded over a shared love of blockbuster movies. Then came Black, the 2015 crime film that nabbed them the Discovery Award at the Toronto International Film Festival.
"That," El Arbi, 33, says in a virtual chat from Los Angeles, "was our ticket to Hollywood."
The duo then landed the coveted job of directing Will Smith and Martin Lawrence in Bad Boys for Life, which became 2020's highest-grossing film.
But still, lurking in the background, was a longing to play in the Marvel Cinematic Universe.
"We were editing Bad Boys For Life and we were thinking, 'What's the next step?' and it had to be Marvel because they're the biggest in the biz," Fallah, 36, says.
Article content
They wanted to create a Muslim superhero, not knowing that one already existed — Ms. Marvel.
"When we found out about Ms. Marvel, we read the comic book and fell in love with Kamala Khan and her family and her world."
The pair executive-produce and direct the first and final episodes of the superhero show, now streaming on Disney+.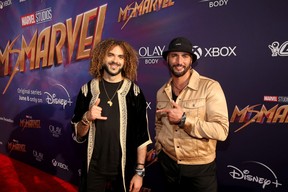 Played by 19-year-old Iman Vellani in the new series, Kamala is a quirky Muslim high-schooler dealing with high-school guidance counsellors and overbearing parents as she fantasizes about Marvel superheroes. If that sounds like a mashup between the coming-of-age movies of John Hughes and Tom Holland's Spider-Man films, that's exactly what it's supposed to be.
"You guessed right — it's John Hughes and Spider-Man," Fallah says.
Article content
The animated Into the Spider-Verse films also influenced the series.
"We wanted to show her dream world and her imagination and, through animation, you can do that," Fallah adds. "We were afraid that (Marvel Studios president) Kevin Feige wouldn't accept it because it's so different from other Marvel projects, but we made our case and, to our surprise, Kevin liked it."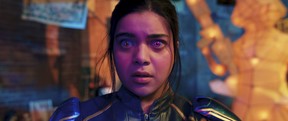 Following in the footsteps of filmmaker James Gunn (who directed Guardians of the Galaxy and The Suicide Squad), after playing in the MCU sandbox, the duo will helm a DC film, taking on Batgirl, starring Leslie Grace and Michael Keaton, who will reprise his role as the Caped Crusader from the 1989 original.
"It's mind-blowing!" Fallah says laughing.
Article content
In a recent conversation, El Arbi and Fallah spoke more about Ms. Marvel and how the series will set the stage for what comes next in the MCU.
After the success of Bad Boys For Life, I'm sure you had a lot of projects you could have chosen from. Why Ms. Marvel?
Fallah: "We personally connected with Kamala's story because we are Moroccan-Belgians and we are between those two worlds — kind of like Kamala, who is between American and Pakistani/Islamic culture. She's trying to find a way just like we were. That coming-of-age story is universal."
Iman is incredible. Why was she the right choice to play Kamala Khan?
El Arbi: "She's the biggest MCU fan you can imagine and Iron Man is her all-time favourite movie in the world. Kevin Feige is her idol … she was able to bring so much of her own personality and her own life to the character and she became the heart and soul of the show."
Article content
How do you see this character evolving in the MCU?
Fallah: "She has a big future in front of her."
El Arbi: "The bar is what Tom Holland did with Spider-Man. We can only hope that one day we'll achieve that level."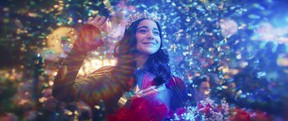 How is this going to set the stage for other things coming in the MCU?
El Arbi: "Kevin never tells you a lot. He tells you, 'You've got Ms. Marvel and you're allowed to do a bunch of stuff, but stay in the Ms. Marvel world.' We would ask him about Doctor Strange and The Marvels and he said, 'That's on a need-to-know basis. If there's a problem with what you want to do, I'll tell you — but I'll never tell you why.' "
Fallah: "Only Kevin knows the master plan."
You're bringing back the OG Batman, Michael Keaton, in Batgirl. What was that like?
El Arbi: "He was our first superhero that we loved. I was a five-year-old kid and I loved Michael Keaton. To be directing Batgirl and have Michael Keaton — the OG Batman there — was unbelievable. It was a big honour and a big privilege."
Ms. Marvel is streaming now on Disney+.
GTA Marvel fan Iman Vellani living the dream as star of 'Ms. Marvel'

Benedict Cumberbatch wants 10 more years with Doctor Strange

Eternals star Kit Harington on his Marvel future as Black Knight, the end of Game of Thrones and spoiler culture