[ad_1]

CEO Nitin Rakesh said he hopes to have 300 employees working in Calgary by the end of the year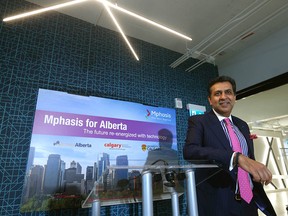 Article content
A global IT and quantum tech firm has officially established its Canadian headquarters in Calgary bringing with it investment and hundreds of expected jobs.
Article content
Mphasis uses quantum physics to assist companies in everything from cloud services to secure communications. CEO Nitin Rakesh said he hopes to have 300 employees working in Calgary by the end of 2022 and close to 1,000 new jobs created within the next 24 to 36 months.
"Think of us as the specialists who come with an understanding of the technology and an understanding of the business that you're in and how do you bring it together to solve business problems," said Rakesh. "(We have) 37,000 employees globally, deep roots in financial services, banking, insurance, high tech. So effectively it's really a company that has very, very deep technology roots, but with a very clear view of how to use tech to solve business."
Article content
Mphasis originally announced its intention to invest in Calgary last year with that commitment coming through Tuesday as the company showcased their downtown 20th storey office space overlooking the city's core.
Mphasis had revenues of $1.6 billion in the 2022 fiscal year and has offices in New York, Bangalore and Mexico, Taiwan and Costa Rica. Rakesh said he felt his company needed another headquarter in North America and that they chose Calgary over a slew of other cities due to the "vision" that is shared for the future between the provincial government as well as the University of Calgary, who Mphasis will partner with.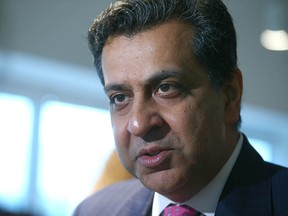 "They were not looking for or short-term gains, they were willing to back a long-term vision," said Rakesh. "That vision was oil and gas is great but can we actually look at the future? Can we start investing in building a tech hub."
Article content
Mphasis will be partnering with the U of C to create "Quantum City" a research hub at the university that will help students get experience in the field before they graduate. President and Vice-Chancellor Ed McCauley remained vague on the details of the partnership saying more announcements will be coming but said it will look at how the school and Mphasis can support talent and research to support development.
Calgary tech companies face fierce worldwide competition in hunt for new talent

Varcoe: Calgary tech firms think outside the box to entice workers from high-cost cities

Calgary Economic Development bullish on city prospects in annual community report
"The partnership with Mphasis is, again, really about helping to activate Calgary as a quantum city.," said McCauley. "It's not just about quantum computing. It's about how we use quantum science to support areas of secure communication, areas of finance areas of energy areas of looking for new health solutions."
Article content
He said the partnership and the opportunities it brings to students to work and learn will be a big plus for those enrolled at the university.
Minister of Jobs, Economy and Innovation Doug Schweitzer said the decision from Mphasis to invest in Calgary will help with the long-term vibrancy of the city and will create many opportunities for Albertans. He said the announcement Tuesday is the culmination of a lot of work from several partners as well as long-term investments made in the tech industry.
"You have all this diversification happening in Alberta. We've talked about it for decades and decades in our province. And it's tangible, it's real. And it's hit the critical mass point in our province, where Alberta truly is a tech hub in our country," said Schweitzer.
[ad_2]

Source link