[ad_1]

'It's incredible that Marvel is creating space for characters like Kamala,' Canadian actress says of Marvel's first Muslim superhero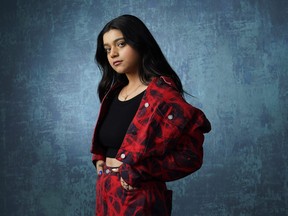 Article content
Iman Vellani has been obsessed with all things Marvel since the first Iron Man movie was released in 2008 when she was the age of five.
Article content
Much like Kamala Khan, the character she plays in Ms. Marvel (out this week on Disney+), the GTA native, who immigrated to Markham, Ont., with her parents from Karachi when she was about a year old, Vellani had been a life-long fan of the MCU.
"I grew up with the MCU, but when I was in seventh grade, something clicked," she says cheerily in a virtual chat from Toronto.
Iron Man, she says, was her favourite. "I love Robert Downey Jr. and everything about him and Tony Stark."
Vellani, 19, devoured all the comics featuring the Iron Man (she namechecks Matt Fraction's Invincible Iron Man series), but when she came across Ms. Marvel and the character of Kamala Khan, she found a new hero she could get behind. As far as comic books went, Ms. Marvel was relatively new, having only been co-created by Sana Amanat less than a decade ago.
Article content
Suddenly Vellani was cosplaying as Khan, a Muslim high schooler from Jersey City who is obsessed with Marvel superheroes and one day gets cosmic powers of her own that will let her fight side-by-side with them.
Of course, when Marvel set about to look for someone to play the teenager in a series that will expand its constantly growing Cinematic Universe, Vellani was one of the first to raise her hand and try out.
"I think Ms. Marvel really embraces and appreciates and acknowledges how much work goes into being a Marvel fan, because it's a lot," Vellani says. "Marvel fandom is demanding. We're 34 projects in, and you need to keep up with everything. There's the subreddits, the fan forums, fan fic, cosplay and fan art. Then there's breaking down the trailers, frame-by-frame, and breaking down the posters, inch-by-inch. That's how I grew up and that's how obsessive I was over Marvel."
Article content
Written by Bisha K. Ali (Loki), the series is a coming-of-age story that will introduce viewers to a hero that will play a big role in the MCU, with an appearance already booked for next year's Captain Marvel sequel, The Marvels.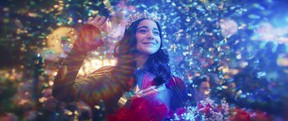 Her future directors and executive producers on Ms. Marvel, Adil El Arbi and Bilall Fallah, were impressed by her enthusiasm.
"Iman Vellani's story is parallel to Kamala Khan's. She's the biggest MCU fan … but she never thought that one day she'd be part of the MCU. All of a sudden, she's here and she's part of it. She brought so much of her own personality and her own life to the character, and she's become the heart and soul of the show."
As she learns the secret behind her newfound powers, the early episodes feature Kamala cosplaying as Carol Danvers (aka Captain Marvel) and strategizing a way to sneak out to Avengers Con (against the wishes of her parents).
Article content
It's light in tone, much like Tom Holland's introduction as Spider-Man in Captain America: Civil War and Spider-Man: Homecoming. Even though it's sure not to stay that way for long, Vellani has been rehearsed to say very little about the series' villain.
"I've been specifically trained to not talk about it," she says laughing. "But they're there."
Speaking in a video interview from Toronto, Vellani shared some of Ms. Marvel's inspirations and revealed which other Marvel heroes she'd like to team up with down the line.
What sets Kamala's powers apart from other heroes we've seen so far?
"We adapted the powers from the comics, but we had to reimagine them in a way to fit the direction the MCU is heading. But I think what's most important is that we stay true to the themes of the comic books. We don't root for Kamala because of her powers or her costume. It's because of their motivations and values. Kamala doesn't know how to fight crime or fight in a real fight at all — she's 16. But she knows she has these powers, and she has to use them for good."
Article content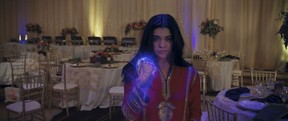 Did you have to go back and watch any of those high school movies from the '80s and '90s?
"John Hughes is one of my favourite directors — Breakfast Club and his other movies were in my head. But Boy by Taika Waititi was a huge inspiration for me. That is about a kid who is also living in fantasy land to escape reality and I wanted to bring some of that fantastical nature of imagination into Kamala. Also, Eighth Grade by Bo Burnham and Lady Bird, because of the mother-daughter relationship … we've got a lot going on."
There's a line in the show, where you say, "Brown girls from Jersey don't become superheroes." What does this mean to you when it comes to representation and the kinds of people and stories we are getting to see on the screen now?
Article content
"It's incredible that Marvel is creating space for characters like Kamala. These movies and shows play all over the world, and it's so important that we represent people from all over the world. I think people seeing a character like Kamala and an actor like me and the names in our credits is going to be really inspiring."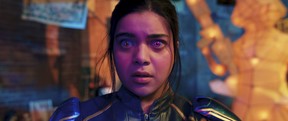 Who would you like to see Ms. Marvel team up with?
"I want Kamala to team up with Groot. I think that would be hilarious. Her and a talking tree — I want to see what that interaction would be like. But she could be with all of the Guardians (of the Galaxy). That could be a funny interaction. But also, America Chavez, (Hawkeye's) Kate Bishop — I want to see some young Avengers team up. That could be really fun."
Some quick ones before I let you go: What's your favourite Marvel movie?
"Iron Man."
Still? OK, who is the strongest Avenger?
"Wanda."
How about one word to describe the villain?
"(Laughs) Nope."
Ms. Marvel debuts on Disney+ June 8th
Benedict Cumberbatch talks Doctor Strange 2, Spidey spell, Marvel future

Oscar Isaac was hesitant to play 'Moon Knight' after 'Star Wars'

Eternals star Kit Harington on his Marvel future as Black Knight, the end of Game of Thrones and spoiler culture
[ad_2]

Source link