[ad_1]

The new routes bring Lynx's service to 10 destinations across Canada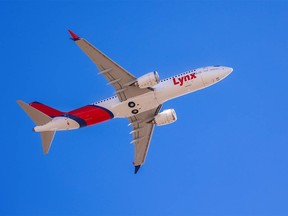 Article content
Calgary-based Lynx Air is rolling out two new destinations that will likely be enticing to Albertans with family on the East Coast.
Article content
On Monday, the ultralow-cost air carrier announced two new routes to St. John's, N.L., from Calgary and Edmonton.
And on Tuesday, the airline announced similar plans for routes from Alberta's two largest cities to Halifax, N.S.
Lynx Air president and CEO Merren McArthur said there are strong family ties between Alberta and Atlantic Canada, and the announcement of the new flights to those destinations triggered a lot of inquiries.
But she said it won't just be homesick Maritimers flying to these locations. She expects tourism to drive much of the traffic.
"We know it's a bucket list destination for many, many Canadians, and many of them tell us they haven't got there because the fares are too high."
The flights will have stopovers in Toronto or Hamilton depending on the day and time, but are considered "fly-throughs," with a single boarding pass and no need to exit the plane.
Article content
A search on Lynx Air's website showed a one-way flight to Halifax could be had for just under $200, while a one-way flight to St. John's would come in at around $280. Both of those prices include taxes and airport fees, but do not account for extras such as baggage — a carry-on bag that won't fit under a seat costs an additional $52.49, while a checked bag costs $62.99.
Starting July 14 there will be five flights each week from Edmonton to St. John's. On July 16, the airline will begin offering twice-weekly service from Calgary to St. John's.
That flight frequency will be flipped for service to Halifax, with Calgary offering five flights per week and Edmonton offering two. Calgary's service to Halifax begins July 14 while Edmonton's service begins July 30.
McArthur said they went with five flights per week to offer customers a consistent schedule and flexibility.
The new routes bring Lynx's service to 10 destinations across Canada — Victoria, Vancouver, Kelowna, Calgary, Edmonton, Winnipeg, Toronto Pearson, Hamilton, Halifax and St. John's.
[email protected]
Twitter: @brodie_thomas


[ad_2]

Source link