As long as both brothers are alive there's a chance the British rock band will reunite ⁠— 'but it won't be this week'
Article content
Liam Gallagher admits he was exaggerating a little when he described his new solo LP as "80% odd and 20% classic."
Article content
"Maybe I stretched that a little," he says in a phone interview from London. "It's more like 60-40. There's a few songs on there that have sounds I don't normally experiment with rather than being more out-and-out rock 'n' roll. But I think it works. Lockdown was a good time to do an album like this."
Released this week, C'mon You Know is the third solo record from the former Oasis frontman and finds him alternating between retro rockers (I'm Free, Everything's Electric), crowd-pleasing anthems (Better Days) and more plaintive, Beatles-inspired tracks (World's In Need, It Was Not Meant to Be). A saxophone played by Vampire Weekend's Ezra Koenig even turns up on the album's title track.
Article content
"Someone disguised it as a guitar. I said, 'That sounds like a saxophone,' and they told me it was a new type of guitar. I'm livid," the 49-year-old jokes. "I'm getting my lawyers."
Article content
After Oasis split in 2009 following Noel's heated confrontation with his younger brother in Paris, Gallagher founded Beady Eye before going solo in 2017 with As You Were. His sophomore LP, Why Me? Why Not., was released in 2019.
"I didn't decide to go solo," he explains. "Everyone in the band seemed sort-of-not interested. Even when I said, 'I'll pay for us to go on f—ing tour,' they were still unsure. So I thought, 'F— this. I'm out. No one is enthusiastic about it, f— it.' "
But after a few years off, Gallagher had an epiphany. "I'm here to make music, not stare at the four walls. That's when I decided to do the solo thing."
Article content
Of course, Gallagher knows that questions about Oasis will trail him around throughout every media cycle. During their 18 years, the multi-platinum-selling band spawned numerous chart hits, including Live Forever, Wonderwall and Don't Look Back in Anger.
On a recent Tuesday morning, the father of four gamely said the British rockers never should have split and seemed to dangle the possibility of a reunion.
"Well, as long as we're breathing and we're still here, then there's a chance we could get back together," he said. "We'll see, man. I think anything's possible. But it won't be this week."
As part of a new wave of British musicians that invaded North America in the 1990s, Gallagher is just happy audiences still turn up to hear him sing, even if he's by himself.
Article content
This summer, he'll tour parts of Europe, and is set to play the Knebworth Festival that Oasis headlined twice in front of 250,000 people in 1996.
"Obviously, Noel was the main songwriter in that band, but I did my bit, too," he says. "I just want to keep making the music and get my voice on as many great songs as I can and then leave the planet."
A lot of lockdown records are making their way to record shops. How did the pandemic affect C'mon You Know and the things you wanted to sing about?
"The things I want to sing about are always the same — it doesn't matter if there's a pandemic going down and we're all going to f—ing die. I'll always sing about love, life and that kind of stuff. But we got lucky. The Why Me? Why Not. tour had just finished and we went into lockdown, so I wasn't planning on doing a record at first. After six months, I thought, 'I'm sick of sitting on my hands watching these f—ing idiots on the TV telling us to behave.' So I went in and worked on some tunes. Before I knew it, I had half an album. When we were able to move around a bit, I got together with (producer) Andrew (Wyatt) and I just cracked on. It was pretty easy."
Article content
You collaborate with Dave Grohl on Everything's Electric. How did that come about?
"We finished the album in November, we had all the songs and then Dave Grohl was over in America with (producer) Greg Kurstin and I got a call from my manager telling me they were working on this song. I went back and listened to it and it was f—ing cool. I'm a big fan of Dave Grohl's and you don't turn down his music, because the Foo Fighters have some great songs and I love Dave's melodies. I immediately went back into the studio and put my vocals on it."
Article content
It's been a long time since Oasis called it quits …
"Hold on … Noel Gallagher is the one who decided to call it quits because he couldn't handle being told a couple of f—ing home truths and he knows he couldn't sack his brother and the main man, so he decided to go home. He was the one who called it quits."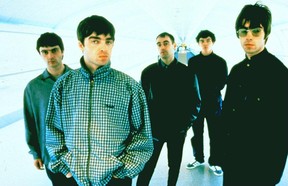 So how did that split make you a better musician?
"It made me more determined. I'm here to make music, whether that's with Noel or Dave Grohl or Andrew Wyatt or Kermit the Frog or Mickey the f—ing Mouse. I don't care who it is. I think it's a shame we split up. The albums we could have made these last 10 years or however long it's been could have been great. I didn't spit on his kids or shoot his cat. I think it's ridiculous. But it's made me more determined to carry on the name of Oasis, singing those songs live, and throwing in some of my new ones."
Article content
What's it like to know that your music has touched so many different generations?
"I'm very lucky and privileged to still be singing songs that were written 30 years ago at the highest level. It's beautiful seeing young kids at the shows who never got to see Oasis. It's great. It makes me think, 'I can't wait to get out there and do the business, man.' "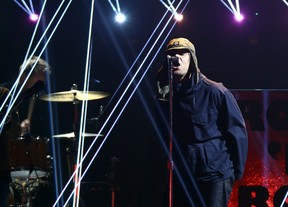 What was the key to your rock 'n' roll survival?
"Obviously, the music. We looked cool and we talked from the heart. We spoke a lot of s— too, but when you do that, you get to the point a lot quicker. We didn't give a f— and we spoke our minds and we had great tunes. We looked cool — well, some of us did, but I think that's what the key is. After that, we just kept going on. I'm lucky, I'll be making music until the day I die."
Article content
You're going to turn 50 this year. Is it just a number? Can you see yourself doing this when you're 70?
"In my mind, I feel around 22. Obviously, I can't party as much as used to, but I've had my fair share of partying. I'll just keep going, man, until someone turns the lights out."
How did your rock star dreams live up to the reality of where you ended up?
"It was perfect. I'm right on track. I knew I'd see the world and meet so many beautiful people. It's been amazing, and it still is amazing. But I also felt I would come full circle. So I'm glad I didn't get caught up in the showbiz thing. There's a lot of people from my era that got caught up in the showbiz life and the fame, but my ego is still intact. That, for me, is the best. I'm still the same person I was 30 years ago. A lot of other people I know that are in bands, they think their s— don't stink. Their egos are out of control. So that was the key to success for me — more than selling the records. I was able to see through the bulls— and keep my ego in check."
Article content
What do you think of new music when you look at the music charts?
"I don't look at any of that nonsense. But I listen to the radio and there are some decent bands out there. There's also a lot of pop s— out there that I find confusing. I don't want to be sounding like an it-was-better-in-my-generation-type guy. If that's what the kids are into, that's what they are into, who I am to argue? As long as there's room for what I do, I'm quite happy."
But do you think some of these newer artists will have the lasting power you did?
"Not a chance. No way. Do you think any of these lot — I'm not going to mention names because I don't want to come across as an old fart — are going to be filling out the Knebworth Festival 25 years from now or even once in their lifetime? I'm getting to do it four f—ing times. So, no, I don't see them lasting. But if it happens, I'll be first to say fair play to them."
Liam Gallagher's C'mon You Know is out now.
Noel Gallagher 'not even remotely curious' about Liam's solo career

Liam Gallagher quits partying for a month

Liam Gallagher gives up smoking and booze