'I've stepped in to help with my greatest asset,' SKIMS founder cheekily says
Article content
Kim Kardashian is proving to everyone she actually ate the "meat" in a recent commercial that went viral.
Last week, the SKIMS founder, 41, shared details about her new gig as "Chief Taste Consultant" for Beyond Meat. But eagle-eyed viewers questioned whether the reality star actually consumed the plant-based meat's product.
In the ad, Kardashian, who is seen sporting a new platinum-coloured hairdo and an all-black outfit, samples various items from the brand.
"I believe so much in the mission of Beyond Meat that I've stepped in to help with my greatest asset," Kardashian cheekily teases in the campaign video. "My taste."
But the socialite was accused of "fake" chewing and not actually taking any bites.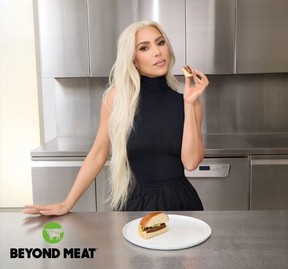 Article content
"It's so inauthentic it hurts," one critic wrote, while another added, "I ain't buying it cause you ain't really eating it."
"This is embarrassing," a third jabbed. "It's so nice she won't even take a bite!" a snarky YouTuber swiped.
But Kardashian spotted the digs and took to her Instagram Story this week to dispel any talk that she didn't eat the "meat."
"Guys, come on…
," she wrote in a behind-the-scenes clip, one of which showed her removing the top half of a bun from a burger as she said, "Getting rid of some of the carbs."
"So good," she exclaimed.
In other clips, she was seen trying a Beyond Meat chicken finger, which was followed by a slice of vegetarian sausage and a Beyond Meat taco.
In announcing the partnership, Kardashian said she is "focusing on going more plant-based."
"Beyond Meat is my absolute favourite – I love how all their products not only taste amazing but are also good for me and my family," said the star in a statement. "As my fans know, my fridge and freezer are fully stocked with Beyond Meat's products and I'm so thrilled to be featured in the campaign as its Chief Taste Consultant to inspire people to include Beyond Meat in their diets."
Kim Kardashian denies belly button Photoshop fail

Kim Kardashian apologizes for 'get your ass up and work' dig aimed at women

Kim Kardashian trashed for sharing 'offensive' business advice