'The crying, the facial expressions that she had, the staring at the jury — all of us were very uncomfortable'
Article content
One of the jury members who found Amber Heard guilty of defaming her ex-husband Johnny Depp is speaking out about the verdict, saying in a new interview that they didn't think her testimony was believable.
Article content
"The crying, the facial expressions that she had, the staring at the jury — all of us were very uncomfortable…," the juror told ABC News, in a segment that aired Thursday on Good Morning America.
ABC didn't reveal his identity, but he said that the majority of the jury felt "a lot of Amber's story didn't add up" and that "the majority of the jury felt she was the aggressor."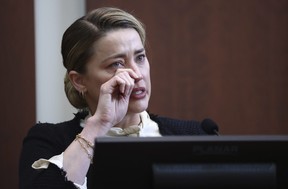 Depp, 59, sued Heard, 36, for $50 million, accusing her of defaming him when she wrote an op-ed claiming to have been a victim of domestic abuse. The three-time Oscar nominee claimed her opinion piece ruined his career and led to a series of cancelled film projects, including a sixth Pirates of the Caribbean feature.
Heard hit back with her own $100 million counterclaim after the star's former lawyer Adam Waldman called her allegations a hoax. Both accused one another of ruining their respective careers.
Article content
Last month, the seven-person jury sided with Depp, finding there was "clear and convincing evidence" that Heard had defamed him. He was awarded $15 million (an amount that was reduced to $10.4 million). But Heard also had a small victory of her own when it found that she too was also defamed through statements Waldman made to the Daily Mail.
During her testimony, Heard burst into tears repeatedly as she painted a picture of an allegedly controlling and abusive Depp, who, as he was known to the world as one of Hollywood's biggest film stars, was a Dr. Jekyll-Mr. Hyde-like "monster" behind closed doors.
The juror said Heard's emotional testimony was not realistic.
"She would answer one question and she would be crying and then two seconds later she would turn ice cold," they said. "Some of us used the expression 'crocodile tears.'"
On Depp's side, the juror said he came across as the more trustworthy of the two.
"A lot of the jury felt what he was saying, at the end of the day, was more believable…," said the juror. "He just seemed a little more real in terms of how he was responding to questions. His emotional state was very stable throughout…"
The juror added that the revelation that Heard did not donate the full $7 million divorce settlement (as she had pledged to do) was "… a fiasco for her."
Article content
During her cross-examination, Depp's lawyer, Camille Vasquez, got the Aquaman actress to admit that she hadn't fulfilled her promise to the Children's Hospital Los Angeles and the American Civil Liberties Union — as she had promised to do.
"She goes on a talk show in the U.K. The video shows her sitting there telling the host that she gave all that money away, and the terms she used in that video clip were, 'I gave it away,' 'I donated it,' 'It's gone.' But the fact is she didn't give much of it away at all," the juror said.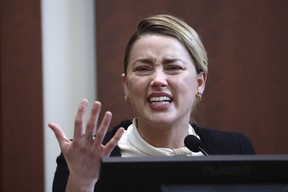 He also disputed Heard's claim that the jury was influenced by social media in reaching their decision.
Earlier this week, Heard spoke about Depp's overzealous fanbase in an interview with the TODAY show, saying that she was hounded in person and online with hashtags like #amberturd and #justiceforjohnnydepp generating billions of views on TikTok.
Article content
"Even somebody who is sure I'm deserving of all this hate and vitriol, even if you think that I'm lying, you still couldn't look me in the eye and tell me that you think on social media there's been a fair representation," Heard said. "You cannot tell me that you think that this has been fair," she said.
Meanwhile, Heard's attorney Elaine Bredehoft told CBS Mornings that the coordinated social media crusade aimed at discrediting her client's allegations likely played a role in the jury's decision.
"Not only did we have a group of Depp fans that were there every day – 100 were allowed in, they lined up at one in the morning for their wristbands to be in that courtroom – but we had everything on camera, and we had tremendous social media that was very, very, very much against Amber."
Article content
"We followed the evidence …," the juror fired back. "Myself and at least two other jurors don't use Twitter or Facebook. Others who had it, made a point not to talk about it."
He added that, "There wasn't enough or any evidence that really supported what she was saying."
As for the amount of the award in favour of Depp, the juror said each member "threw out a number they thought was fair." They also complimented Depp's "sharp" legal team.
Amber Heard says she still loves Johnny Depp 'with all my heart'

Amber Heard calls rumour she's been cut from 'Aquaman 2' 'insane'

Amber Heard says she'll stand by Depp abuse allegations until her 'dying day'

'Broke' Amber Heard can't pay Johnny Depp after losing defamation trial
Following the ruling, Depp posted a message to social media saying the "jury gave me my life back."
In a statement emailed to the Toronto Sun on Monday, a spokesperson for Heard addressed why she decided to take part in a televised interview this week.
"Johnny Depp's legal team blanketed the media for days after the verdict with numerous statements and interviews on television, and Depp himself did the same on social media," the spokesperson said. "Ms. Heard simply intended to respond to what they aggressively did last week; she did so by expressing her thoughts and feelings, much of which she was not allowed to do on the witness stand."