The duo teased new details for the hit show ahead of its return in February 2023
Article content
ANAHEIM, Calif. — If Jon Favreau gets his way, he's going to be part of the Star Wars universe for a very long time.
Article content
Favreau, who co-created The Mandalorian along with Dave Filoni (the mastermind behind Star Wars: The Clone Wars), gave fans at Star Wars Celebration a glimpse of the action they can expect when the third season of the hit Disney+ show returns next February.
An extended trailer, which was shown exclusively to attendees at the fan convention, showed Mando (Pedro Pascal) dealing with the fallout from having removed his helmet and seeking forgiveness for his "transgressions." But as he plots a journey to a ravaged Mandalore with his sidekick Grogu (aka Baby Yoda) in tow, The Armorer (Emily Swallow) warns him that "redemption is no longer possible."
Packed with action and scenes of aerial combat, the snippet also featured the return of Greef Karga (Carl Weathers), the ominous Doctor Pershing (Omid Abtahi), Carson Teva (Paul Sun-Hyung Lee), and Bo-Katan Kryze (Katee Sackhoff), who gruffly says to Grogu in one scene: "Did you think your dad was the only Mandalorian?"
Article content
"It's been a dream come true," Favreau said after taking a seat on the Celebration Stage. "I've always loved Star Wars. I grew up watching Star Wars and the types of stories I wanted to tell seemed suited to the small screen. I wanted to pare it down to something about a few characters with a personal story and set it in that world so that we had someplace to grow."
But shepherding The Mandalorian to TV on Disney+ was an opportunity to not only build out the Star Wars world, but introduce new fans into a vast storytelling universe that was first created by George Lucas in 1977.
"It became kind of an entry ramp. What we were most proud of was people were not just watching our show, but viewership went up for all the old movies and animated series."
Article content
Favreau, who helped kickstart the Marvel Cinematic Universe with 2008's Iron Man, said bringing new Star Wars stories to TV has been "the most fun I've had."
"I think chapter stories are fun to write and there's an adventurous spirit to how we write them. It's nice that you don't have to solve everything in two hours," he said, adding: "I'm going to be doing it for a long time."
Explaining Grogu's decision to abandon his Jedi training with Luke Skywalker in the spinoff series The Book of Boba Fett to reunite with Mando, Favreau said, "Bonds and families form in interesting ways."
"It's a throwback to Paper Moon where you think the whole movie is about Tatum O'Neal reuniting with her aunt and at the end she runs back to Ryan O'Neal," he added.
Article content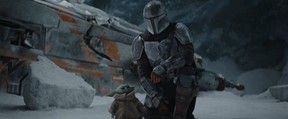 When he announced the show three years ago at a Celebration event in Chicago, Favreau said that he set the story after the events of The Return of the Jedi because it would allow him and Filoni to explore new types of "smugglers, scum and villainy."
Harrison Ford crashes Star Wars Celebration with 'Indy 5' news

Upcoming 'Light and Magic' Disney+ series explores geniuses behind ILM and 'Star Wars'

'Book of Boba Fett' stars on unlikely return of 'Star Wars' fan fave

Mark Hamill opens up on Mandalorian cameo surprise

'Badass' Mandalorian a lot like Clint Eastwood, Star Wars series star Pedro Pascal says
With Filoni three weeks in on production on Ahsoka, which features Rosario Dawson as Anakin Skywalker's former Jedi Padawan apprentice from The Clone Wars animated show, he was eager to keep a lid on any news from that upcoming series. But he did reflect on the stress of having to keep Baby Yoda a secret from Star Wars fans.
Article content
"I'm just glad it was in the first episode," he said laughing. The harder secret to keep was Luke Skywalker appearing in the Season 2 finale of Mandalorian.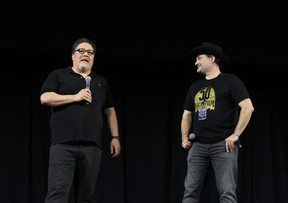 The pair were joined by some of the cast, including stars Pascal, Weathers, Sackhoff, Giancarlo Esposito (Moff Gideon) and Boba Fett (Temuera Morrison), along with newly-upgraded executive producer Rick Famuyiwa.
"It's the closest I've come to being a dad," Pascal said of his relationship with Grogu. "Maybe I should have a kid."
Weathers, who will direct an episode of Season 3, called the experience "a wonderful sandbox to play in."
Meanwhile, Esposito jokingly said he will "squash that little green bastard," referring to Grogu.
The panel also teased news about Ahsoka, another Star Wars spinoff set to debut sometime in 2023. Dawson said her role as the title character was the result of enthusiastic fan support.
Article content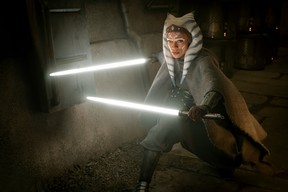 "I'm here because of people like you," Dawson told the rapturous crowd.
A brief trailer was shown featuring Dawson in her full Ahsoka outfit and included glimpses of Star Wars Rebels characters Hera and Sabine Wren. Chopper, a droid from Rebels, also whirled its way across the stage.
After Natashia Liu Bordizzo was announced as Wren, she said: "I'm so relieved that I can openly fangirl with the rest of you … I think you're going to be excited about the journey we're about to have."
Article content
Ushering Ahsoka into the live-action realm fulfilled a dream for Clone Wars writer and director Filoni, but he said that it has always been about uncovering the perfect creative partner to bring his animated characters to life.
"The trick has been finding the right people," he said.
Saturday's event was the third day of Celebration, which kicked off Thursday with news about other upcoming Star Wars shows, including Andor, Skeleton Crew and the newly launched Obi-Wan Kenobi. Harrison Ford also crashed the event to announce the release date for next summer's Indiana Jones 5, while director Ron Howard unveiled the first trailer for his sequel series to 1988's Willow.