Article content
During two morning show appearances Wednesday, Johnny Depp's lawyers hinted that the actor may not try to collect from his ex-wife Amber Heard after winning his defamation trial last week.
Article content
"This was about his reputation and he's done that," Depp's lawyer Benjamin Chew said during an interview with Good Morning America. "As Mr. Depp testified … this was never about money … It was a total win for Johnny."
Depp, 58, sued Heard, 36, for $50 million, accusing her of libelling him with a 2018 op-ed she wrote for the Washington Post in which she described herself as "a public figure representing domestic abuse." The three-time Oscar nominee claimed her article ruined his career and led to a series of cancelled film projects, including a sixth Pirates feature.
Earlier this month, a seven-person jury awarded Depp $10 million in compensatory damages and $5 million in punitive damages (which is capped at $350,000) over the article.
Article content
The trial peeled back the sordid details of Depp and Heard's tumultuous five-year relationship and revealed the actor's struggle the drug and alcohol abuse. But Chew said that the jury was able to see that Depp wasn't trying to hide his problems.
"Johnny took ownership of a lot of things and it seemed at times, and perhaps it came through to the jury, that she had an answer for everything and she wasn't taking accountability for anything, and I think that made a difference," he said.
Chew was joined by Camille Vasquez, who became a courtroom celebrity thanks to her dogged cross-examination of Heard and echoed Depp's claim that he was the abused party during his relationship with the Aquaman actress.
"Domestic violence doesn't have a gender," she said, adding, "The facts are what they were. The jury made a unanimous decision based on those facts."
Article content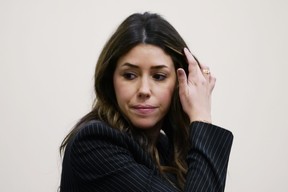 Vasquez added that she was focused on "using her words against her" when she cross-examined Heard.
In a separate interview with the TODAY show, Chew dismissed claims that social media played a role in the verdict, insisting that Depp won over the jury — and the majority of people who watched the six-week trial — because he took responsibility for his behaviour during their marriage.
"Johnny owned his issues. He was very candid about his alcohol and drug issues. He was candid about some unfortunate texts that he wrote," Chew said. "I think it was sharp contrast to Ms. Heard, who didn't seem, or at least the jury may have perceived that she didn't take accountability for anything."
Hinting again that Depp may not seek to collect, Chew added, "The weight of the world is off of his shoulders. He's got his life back."
Article content
After the jury ruled in his favour, Depp issued a statement on his Instagram page: "The best is yet to come and a new chapter has finally begun."
But earlier this week, Heard's spokesperson issued a statement to the Toronto Sun to chastise the three-time Oscar nominee's reintroduction to public life.
"As Johnny Depp says he's 'moving forward,' women's rights are moving backward. The verdict's message to victims of domestic violence is…be afraid to stand up and speak out."
Johnny Depp back as Captain Jack? Sixth 'Pirates' film a possibility

Jurors in Johnny Depp vs. Amber Heard trial accused of 'dozing off'

'Broke' Amber Heard can't pay Johnny Depp after losing defamation trial

JUSTICE FOR JOHNNY DEPP: Jury finds Amber Heard guilty of defamation