Article content
After he emerged victorious in his defamation trial against ex-wife Amber Heard, a onetime exec for Walt Disney Studios thinks Johnny Depp might return as Capt. Jack Sparrow in his long-running Pirates of the Caribbean series.
Article content
"I absolutely believe post-verdict that Pirates is primed for rebooting with Johnny as Capt. Jack back on board," the former exec tells PEOPLE. "There is just too much potential box-office treasure for a beloved character deeply embedded in the Disney culture."
Depp, 58, sued Heard, 36, for $50 million, accusing her of libelling him with a 2018 op-ed she wrote for the Washington Post in which she described herself as "a public figure representing domestic abuse." The three-time Oscar nominee claimed her article ruined his career and led to a series of cancelled film projects, including a sixth Pirates feature.
Heard hit back with her own $100 million counterclaim after the star's former lawyer Adam Waldman called her allegations an "abuse hoax." Both accused one another of ruining their respective careers.
Article content
The jury awarded Depp $15 million in damages.
Depp was awarded $10 million in compensatory damages and $5 million in punitive damages in his defamation suit. But the jury also awarded Heard $2 million in compensatory damages, finding that Waldman defamed her when he claimed that she and her friends staged property damage after an alleged fight.
After the jury ruled in his favour, Depp issued a statement to his Instagram page: "The best is yet to come and a new chapter has finally begun."
"I'm heartbroken that the mountain of evidence still was not enough to stand up to the disproportionate power, influence, and sway of my ex-husband," Heard said in a statement issued to the Sun.
Experts expect Depp, who hasn't acted in a movie since shooting 2020's little-seen Minamata, to start booking acting jobs soon.
Article content
"I think Johnny Depp is going to work again. He's going to get some big project," Clayton Davis, senior awards editor at Variety, told Reuters.
"We have a culture that allows these people to work again," Davis said.
"With (producer) Jerry Bruckheimer riding high on the massive success of Tom Cruise in Top Gun: Maverick, there is huge appetite for bringing back bankable Hollywood stars in massively popular franchises.," the insider tells PEOPLE.
Bruckheimer recently told The Sunday Times they are "developing two Pirates scripts — one with (Margot Robbie), one without."
As to whether he could return, Bruckheimer said, "The future is yet to be decided."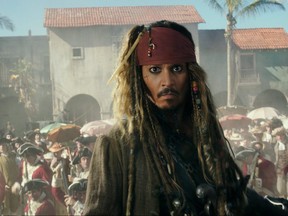 Another insider tells PEOPLE that Depp could appear in Robbie's film in a small role. "I would think they make Robbie his daughter and likely have a cameo with him as a test."
Article content
Depp earned an Oscar nod for playing Sparrow in 2003's Pirates of the Caribbean: The Curse of the Black Pearl. He reprised the role in four sequels, released in 2006, 2007, 2012 and 2017.
JUSTICE FOR JOHNNY DEPP: Jury finds Amber Heard guilty of defamation

'Broke' Amber Heard can't pay Johnny Depp after losing defamation trial

Amber Heard admits poop left for Johnny Depp was 'a horrible practical joke'

Petition to drop Amber Heard from 'Aquaman 2' hits record high
During his testimony, Depp said that he wanted to continue playing the beloved character "until it was time to stop."
"A franchise could only last for so long, and there's a way to end a franchise like that," he said.
"I thought that the characters deserved to end the franchise on a very good note. And I planned on continuing until it was time to stop," Depp said.
Article content
Depp also shed light on having to "rewrite" part of 2017's fifth instalment, Dead Men Tell No Tales, and the part he played in helping shape the original character.
"I incorporated my notes into the character and brought that character to life, much to the chagrin of Disney initially."
But he also agreed with Heard's legal team when they said he wouldn't play Sparrow again even if Disney offered him $300 million and a million alpacas.
Article content
"The fact is, Mr. Depp, if Disney came to you with $300 million and a million alpacas, nothing on this earth would get you to go back and work with Disney on a Pirates of the Caribbean film? Correct?" Heard's attorney Ben Rottenborn asked Depp during his cross-examination. Depp agreed that was the case.
Article content
Meanwhile, after a petition to drop Heard from Aquaman and the Lost Kingdom reached its 4.5 million goal, reliable insider KC Walsh posted a tweet claiming that Warner Bros. Pictures is considering deleting the actress' scenes from the sequel. While on the stand, Heard revealed that she appears in a "pared down" role of Mera in next year's superhero blockbuster.
Article content
Depp will make his post-trial comeback on a joint album he has recorded with British guitarist Jeff Beck that will be released in July.