Jerry and Marge Go Large: Annette Bening, Bryan Cranston and Larry Wilmore on the wholesome goodness of uplifting true story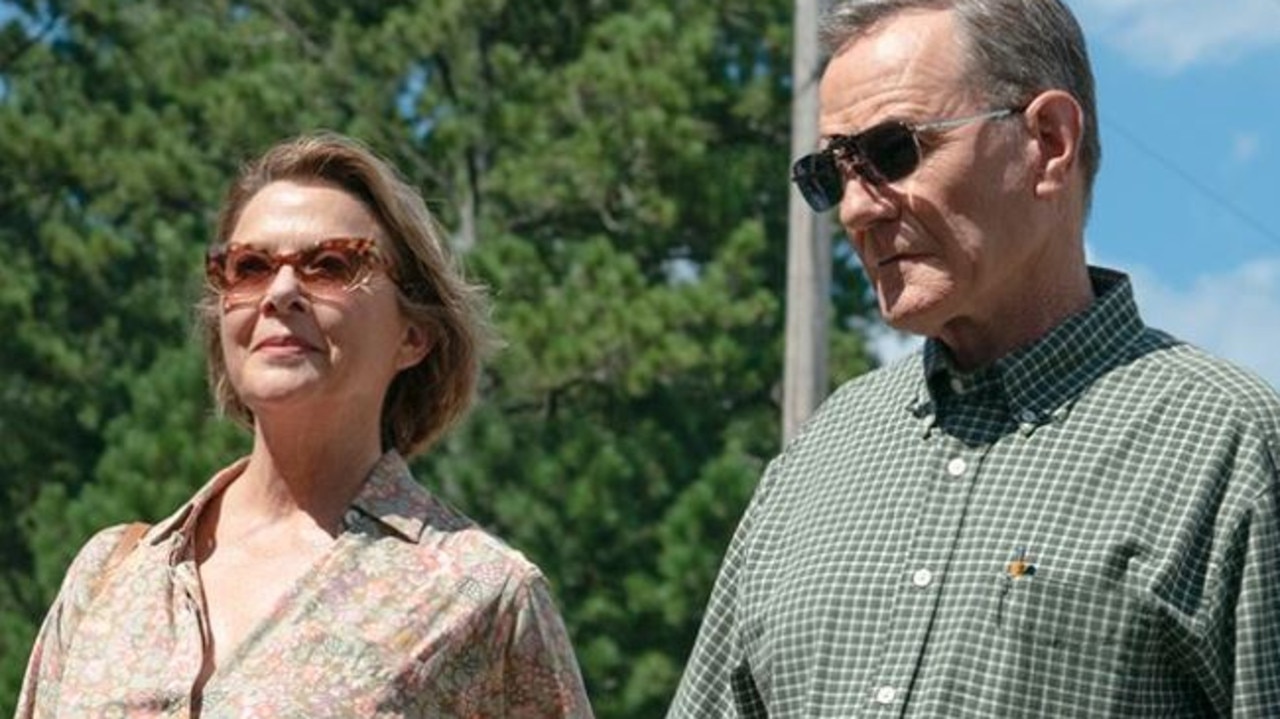 In a world of cynicism, decline and excess, sometimes an uplifting story is exactly the antidote we need.
Jerry and Marge Selby's story was wild in the best way possible.
With a sharp mind and a love for puzzling something out, Jerry discovered a loophole in a lottery game that he exploited to win $US26 million over nine years. And it was all entirely legal.
The Selbys are retirees from Michigan, and for years they drove from their home all the way to Massachusetts where they would spend days printing tickets and then even longer scouring each piece of paper for the winning numbers.
But it wasn't all for them. The Selbys shared their good fortune with their community, upgraded their town and helped their family and friends. It's a good news story.
It was a story that also proved irresistible to Hollywood, which has turned the Selbys' tale into Jerry and Marge Go Large, starring luminaries Bryan Cranston and Annette Bening.
The Selbys' wholesome story goes against the grain of the most high-profile movies and TV shows, spotlighting a slice of US culture that is now rarely seen around the world, so focused are we all on the worst of American decline and excess.
"It's hard to make a story right now that doesn't have cynicism in it because obviously the stakes are very high right now, all over the world and certainly in America," Bening told news.com.au. "There are so many polarised people, and the political atmosphere is very polarised too.
"So, to find the true story of Jerry who finds a flaw in the lottery system and they go to their friends, their kids and their community and go, 'Hey guys, join in' – this movie celebrates the fact this happened to these people and it didn't make them more cynical and it didn't make them more greedy. Or cause some terrible tragedy.
"It celebrates a really positive part of human nature that is genuinely truthful."
Bening said reading the script, which had come to her during the hard days of the pandemic, lifted her spirits.
"It was a simple choice for me," she added. "It really lifted my spirits, it made me laugh and I thought, 'This is what we need right now'."
Cranston too saw the gem on the page. "When you read something and it resonates with you and has meaning and pathos to you, you trust that's also the feeling an audience will have.
"That you will be able to turn that around and present it to them and they'll feel the same thing. That's the hope and you have to trust your instincts that you've chosen wisely. Jerry and Marge created that type of effect.
"It turned out exactly as I hoped it would – a sweet, loving, positive and uplifting adventure."
Cranston also pointed to Bening as a reason he enjoyed the experience so much, that she was someone that he could not only get along with but also appreciate. And that's not always the case.
"There have been people who go unnamed who I have not enjoyed working with, and as you get older you want that less and less. I don't want to spend six weeks with someone I know that's going to be work."
That mutual respect and admiration translates on the screen, where their onscreen counterparts, the fictionalised Jerry and Marge have an easygoing, loving relationship that is reminiscent of the type of American storytelling that almost feels like it was part of a bygone era.
Co-star Larry Wilmore agreed that there used to be more of the Jerry and Marge type of stories than now.
"The American film industry turned around and went to the antihero thing, and more deconstructing life than showing this type of thing," Wilmore said. "I think there is still a lot of that which exists out there than is given credit for, because it's not always a headline grabber.
"So we're covering more of the destruction going on. Unfortunately there is a lot of bad stuff going but there are still a lot of good things too. And I hope this gives people hope that [the Selbys' story] can happen because we didn't make this up, this story is true.
"When I read the script, I was thinking 'Thank you, we need this type of story'. It wasn't flashy, it was just real."
Jerry and Marge Go Large is on Paramount+ from Saturday, June 17
Originally published as Jerry and Marge Go Large: Annette Bening, Bryan Cranston and Larry Wilmore on the wholesome goodness of uplifting true story