"The storm knocked down mature trees. There's a lot more debris than normal and the damage to our network is major."
Article content
Morin Heights resident Marc-André Ouellet knew something was amiss when he looked outside his window Saturday afternoon just after 4:30 p.m. and saw his Mercedes Sprinter van lying on its side.
Only when he opened his front door did he notice the tall, century-old pine that had come crashing down on top of the vehicle.
"I could see the wheels were about six feet above the ground, but thought it was just the wind that had knocked my truck over," Ouellet recalled Tuesday in a telephone interview. "In fact, it was the tree that broke. The vehicle is a wreck. The frame is bent. It's become a tourist attraction."
As of Tuesday afternoon, Ouellet was among about 117,000 Hydro-Québec customers — mostly in Lanaudière, Outaouais and the Laurentians — who had been in the dark since Saturday afternoon. Most of central Morin Heights was still without power, he said.
Article content
Canada's biggest hydroelectricity generator said Tuesday it was aiming to restore power by the end of the day to more than 90 per cent of the customers affected by the weekend storms. Still, several more days could be required for about 30,000 people to be reconnected, spokesman Francis Labbé said Tuesday.
"It's going to be difficult to restore power to the last customers," Labbé said. "Some of them are going to need to be patient."
This is probably Hydro-Québec's biggest springtime outage in more than a decade, Labbé said. As many as 554,000 people lost power in the aftermath of the violent storms that rammed southern Ontario and Quebec on Saturday.
One person died in Quebec during the storm and nine people died in Ontario.
Article content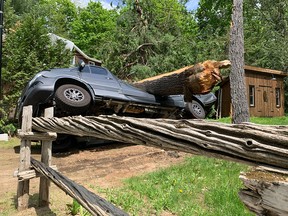 The storms affected a strip of land 300 kilometres long and 100 km wide — a breadth rarely seen, Régis Tellier, vice-president of operations and maintenance at Hydro-Québec, said Monday. The storms toppled hydro poles and transmission towers, uprooted trees and ripped shingles and siding from houses. In Quebec City, part of the roof on a 72-unit condominium was carried off Saturday evening by the wind.
Ouellet says he lost power about five minutes after authorities issued a weather alert via text message to mobile phone customers.
"I was sitting at home with a couple of friends when we got the alert, and we looked at each other wondering what on Earth was going on," he said. "From now on, I'm going to start believing these alerts."
Article content
As of late Tuesday morning, about 1,400 weather-related outages remained. Many of them affected only a handful of customers. One third of the outages affected five customers or less each, Hydro-Québec said.
"Each outage we want to repair takes more time than what would normally be required," Labbé said. "The storm knocked down mature trees. There's a lot more debris than normal and the damage to our network is major. Before we can even try to end the outage, we have to cut entire trees to pieces."
Hydro-Québec estimates it has about 1,500 employees, part of about 700 field crews, working to restore power. Private contractors have been called in to help cut down fallen trees. New Brunswick has also dispatched crews.
Back in Morin Heights, Ouellet acknowledges he had luck in his misfortune. He and his partner can rely on a barbecue to cook meals and relatives have lent them an emergency generator to power their refrigerator.
"We're camping at home, but things could be a lot worse," he said. "Nobody got hurt. The damage is only material."
'Major work' needed to restore power to some Quebecers after Saturday's storms

Frigid January made Hydro-Québec's first-quarter profits sizzle