Rates are still below pre-pandemic levels; however, the problem is the record amount of debt Albertans are carrying
Article content
As the Bank of Canada raised interest rates by 50 basis points on Wednesday, it has some concerned about the ability of the average Calgarian to meet the continued rising cost of living.
Article content
Economists largely expected the interest rate to increase to 1.5 per cent. It is the third time this year the bank has jumped rates in an attempt to slow inflation, which is at a 30-year high. It is also likely not the final increase this year, as Charles St-Arnaud, chief economist for Alberta Central, is still predicting rates to hit 2.5 per cent by early next year, if not before.
Article content
Rates are still below pre-pandemic levels (1.75 per cent); however, the problem is the record amount of debt Albertans are carrying.
"Our economy is way more sensitive to rate increases than it has been over the past 50 years, because of the high level of debt," he said. "Right now any increase is having a bigger impact on consumers' balance sheet."
Article content
Inflation has been fuelled by a number of factors, including supply chain challenges, droughts, the pandemic and geopolitical issues like the Russian invasion of Ukraine which has added many complexities to the cost of living globally.
Gas prices in Calgary have shot up 7.5 cents per litre in the last week to 178.9 on average on Wednesday, according to GasBuddy.com.
Article content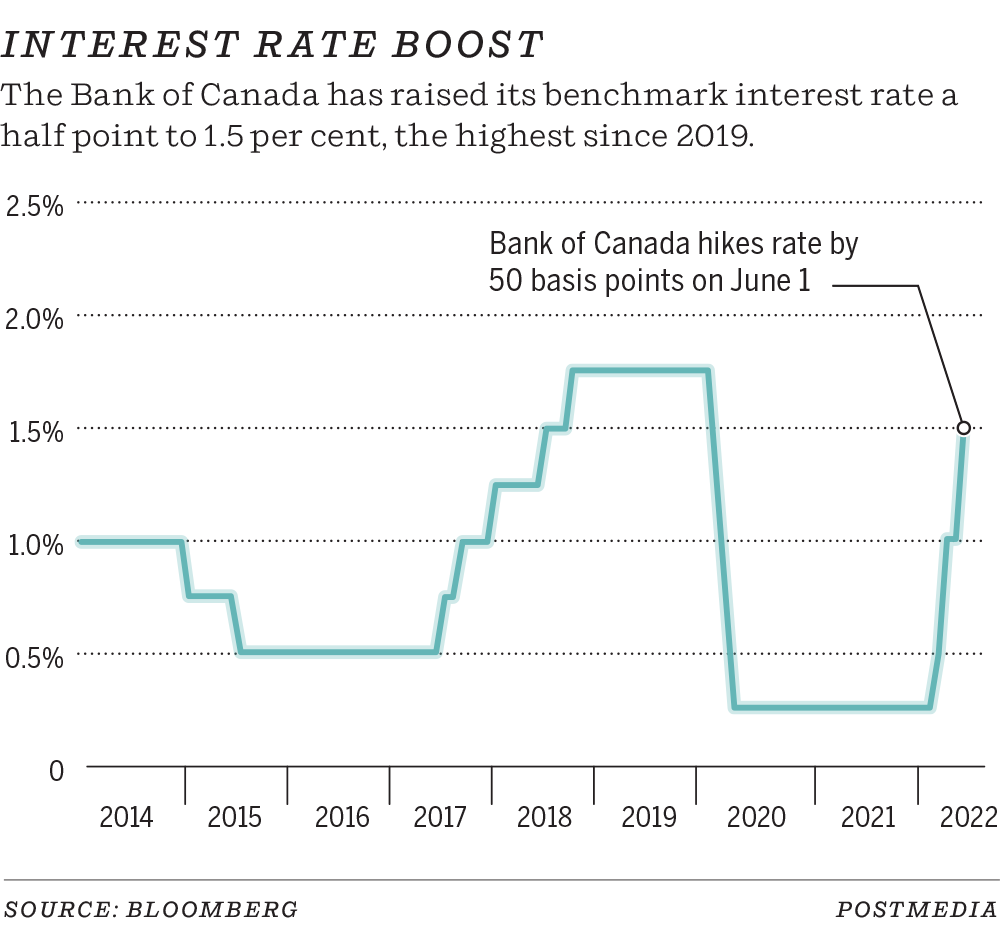 Interest rates are one of the few levers that can be pulled in Canada, but even then it will take months to calm inflation. The goal is to slow the economy enough to bring the cost of living back into balance but not too far as to create a recession.
Albertans are carrying more debt than any other province, with a 210.7 per cent debt-to-income ratio as of 2019, with B.C. households at 203.1 per cent and levels dropping dramatically after. St-Arnauld said one saving grace for Albertans is that they had a higher saving rate than most other Canadians at 14.2 per cent as of 2020, but it is unclear how sustainable this was through the pandemic.
Article content
He also noted Albertans have the largest proportion of non-mortgage debt in Canada.
Those with a variable interest rate on lines of credit or loans will see the increase show up immediately.
Still hot real estate
One of the main areas being targeted by the increase in interest rates is the housing market, which has been on a record pace for months. Some markets in Canada, like Toronto and Vancouver, have actually seen a contraction in prices, but Calgary continues to burn hot in the seller's market, even if it has fallen off the all-time record levels of March.
The biggest cooling has been in the detached market in terms of sales, but even still, prices are on a record pace for May for the segment. It has also caused other segments like row houses and semi-detached homes to continue to pick up steam and further pushed the apartment condo market towards recovery from the 2024-15 segment collapse.
Article content
Ann-Marie Lurie, chief economist for the Calgary Real Estate Board, does not expect to see home prices contract in Calgary this year, even if interest rates hit 2.5 per cent, but it may help push the market back to balance.
"When we look at the numbers, they're still exceptionally strong and we're still at a record high for May," she said. "We're slowing down from where we were, but it's not that we've had this massive pullback in terms of our overall sales activity. The market remains exceptionally tight here."
Rising interest rates pushing more Albertans toward bankruptcy

Interest rate hike ratchets up debt, price squeeze for Albertans
Homeowners also are not paying 1.5 per cent interest on their mortgage, but are generally paying much more through a lender. Many were already starting to increase prior to Wednesday's announcement in anticipation of the hike, but even discount lenders have increased their rates from 2.5 per cent in January to as high as four per cent.
Article content
Donna Carson, a licensed insolvency trustee with MNP Ltd., said a one percentage point increase on a $400,000 home translates into a $300 a month increase in mortgage. The benchmark price of a detached home in Calgary in May was $648,500, up almost 17 per cent over last year.
MNP's consumer debt index, released in April, showed 52 per cent of Alberta households were within $200 of not being able to meet their financial obligations at the end of the month.
Carson said this is leading to more people contacting licensed insolvency trustees, which she says is a critical step to figuring out financial struggles.
She noted it is important to reach out before burning through emergency savings or cashing in RRSPs as there could be another route.
"More and more people don't have those savings anymore," she said. "If it's not fixing the whole picture, or a plan for the whole picture, then maybe that's not the road I want to go. Just sit down with a licensed trustee like us and go over the options before I cash out that emergency money, before I cash out that RRSP, and let's look at the different options."
Twitter: @JoshAldrich03