[ad_1]

Despite its longevity, the Société des arts technologiques remains a mystery to many Montrealers. Its new boss wants to change that.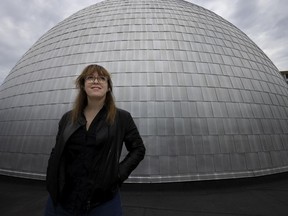 Article content
Jenny Thibault wants to take the Société des arts technologiques (SAT) back to its roots.
Article content
Thibault took over as director general and artistic director of the innovative high-tech arts centre on St-Laurent Blvd. last September, after founding director general Monique Savoie stepped down following more than two decades at the helm.
In a conversation over coffee at the SAT café on Monday morning, Thibault said she wants the arts space to focus on the interaction between cutting-edge technology and real-life human performance. In other words, it's not just about slapping on a pair of virtual-reality headsets and disappearing into a screen.
"We really want to bring it back to what it was like right at the beginning," Thibault said. "What is SAT? Why are we doing these things? Who are we trying to reach?
Article content
"We're not into VR headsets. We're not like the Arsenal that hosts immersive shows about famous painters. We want to work on immersive arts but mixed with live performances. To bring together different art forms, like dance, music, theatre, and bring immersive experiences to them.
"For example, we'd like to connect live venues across the world. So we could do a DJ set that brings together DJs performing at the same time in Montreal, New York and Berlin. So the lineup of artists could be international."
Those sorts of mash-ups of live and virtual performances will be happening this week as the SAT kicks off its 25th anniversary celebrations Tuesday with five days of events. There will be a première at 5 p.m. Tuesday of live performances of dance and theatre that will be presented at the SAT and on its virtual platform. There will also be a conference Tuesday at 4 p.m. looking at the concept of going from individual immersion to collective immersion.
Article content
There will be live performances by DJs on Friday and Saturday, along with a non-stop barbecue on the terrasse just beside the SAT restaurant Foodlab. All events are open to the public.
SAT has been a key player in the high-tech artistic community here for the past 25 years, but it remains a mystery to a large slice of the general public. It might be best-known as a live-music venue, with a 990-capacity hall on the ground floor that hosts all kinds of shows, with a big focus on electronic-dance music. But many of the people who go to the concerts don't realize all the other things that go on in this building on the Main just below Ste-Catherine St.
There's the Satosphère, a domed venue that is perfect for immersive events where often enough DJs crank out high-decibel dance tracks and eye-catching 360-degree visuals are projected all over the room, including on the domed ceiling. It also offers courses in immersive technology for children and adults, and has a Metalab for research and development. There's also a café and the Foodlab restaurant.
Article content
"I like to say that the SAT is like an octopus with many different tentacles," said Thibault.
And she wants to bring it to the attention of more Montrealers.
"A lot of people from the cutting-edge arts community have passed through the SAT in the last 25 years," Thibault said. "What I want is to make it more accessible for people who want to propose projects. SAT can really help young artists just out of school just as much as a veteran content-creator who wants to renew his work approach. The idea is that it can be a meeting place for people who want to experiment."
Thibault also wants to work with other players in the Quartier des spectacles. For example, if people go see a play just round the corner from the SAT at the Théâtre Jean Duceppe, she might want to book a complementary event that would appeal to some of the theatregoers looking for a little late-night fun.
Article content
Thibault worked for the National Film Board for 12 years, spending much of the time marketing films, notably online and immersive documentary projects. Prior to that she was one of the founders of the Festival de musique émergente in Rouyn-Noranda, which is where she comes from originally.
"I'm a matchmaker," Thibault said. "I like bringing people together. I like creating projects that might seem surprising, but for me it's all about creating winning teams.
"So they are wild projects built by people with very different backgrounds. I put people together who might never have met otherwise and I give them the possibility to create a project."
SAT Fest launches more than 50 days of mind-bending media

Video: Montreal's Satosphère opens next week with new hypnotic show


[ad_2]

Source link