Organizers expect the three-day event will draw about 30,000 people from more than 110 countries
Article content
The last time the Global Energy Show ran in Calgary in 2019, the energy sector was in a completely different position.
Article content
Oil and gas was still recovering from the bottom falling out of the industry in 2014-15 and the sector was still grappling with the idea of transition.
That transition is now in full force, complete with net-zero plans in the oilsands and large investments in renewable and green energy, including hydrogen, wind, solar and geothermal as well as growth in carbon capture technology. Meanwhile, oil and gas has shot back up to a new boom boosted in part by geopolitical forces and growing global demand.
Nick Samain — vice president, North America for dmg, which is hosting the event — said the gathering this year is not about one branch of the energy sector. It's about all of it and having honest conversations about the direction of the industry, while understanding there is no one single source of energy that can meet the world's needs.
Article content
"What the Global Energy Show can't be, and isn't, is just another conference of energy people talking to energy people in a bubble out here in Alberta, and everybody cheering when somebody says the right things on all the things that we need to do, and the conference closes … and that national perception of Canadian energy remains the same," he said.
"We invite people to come down in a respectful, safe, inclusive environment and just come see for yourself, meet the people, and you may be surprised."
The exhibition will be global by more than just name, with the goal of changing perspective on what the sector is in Alberta.
Organizers are preparing for 30,000 people from more than 110 countries to come to the Stampede grounds from Tuesday to Thursday this week. Speakers will range widely in perspective and nationality.
Article content
Varcoe: After two lost pandemic years, Global Energy Show returns to face an industry transformation

Varcoe: Canada's energy sector sets sights on net-zero oilsands and LNG to secure future
The conference will open with former Liberal cabinet minister Jody Wilson-Raybould, discussing the role of Indigenous communities and contributions in the sector moving forward. Meanwhile, one of the major keynote speakers will be former Texas governor and U.S. Secretary of Energy Rick Perry on Wednesday morning.
Meanwhile, there will be discussions on clean and renewable energy with speakers like Dan Balaban, the president and CEO of Greengate Power, and Perry Toms, the director and co-founder of Steeper Energy among others.
Article content
There will be several representatives from Ukrainian oil company Naftogaz as well as the Ambassador of Ukraine to Canada Yulia Kovaliv specifically addressing the impacts of the Russian invasion on global energy.
Other international representation will include Nigeria's petroleum minister Chief Timipre Marlin Sylva, Ghana's energy minister Dr. Matthew Opoku Prempeh, and Iceland's Minister of Higher Education, Science and Innovation Áslaug Arna Sigurbjörnsdóttir, to name a few.
Larysa Harapyn of the National Post and Financial Post will serve as host and run point on different panels.
Cenovus is co-hosting the event and president and CEO Alex Pourbaix will sit down and answer 10 questions about the industry.
Article content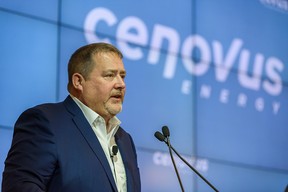 "Sitting in those seats here, really with the variety of speakers here, we're going to be asking those leaders like, Alex, who are shaping that future … and what that means to net zero, to really talk about that," said Samain. "This isn't content that you can really get anywhere else, live in-person."
The more than 300 speakers will be spread out between a strategic conference that will focus on energy demand and how leaders aim to meet those challenges, and a technical conference that will feature technical and project-based influencers.
Pourbaix said in a press release that these types of industry shows "provide a great forum to share knowledge and showcase technologies and innovations to address the climate challenges and help reduce our impacts on air, land, and water resources."
Article content
The show in 2019 represented $45 million of direct economic impact to the City of Calgary with more than 53,000 attendees, and led to more than $54 million of impact in tourism-related activities.
There will be an industry award show on June 8 to recognize leaders and innovators in energy. The Global Energy show also includes a trade show and exhibition with more than 600 exhibitors across five halls and an outdoor zone.
For Samain, the future of the sector is also about the people and this year there is a strong emphasis on that workforce with a Next Gen program.
"We want students, we want young people to come down and see what energy is about," he said. "This is a big open doors for the energy sector and for the hundreds and hundreds of companies that are on the show floor."
Twitter: @JoshAldrich03