[ad_1]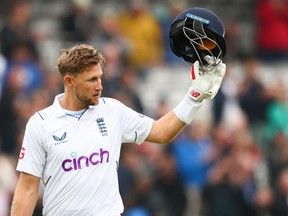 Article content
There were wild celebrations all around London on the weekend.
Article content
Hundreds of thousands jammed the area surrounding Buckingham Palace, the residence of Queen Elizabeth II, to celebrate the monarch's Platinum Jubilee.
And there were celebrations at Lord's, the home of cricket, less than an hour's drive from Buckingham Palace as well where former England captain Joe Root held centre court. Root stroked his way to a brilliant century before a much smaller crowd because of exorbitant ticket prices and the fact the majority would prefer to toast the monarch than a pitiful England squad that had just one win in 17 Tests.
Article content
The 31-year-old Root displayed composure and class in his unbeaten knock of 115 to lead England to a five-wicket victory over New Zealand to kick-off Ben Stokes' new era as captain in style. It also signalled a winning start for new coach Brendon McCullum.
Article content
After Root brought up the winning runs there was a palpable relief on the team's balcony as Stokes and McCullum shared a huge hug.
England fans are hopeful it will be the first of many hugs and embraces as the team focuses on its long climb up the Test ranking from the bottom rung. Stokes then stood up and applauded Root all the way up to the dressing room.
It's no secret Root considered Stokes his right-hand man during his 64-game captaincy that spanned five years before he was forced to bail out.
Even though Root wanted to carry on despite being demolished by the Australians in the Ashes and a stunning defeat by the West Indies in the Caribbean, he realized it was time to pack it in. After scoring his 26th Test century at Lord's, Root finally admitted his time as captain had become a "very unhealthy relationship" and it had begun to "take a bad toll on my personal health."
Article content
In his first Test without the burden of captaincy, Root also helped repay a debt to Stokes, who had stayed loyal to him during the lean years. Root's knock in his 118th Test was even more significant as he became only the second Englishman behind Alastair Cook and 14th overall to score 10,000 Test runs. Cook, who ended his Test career on 12,472 runs, is confident Root "will go miles past my record."
Cook, who is still active in English County cricket sits fifth on the all-time list topped by none other than India's iconic Sachin Tendulkar, who amassed 15,921 runs in 200 Tests between 1989 and 2013. A quick look at the list behind Tendulkar reveals that Root is the only man who could surpass Tendulkar, but that would mean playing at least 60 more Tests.
Article content
In the meantime, England's management is all wrapped up in the euphoria of this new era the country has embarked on — a new captain and a new coach. We can't recall when there was so much fanfare about a coach taking reins of the England squad or for that matter any national squad. Of course, hiring former New Zealander McCullum who has never coached an international squad raised eyebrows but that obviously didn't matter. What McCullum dished out with his bat seemed more important.
McCullum was one of the most destructive batsmen in the same mould as Virender Sehwag, Chris Gayle and Viv Richards. They all believed in thrilling the crowds with their smash-and-bash approach and both Stokes and McCullum believe in throwing caution to the wind. They are a perfect pair to raise England's stock, but let's not get carried away.
Article content
At Lord's, New Zealand had a number of their players whose minds were still stuck on white-ball cricket after their stint in the Indian Premier League. You can be sure the visitors will be a different proposition in the next two matches as McCullum and Stokes have several issues to sort out.
England's batting isn't rock-steady as was evident at Lord's when it managed a meagre 141 in the first innings after dismissing the visitors for 132. New Zealand posted 285 in the second and England reached that target with five wickets to spare after losing the first four wickets for 69 runs.
Next for England will be South Africa followed by India for a rearranged fifth Test. The winter includes tough trips to Pakistan and New Zealand before the visit of Australia next year.
AUSSIES SMASH SRI LANKANS
Visiting Australia handed Sri Lanka its heaviest defeat at home in its opening T20 match at Colombo. The home team made a superb start by putting up 100 for one before losing nine wickets for 28 runs to slump to 128. The damage was done speedster Josh Hazelwood, who took four wickets for 16 runs. Openers David Warner (70 not out) and Aaron Finch (61 not out) then blasted 134 without loss for a 10-wicket win as the Aussies reached their target with 36 balls to spare.
[ad_2]

Source link