'You cannot tell me that you think that this has been fair,' actress says in upcoming TODAY show interview
Article content
In her first post-trial interview, Amber Heard told the TODAY show's Savannah Guthrie that the seven-person jury ruled in favour of her ex-husband Johnny Depp in their explosive defamation case because he is "a fantastic actor."
Article content
Depp, 58, sued Heard, 36, for $50 million, accusing her of libelling him with a 2018 op-ed she wrote for the Washington Post in which she described herself as "a public figure representing domestic abuse." The three-time Oscar nominee claimed her article ruined his career and led to a series of cancelled film projects, including a sixth Pirates of the Caribbean feature.
Heard hit back with her own $100 million counterclaim after the star's former lawyer Adam Waldman called her allegations a hoax. Both accused one another of ruining their respective careers.
Last month, a seven-person jury awarded Depp $10 million in compensatory damages and $5 million in punitive damages (which is capped at $350,000) over the article.
Article content
The trial peeled back the sordid details of Depp and Heard's tumultuous five-year relationship and revealed the actor's struggle with drug and alcohol abuse.
But in a new interview set to air this week on the TODAY show and NBC's Dateline, Heard asserted that the jury was swayed by a vicious social media campaign that was overwhelmingly against her throughout the trial.
"Even somebody who is sure I'm deserving of all this hate and vitriol, even if you think that I'm lying, you still couldn't look me in the eye and tell me that you think on social media there's been a fair representation," Heard said. "You cannot tell me that you think that this has been fair."
Article content
Videos with the hashtag #amberturd were viewed more than 4.8 billion times on TikTok. Those include a video in which TikTok user @sansanjovs ridiculed the Aquaman actress' tearful testimony. So far, that clip has notched 2.2 million likes and was captioned, "A fun little web we're spinning."
As of June 13, the hashtag #justiceforjohnnydepp had over 20 billion views on TikTok, while #amberheardisguilty had 957.9 million views on the social media platform. By comparison, #justiceforamberheard notched just 90 million views.
Article content
Heard's attorney Elaine Bredehoft told CBS Mornings that the coordinated social media crusade aimed at discrediting her client's allegations likely played a role in the jury's decision.
"Not only did we have a group of Depp fans that were there every day – 100 were allowed in, they lined up at one in the morning for their wristbands to be in that courtroom – but we had everything on camera, and we had tremendous social media that was very, very, very much against Amber."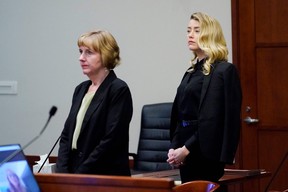 In an interview with the TODAY show last week, Depp's attorney Benjamin Chew dismissed claims that social media played a role in the jury's decision, insisting that Depp won over the panel — and the majority of people who watched the six-week trial — because he took responsibility for his behaviour during their marriage.
Article content
"Johnny owned his issues. He was very candid about his alcohol and drug issues. He was candid about some unfortunate texts that he wrote," Chew said. "I think it was in sharp contrast to Ms. Heard, who didn't seem, or at least the jury may have perceived that she didn't take accountability for anything."
Even though the jury ruled against her and the online response has been solidly in favour of Depp, Heard told Guthrie that she is unbothered by the public's opinion of her.
"I don't care what one thinks about me or what judgments you want to make about what happened in the privacy of my own home, in my marriage, behind closed doors," Heard said. "I don't presume the average person should know these things. And so I don't take it personally."
Article content
Heard also said that she doesn't blame the jury for ruling against her.
"I actually understand," she said. "He's a beloved character and people feel they know him. He's a fantastic actor."
After Bredehoft said that Heard is unable to pay the judgment levied against her, Chew hinted that Depp may not try and collect. "This was about restoring his reputation, and he's done that," he said during an interview with George Stephanopoulos on GMA.
In a statement shared with the Toronto Sun, Heard's spokesperson said she sat down with Guthrie to set the record straight.
"Johnny Depp's legal team blanketed the media for days after the verdict with numerous statements and interviews on television, and Depp himself did the same on social media," they said. "Ms. Heard simply intended to respond to what they aggressively did last week; she did so by expressing her thoughts and feelings, much of which she was not allowed to do on the witness stand."
Johnny Depp's lawyers talks fist-pump moment, 'sexist' romance rumours

'TOTAL WIN': Johnny Depp's lawyers hint he may not make Amber Heard pay up

'Broke' Amber Heard can't pay Johnny Depp after losing defamation trial