After the trial began on April 12, Depp's legal team painted a damning portrait of the woman he says ruined his career
Article content
After the holiday weekend in the U.S., jurors continued to deliberate a verdict in the contentious trial between embattled former spouses Johnny Depp and Amber Heard on Tuesday.
Article content
Depp filed a defamation lawsuit against his ex-wife over a 2018 op-ed she wrote in The Washington Post, in which she referred to herself as a survivor of domestic abuse. Depp, who is suing for $50 million, claimed the article harmed his career and led to him losing a series of projects, including a sixth Pirates of the Caribbean film.
Heard argued that her article was protected under free speech and countersued Depp for $100 million accusing the actor's former lawyer Adam Waldman of ruining her career when he called her claims an "abuse hoax."
After about four hours of deliberations on Tuesday, the seven-person jury asked Judge Penney Azcarate to answer whether they should consider the entire article or just the headline. The headline said Heard "spoke up against sexual violence — and faced our culture's wrath."
Article content
Azcarate said she would tell the jury that the headline was the defamatory statement they should consider to reach their verdict.
In weighing Depp's suit, the jury has to consider several questions, including whether Heard made or published three separate statements in the op-ed, including the headline; if they imply or insinuate anything about Depp; and if so, whether they were false and/or made with actual malice.
As they deliberate on Heard's counterclaim, the jury has to mull six questions, including whether Waldman, while acting on behalf of Depp, made the statements, and if they were false and/or made with actual malice.
After the trial began on April 12, Depp's legal team painted a damning portrait of Heard, casting her as manipulative and vindictive during their five-year relationship that ended in 2016.
Article content
When he took the stand, Depp was forced to admit his past drug abuse, but he alleged that Heard abused him  and severed the tip of his finger during a 2015 fight in Australia.
"She has a need for violence. It erupts out of nowhere," Depp said.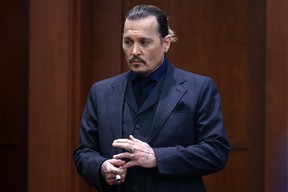 Johnny Depp's lawyer Camille Vasquez slams Amber Heard: 'This is a woman who burns bridges'

Lawyer warns Amber Heard she could face jail over perjury claims in her case against Johnny Depp

PR experts: Johnny Depp winning court of public opinion

Johnny Depp vs. Amber Heard: Revenge poop, burning corpses, drugs and more
Heard, meanwhile, painted herself as a survivor of violent physical abuse, alleging that he sexually assaulted her with a bottle during one bruising fight and repeatedly struck her, leaving her with cuts and bruises.
Article content
During her tearful testimony, Heard painted a picture of an allegedly controlling and abusive Depp, who, as he was known to the world as one of Hollywood's biggest film stars, was a Dr. Jekyll-Mr. Hyde-like "monster" behind closed doors.
While on a 2014 flight from Boston to Los Angeles, Heard alleged that Depp kicked her from behind in a jealous rage over intimate scenes she had filmed with actor James Franco.
"No one did anything. I felt so embarrassed that he could kick me to the ground and no one would do anything about it," she said sobbing.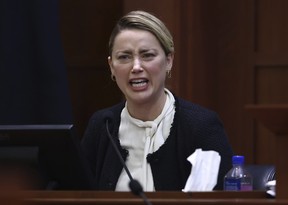 Another time, Heard described Depp's tantrum when he accused her of flirting with someone at the 2014 Met Gala in New York.
"He shoved me down on the sofa and at some point he whacked me in the face. I think that was the first time (where I thought), 'Is this a broken nose?' I remember my nose being swollen, discoloured and red."
Article content
In her closing statements, Depp's lawyer Camille Vasquez Vasquez said her pattern of behaviour during their relationship was "violent, abusive and cruel" and called Heard's testimony "the role of a lifetime."
Recounting Heard's violent allegations, including one in which she said Depp assaulted her with a bottle that left her bleeding, Vasquez carefully outlined how the actress was photographed at various public events, including an appearance on James Corden's late-night show, with no visible signs of injury and no medical report that documented bodily trauma of any kind.
"As an actress, she was photographed all the time. Where are the pictures of the horrific injuries Heard describes?" asked Vasquez.
Article content
Heard's lawyer Ben Rottenborn presented his closing arguments by saying that Depp's graphic text messages, in which he wrote about wanting to "f— her burnt corpse" and his hopes that she was "decomposing in the f—ing trunk of a Honda Civic," opened "a window into the heart and mind of America's favourite pirate."
Rottenborn advised jurors Friday that Heard was abused by Depp "even one time," then they have to rule in her favour. And he was clear to specify that the abuse didn't have to be physical and could include "emotional abuse, psychological abuse, financial abuse, sexual abuse."
Article content
Though their identities will remain sealed for a year, the task jurors are facing isn't an easy one and no matter what verdict they reach there are bound to be questions.
"Defamation suits can be hard to prove, especially because she accused a well known actor. You have to be able to prove damages, and he obviously has lost a lot of money from movies and projects he has been dropped from over the accusations," said New Jersey criminal attorney and former prosecutor, David Gelman.
"Deliberation is going to be tough," Gelman added. "The jury goes back after closing statements and has to go through all the evidence to come to a verdict. In this case, it has been so long, and there has been so much evidence presented, I suspect it will take a long time for a verdict to be reached. It all comes down to, who presented a stronger case?"