[ad_1]

With a bit of effort, most people can find ways to trim expenses to save money for the things they need or value most.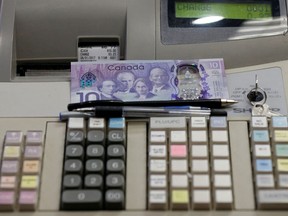 Article content
As inflation gnaws away at their income, many Canadians feel painted into a corner, hemmed in by forces they cannot control.
Article content
But spending is not something people are powerless to change.
Adapting and making choices in light of different circumstances is not always pleasant or welcome, but neither is it as difficult as many presume it will be.
With a bit of effort, most people can find ways to trim expenses or change habits to free up money for the things they need or value most. One less restaurant meal or gasoline fill-up per month can go a long way toward rebalancing the budget.
If you're a senior in Montreal, do you really need a vehicle to get around? Ten métro tickets on an Opus card will cost you all of $9. That's an expense that has actually shrunk in recent years.
How much does your banking plan cost you each month? If your finances are simple, there may be a cheaper option available. Students and seniors often get special deals; ask your financial institution what's available, and if you don't like the answer, shop around.
Article content
Ditto for a mortgage and insurance. Don't assume that, because you've always dealt with one institution, theirs will be the best deal available to you.
What's your monthly telecom bill? Do you really need the package you're paying for, or could you downsize it?
Eight years ago, when Canadians' elevated level of indebtedness started to make headlines, the Montreal Gazette ran a story about ways to cut costs.
A major contributor to that piece was Suresh Goyal, a professor at Concordia University's John Molson School of Business, who had a keen and lifelong interest in personal finance.
He's retired now, but still passionate about the topic. We asked him again for suggestions for cutting or reducing expenses, to start a discussion we hope to revisit periodically in the coming months with some of your comments and ideas.
Article content
Here are some of Goyal's golden rules
Always remember, a dollar saved is worth more than a dollar earned.
The quickest way to lose thousands of dollars is to drive a new car out of a dealership. Do not buy new.
For most people, a credit card with no fees and a cashback option is the most suitable. Pay on time and avoid the punitive interest charged by credit-card companies.
Many stores and hotels offer a discount to seniors. Just ask.
If possible, pay down part of your mortgage on the renewal date.
Do not be coerced into buying life insurance for your children or top-of-the-line cellphones.
Make lists and plan your shopping trips so you're not driving unnecessarily. Carpool with friends if you can. If you just need a few items, walk to the store rather than drive. Dollar stores have similar items 15 to 20 per cent cheaper than other stores.
Use CLSCs for blood and urine tests rather than private labs.
Bring a lunch to work. And get rid of the bottled-water habit.
Switch off the hot water heater while away for more than a few days.
Do not waste your money on weight reduction plans. The food you get from them is wrapped with your money.
Is organic food really so good you have to pay that much extra for it?
Instead of doing laundry every seven days, do it on the eighth day and reduce your laundry costs by more than 10 per cent.
Make sure your home insurance policy does not include the cost of the land.
Make a habit of keeping receipts. You'll need them to get refunds if a product proves unsatisfactory.
Do income taxes yourself instead of paying someone else to do it.
Don't replace anything still serving its purpose. I've used the same comb for almost 50 years and have no plans to change it.
Buy — or better still, borrow — a personal finance book and try to follow some of the ideas. Taking charge of your finances will go a long way toward improving your financial health.
The Montreal Gazette invites reader questions on tax, investment and personal-finance matters. If you have a query you'd like addressed, please send it by email to Paul Delean at [email protected].
Delean: Nasty surprise on your tax return? You can appeal

Delean: An inherited multiplex raises complex questions
[ad_2]

Source link