Article content
The great North American solar eclipse is approaching fast and many are scrambling to find a way to view the celestial event. 
Article content
On Monday, the eclipse will begin at 10:20 a.m. local time, peak at 11:30 a.m. and end around 12:50 p.m. About 80 per cent of the sun will be covered in Calgary. Due to the excitement around the event, many stores like Best Buy, Toys "R" Us and London Drugs have sold out of their glasses selling for about $3 each. Online sites such as Kijiji and Amazon have also sold out of their stock.  
"The past four days we've had a lot of inquiries about the solar glasses. There was a high demand (and) people were calling ahead for them," said a store manager at the Toys "R" Us in Market Mall. 
If you've run out of luck trying to find a pair of the solar viewing glasses, don't fret, you can still get your eclipse viewing party on. Here are a few places in and around Calgary where you can safely gaze up and look at the star of the show.
Article content
University of Calgary — Engineering Observatory
Where: Engineering Complex (Area 20)
When: 10 a.m. to 12:30 p.m. 
A pop-up observatory, complete with solar telescopes and a limited supply of viewing glasses, will be held in the engineering complex near the Taylor Institute. The public is welcome to drop by anytime and the university is asking for a donation to the Rothney Astrophysical Observatory's educational programming. 
University of Calgary — Remote Viewing
Where: Engineering Building A, Room 101
When: 10 a.m. to 12:30 p.m. 
Indoor, remote viewing of the solar eclipse as it happens while it passes over the United States via the Internet.  
Telus Spark Science Centre 
Where: 220 St. Georges Drive N.E.
When: 10 a.m. to 2 p.m.
Article content
Dubbed Operation Explore: In the Great North American Eclipse Party in the Brainasium, you will learn about the eclipse and get the chance to create your own simple viewer to safely observe the sun. There will also be solar telescopes to look through, and from 11 a.m. to 1 p.m., a family barbecue will take place. Regular admission applies and cost of food is extra. 
The eclipse will make skies dark, not fall. So why are people planning for disaster?

What's a total solar eclipse and why this one is so unusual

Chasing eclipses across the globe is a way of life for some
Bar U Ranch National Historic Site
Where: Longview
When: 10 a.m. to 1 p.m. 
Although the ranch is not holding a specific viewing event, it will have a limited supply of glasses available for purchase to view the eclipse while visiting the ranch. 
Akram Jomaa Islamic Centre
Where: 2624 37 Ave N.E.
When: 10:45 a.m. to 12 p.m.
The Muslim Council of Calgary is inviting Calgarians to attend a special prayer service in honour of the solar eclipse, which is viewed as a "symbol of power and majesty of Allah or god."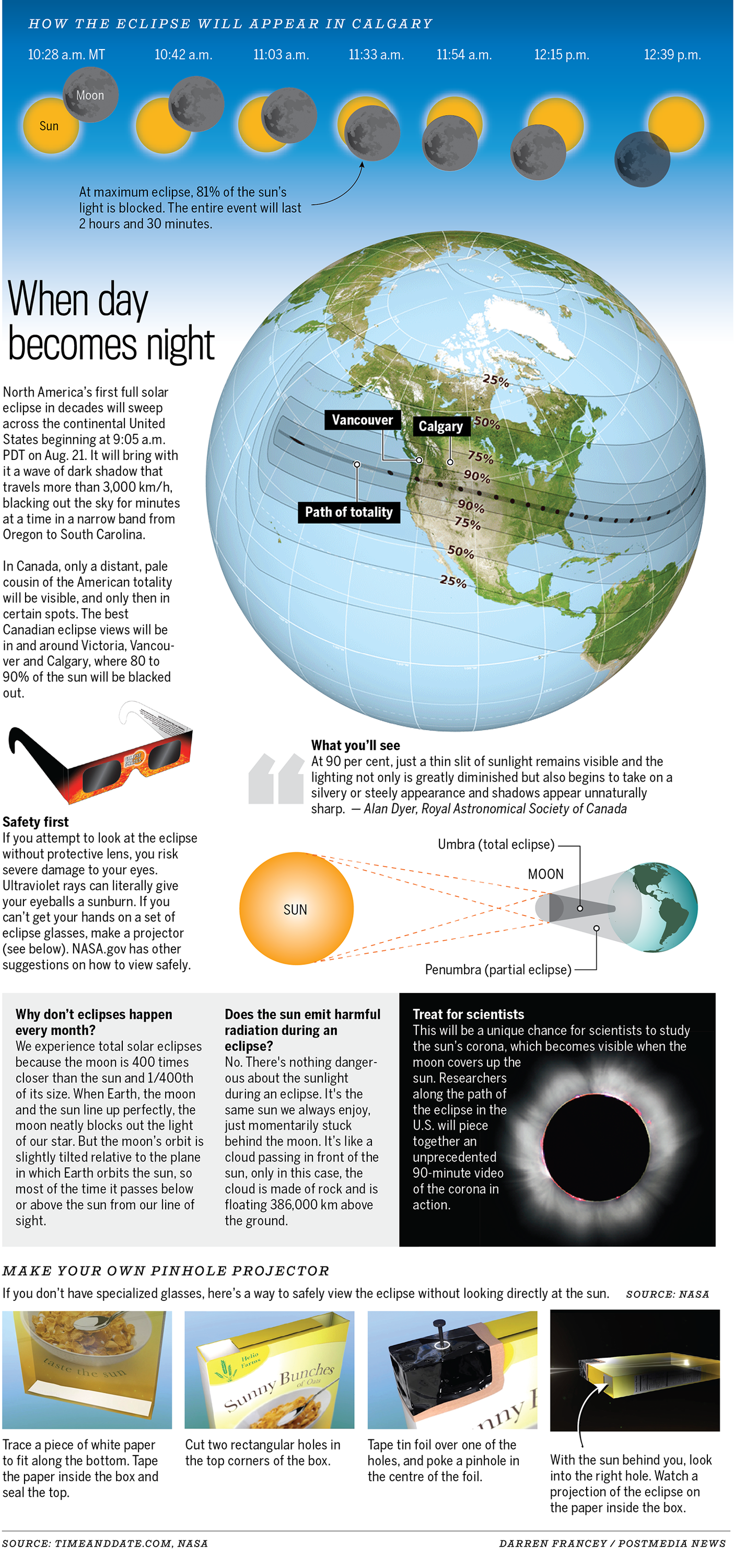 With files from Canadian Press