[ad_1]

Article content
Christian Darbyshire and Andy McCreath had to pinch themselves when they first laid eyes upon Stephen Hawking two years ago.
Article content
The two Calgary producers had wanted to work with the revered late scientist for about five years before they finally got the chance at his Cambridge, England, office in 2016.
"You've heard about Stephen Hawking your whole life and then you go and you're actually invited to his office in Cambridge in the physics and math department, and you kind of see where this guy's life has been," said McCreath.
He and Darbyshire run tinePublic, the company which brought Michelle Obama and Ellen DeGeneres to Calgary earlier this year and has also previously worked with speakers such as Oprah Winfrey and Hillary Clinton.
The pair also produced the Imax video that accompanied Hawking's posthumous book launch, seen last week for the first time and which made headlines around the world.
Article content
In it, the physicist, who died in March at 76, warns that education and science are "in danger now more than ever before." He also urged young people "to look up at the stars and not down at your feet."
"Try to make sense of what you see, and wonder about what makes the universe exist," Hawking says in the video, which brought tears to the eyes of his daughter Lucy at the London launch event for his final book, Brief Answers To The Big Questions.
"It matters that you don't give up," Hawking says. "Unleash your imagination. Shape the future."
Darbyshire said the Calgary duo "got lucky" to work with the famed professor two years ago, when they produced a 1½-hour hologram show with him that aired in China and Hong Kong in 2017.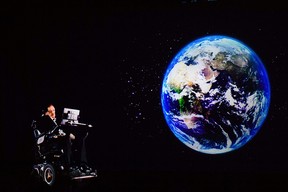 "We built this show and we developed a relationship with him," Darbyshire said. "It's a very complicated technology but it's something that is sort of simple in theory. It was him, via hologram out of Cambridge. We delivered a really visually spectacular show about his life. He talked about black holes, he talked about the future and all these things."
Article content
Darbyshire said they've been continuing to work with Hawking's office throughout the past year and were asked to create the book launch video.
"We ended up obviously being in the right place at the right time," he said. "You really feel the impact that he has had, not just in his field but on the whole planet. As you start to work with him, you start to realize how massive he truly is."
McCreath said it was an experience unlike any other they've had since they started out 15 years ago.
"You're filming with him where he lived his life, this global figure and it was very surreal to do that," he said.
"It was very, very cool when he came into the room in his wheelchair. Also at the same time, it's sad that he had to live his life the way he did for so long, but the great thing about him is he had really great people around him. I think that really is what kind of motivated him, I'm guessing, to keep going and keep doing what he was doing."


[ad_2]

Source link