Article content
A Calgary-led group of explorers has uncovered the deepest cave in Canada, north of Fernie, B.C.
Article content
Currently measured at 5.3 kilometres in length and 670 metres deep, they say those numbers will grow as work continues over the next number of years.
The project began in 2012 when explorers first started mapping out the cave, named Bisaro Anima, which is located in a remote mountain plateau north of Fernie. About 10 visits since 2012 culminated in the record-setting expedition this past New Year's Day. 
Article content
"We're finding new ways to climb mountains, maybe ski down them, but we're not finding a lot of new mountains. We're finding new caves all the time," said project leader Jeremy Bruns. "We've got tons of projects and not enough cavers to work on them."
The team of nine explorers, six of whom are from Calgary, set up camp inside the cave for a week, enduring temperatures of two to four degrees Celsius and complete darkness. Cave passages were characterized by deep canyons, waterfalls, crawlways, uneven floors, loose rock and difficult squeezes.
Article content
"As we're moving through the cave, we're taking measurements from station to station to be able to draw a map as we go," Bruns said. "It's taking something that's unknown, that's never been seen before and building knowledge on it and sharing it. You turn a corner in the passage and you know that nobody's ever been there before. It's kind of a neat feeling."
Article content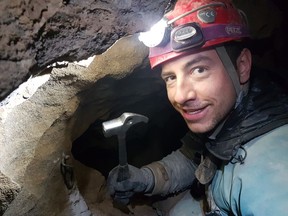 But Bruns said camping underground for days on end can become disorienting. 
"There's a unique smell in caves that only cavers will know," he said. "It's kind of like the smell of thousand-year-old dust floating in the air, combined with water droplets."
The group is made up of members from the Alberta Speleological Society, all volunteers who participated in the expedition out of pure interest, rather than professional purposes.
Article content
"It's the camping part that is more surreal than the caving part," said Kathleen Graham, president of the society and a member of the expedition team. "The cave itself, like the passage size, is so huge, especially for a Rockies cave. It's pretty awe-inspiring."
Bruns and Graham were joined by Colin Massey, Christian Stenner, Jason Lavigne, and Vlad Paulik of Calgary, Jared Habiak of Water Valley, Alta., Mehdi Boukhal of Vancouver and Jérôme Genairon of Montreal for the New Year's expedition. Others from Calgary, Edmonton and Fernie participated in expeditions in past years.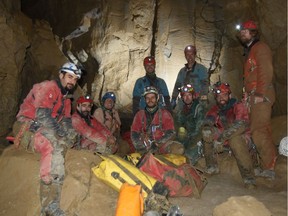 The crew gave cave features names such as "Vimy Ridge," "the Parade Square," "the Trenches" and "Dieppe," playing on First and Second World War themes due to the cave's proximity to Mt. Bisaro, which was named after a Canadian infantryman from Fernie who was killed during the invasion of Normandy.
Article content
The Bisaro Anima cave overtakes Heavy Breather, located east of Fernie, which was previously the deepest in Canada at 655 metres.
The deepest cave in North America, at 1.4 kilometres, is in Mexico. But that cave has been explored since the 1970s, which puts the Canadian team's achievement in perspective.
"What we've achieved in a relatively small amount of time, with small groups, I think is still really impressive," said Graham, adding that they're nowhere near finished.
"We're not at the bottom," she said. "This is just a milestone. This is a step along the way, but there's still lots to explore there."
Bruns said the cave could potentially be more than one thousand metres deep.
"We're not stopping anytime soon on this one," he said. "It's just going to be a project that lasts for decades."