[ad_1]

"Rents are going crazy now in this neighbourhood, and when you add inflation, it makes it really difficult to stay here any longer."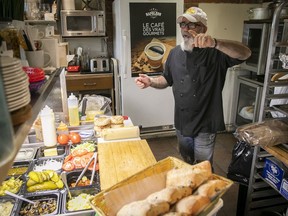 Article content
It's all of about 70 square metres large, but every last metre is crammed with everything from cheese bagels to homemade chicken soups, almond cookies to potato knishes. And there's still enough space for owner Joseph Cohen to bake his breads and make his customized sandwiches and wraps behind the counter.
Article content
This Cantor's shop is pretty much a one-man show, largely because there really is no room for another body to work the place. But soon that will no longer be an issue.
After 60 years on Queen Mary Rd., this Cantor's, a mainstay in the Snowdon area, is closing shop at the end of June. Rather than face a large rent increase that would be unsustainable, the ever-charismatic Cohen is also moving on. In mid-August, he will be opening a shop on Côte-St-Luc Rd. called Schnitzel's, named for his fabled schnitzel sandwich and offering a similar line of baked goods and munchies.
"The Cantor's spot is small but so special, a boutique bakery," says Cohen, a trained chef by vocation not averse to putting in seven-day weeks here. "I have to say it's quite unique in this area. We have customers who've been living in the area since it first opened. They don't move around as easily anymore. They're very upset we're going. Some even cried.
Article content
"But we're not leaving with any fights. We're just moving on. Rents are going crazy now in this neighbourhood, and when you add inflation, it makes it really difficult to stay here any longer."
It's more than just the schnitzel sandwiches that drew customers. It was also the schmooze. At the height of the pandemic, the shop was one of the few in the area that remained open. It was a destination for those looking for some assurance and interaction with Cohen. And Cohen, a philosopher of sorts, was rarely at a loss for opinions.
"Joseph is a classic character," says Gail Cantor, daughter of Cantor's founder Max, in a phone interview. "He is the epitome of a perfect old-school operator, charming and funny."
Louis, a long-time customer in the shop for his regular almond cookie, is most disappointed to learn the shop is closing: "There's nothing quite like it around here. Everything is always fresh and tasty, and the boss? He's special."
Article content
"I'm going to miss this place," Cohen says. "It's a great environment. The place is always full. Kids coming in for cookies, business people coming in for coffee, seniors coming in to pick up lunch, and the schnitzel lovers. It was like a second home to many. It will be very sad to leave."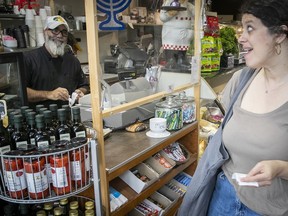 Vanessa Laberge, an executive chef at Olive + Gourmando, just discovered the spot for the first time last week and was smitten by its Vienna rolls.
"Just when I finally found the rolls I had been looking for, it's closing," she says. "I grew up in this area. I really wish I had known about it before. I've since learned it's long been a Montreal staple. Losing little shops like this with such history is really a loss for the city."
The closing also marks the end of an era for Cantor's, with this outlet being the last dépanneur-style operation in the city to bear the Cantor name. There is a large-scale wholesale/retail facility with the Cantor name in the St-Michel neighbourhood, which primarily sells baked goods.
Article content
Founded by Max Cantor in 1956, Cantor's began with a single store on Côte-des-Neiges Rd. and mushroomed into a mini-empire with 77 mostly franchised shops, 65 in Montreal and 12 in Ottawa. The stores not only provided everyday items, but each outlet also had on-site ovens, providing the freshest baked goods around.
"Cantor's was a pioneer in the field back then," notes Gail Cantor, who took over the company from her father in 2014. "When my father first started, there were really no dépanneurs quite like it. Cantor's was the go-to dépanneur in the '60s and '70s. We had the deli and breads freshly baked on the premises, and we also had beer and wine. But like all good things, others jumped into the game everywhere and there was a change in consumer tastes. Modernization also played a role. So it all ate away at the market share."
Article content
In 2019, Gail Cantor sold the company to CanKo, which operates outlets, including the St-Michel facility with the Cantor name, and provides products to the retail baking trade.
"Even though the full dépanneur, charcuterie-styled bakeries we started with will no longer exist after the closing of the Queen Mary shop, our family is grateful that there is a continuity of the business with CanKo and with our name still on the Ville St-Michel facility.
"Yes, it's the end of an era and it's so sad to see the last Cantor's of its kind go, but the good memories will always be there for so many of us."


[ad_2]

Source link