[ad_1]

"Hopefully, this shows that immigrants can really put in the hard work and can adapt very well to life here," says King's Transfer Van Lines president Bill O'Donnell.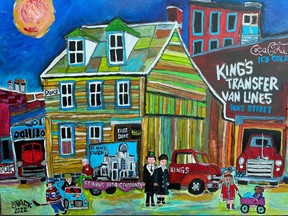 Article content
A Griffintown family descended from Irish immigrants has seen its business hit a milestone it would have never dreamed possible.
Article content
King's Transfer Van Lines, still owned and operated by the original O'Donnell family, is now celebrating its 100th anniversary. 
Article content
"Hopefully, this shows that immigrants can really put in the hard work and can adapt very well to life here," says King's president Bill O'Donnell, in reference to former Coalition Avenir Québec immigration minister Jean Boulet's recent inflammatory remarks relating to immigrants. 
After leaving Ireland's County Tyrone, John O'Donnell, his wife and seven of their surviving sons arrived in Montreal in 1909. One of his older sons, also called John, later acquired the permit for an existing company called King's Transfer Cartage, which he then sold to his brother William in 1922.
And a mini-dynasty was born.
Article content
It began rather modestly with King's removing snow and transporting everything from coal to hay to bricks and trash on horses and carts. The company would only buy its first truck, a Ford Model T, in the late 1930s. A sage decision it turned out that would pave the way for future growth. 
Today, King's Transfer Van Lines, as it came to be called, has evolved into one of the larger moving companies in the country with a fleet of 40 trucks and 60 employees moving people and corporate entities in the city and around the world to and from here.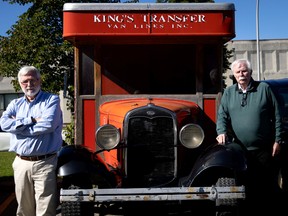 The company, now being run by the third generation of the O'Donnell family, has offices in Montreal and Toronto, with franchises in Winnipeg and Milton, Ont. It has also been affiliated with Atlas Van Lines for 60 years, the largest such association with Atlas for any moving company in Canada. 
Article content
But Montreal will always be its home. After 97 years in Griffintown — the first 40 on Duke St. and the last 57 on Eleanor St. — King's head office moved to Dorval in 2019. 
Bill O'Donnell, grandson of founder William, was 14 when he began loading trucks for the company. He took over the reins of the operation in 1990 following the death of his father, Gerald. Now he's hoping to pass the company over to his daughter Erin. 
"The company has gone through depressions and war. We're still going through COVID, but we've been fortunate to have survived throughout it all," says O'Donnell, 57. "And if we've stuck it out for all that, it shows we're hanging in for the long haul." 
No surprise that King's experienced a boom in business — mostly one way and out of the city and province — for a period from 1976 to 1980, when the Parti Québécois was first elected here and up until the first referendum.
Article content
"In 1976, it was crazy. We had to hide trucks behind buildings, because the companies we were moving didn't want people to know they were closing down and leaving here. We were having one or two trucks a day leaving for Toronto.
"But by the first referendum, it wasn't really corporate offices leaving any longer. It was people who couldn't take the uncertainty any longer who were moving away," O'Donnell notes. "But that has really slowed down in the last 10 years. Those of us who have remained here have long come to terms with living here and we're not going anywhere. We love Montreal and the quality of life here. It's a matter of trying not to listen to the political rhetoric, because I would go nuts. I think many others feel the same."
Article content
Nor is it a one-way street these days. King's is moving folks of all cultural stripes to Montreal. 
"It's a lot of younger people moving in here. We have a flourishing gaming industry, with Ubisoft and so many software companies based here. Compared to Toronto or other places, young people in the industry are attracted here. This is a hot area with a great lifestyle with more affordable housing prices," O'Donnell says. "And then there's the case of older expats from Toronto and other places who decide they want to come back again. It is, after all, home, and they can live relatively well here." 
The company's biggest challenge now is no different than that faced by so many other businesses. 
"We're 100 per cent experiencing staff shortages," O'Donnell says. "On any day of the week, I can have six or seven trucks parked, because we don't have the drivers. We know we can't look for more business, because we know we only have a certain capacity. It hurts, but what can you do when you can't find employees? 
Article content
"When we started out, most of our employees, anglophones and francophones, were from Pointe-St-Charles, St-Henri and Verdun. They were hard-working and loyal. But today we don't have that group of people who want to get into the business. Our work staff now is largely comprised of Mexicans, Russians, Turks, Afghans and other different nationalities." 
Which brings us back to the ever-thorny immigration issue. Unlike the CAQ view, most of the other provincial parties, as well as business associations and leaders, would like to see levels of immigration hiked up to help fill job openings here. 
"It's ridiculous," O'Donnell says. "Most immigrants who come here are looking for a better life and just want to work hard to achieve it. They'll do anything to get a job, to be part of our community and to learn French. It's a shame that we have a government that just doesn't understand that." 
King's will be holding its 100th birthday party shortly in grand Montreal style with munchies from Schwartz's, Dilallo Burgers and Mr. Cupcakes. 
And O'Donnell hopes he'll never be called by any of them to cart their businesses out of town. 
Help Wanted: Salaries are soaring, especially in Montreal — and so are the perks

Help Wanted: Quebec is paying students to learn a trade


[ad_2]

Source link