"Honestly, the satisfaction really comes from the smiles of customers," says owner Bernie Gurberg.
Article content
On the plus side, Bernie Gurberg concedes he won't have to lay off anyone when the curtain comes down on his Dollar Cinema July 31. Other than himself, that is.
Article content
Gurberg is the Décarie Square cinema's owner, operator, ticket-seller, candy counter operator and projectionist. He works seven days a week, from 11 a.m. to 11 p.m.
Sadly, the Dollar Cinema's 18th year anniversary, which was marked last week, will be its last.
Gurberg — another of the city's classic characters, enhanced by those endearing sad-sack, puppy-dog eyes — turns 81 in July, but that's not the reason he's not renewing his lease. It's just not financially feasible.
Even before the pandemic, which shut his two 500-seat halls down for nearly 18 months, it couldn't have been too financially feasible. Not when he charges a paltry $2.50 a ticket and a buck each for popcorn and a drink. Patrons can also purchase a 20-film package for $23. When he first started the cinema, he lived up to its name, charging a buck a ticket.
Article content
He charges a fraction of the price the big chains do for tickets and concessions. True, most of the films he offers are of the second-run variety, but for a family to catch a Spider-Man No Way Home, Encanto or Pil — on the bill this week — at these prices is a steal, at a time when so many are feeling the financial squeeze.
"People thought I was nuts before with these prices, but with volume, I could get by," says Gurberg, while selling tickets and popcorn. "They think I'm nuts now for not raising my prices. My costs for popcorn have gone way up. Price of the oil I use has tripled. But I would just feel bad asking for more.
"Honestly, the satisfaction really comes from the smiles of customers."
That may sound clichéd, but in Gurberg's case, it's truly genuine.
Article content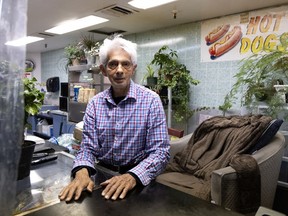 Wisam Mohamad, who manages Décarie Square, drops by to check on Gurberg as he does almost every day.
"It's sad," Mohamad says. "He's such a tireless and happy worker and so much part of our community here. Everyone loves Bernie. We tried to keep him going the last two years. We knew cinemas were going through really hard times, but he just felt he could no longer make a go of it."
Gurberg acknowledges that the mall did all it could to keep him: "I just didn't want to burden the mall any longer. It's become so hard for me to make the rental payments. But they've been so understanding.
"I've got nothing but good memories here. The other night, a couple, who had their first date here 18 years ago, showed up with their 15-year-old daughter."
Article content
Gurberg's eyes light up when Jessica Cataldo arrives with two friends. Cataldo, 24, has been coming since she was 6, the year the cinema opened: "This place is an institution. There's nothing like it around. Honestly, where are you going to find movie prices like this? Put it this way: I was at a big theatre recently, and even with cheap Tuesday prices, it cost me almost $30 for the ticket, popcorn and a drink."
Fatima Mohamad, accompanied by her kids Ali and Alima to catch the animated adventure Pil, is upset to hear about the theatre's closure. "Where can a family find deals like this these days?" Seven-year-old Ali, too: "I love watching movies in such a big room."
Gurberg was first stung with the onset of streaming services, keeping his customers at home in front of their TV screens.
Article content
"The second nail in the coffin was COVID, which shut us down for so long," Gurberg says. "The government only paid a portion of the rent. My other costs, like insurance, weren't covered. We wound up falling behind and just couldn't get back. Especially with less people going out and many still worried about COVID. We used to have long lineups to get in. But it's all changed now."
Gurberg insists there are no hard feelings. Prior to getting into the movie biz, he toiled in the needle trade, manufacturing low-end ladies' dresses.
"I'm ready to move on. I've still got lots of energy. Maybe I'll try my luck as an actor next," he deadpans.
The man certainly does have a mug made for the movies.
But he has no plans to make another run for Montreal mayor, as he did in 2017, when he picked over 2,000 votes.
"I had a strong platform of keeping costs down," he recalls. "But I could never get out of the theatre to campaign."
Maybe Gurberg will even find the time to catch a flick himself when the cinema closes.
"I think the last movie I saw was Terminator 48 years ago," he cracks. "I think I'd like to see some Rocky movies. I like come-from-behind movies like that. It will give me some hope for the future."