[ad_1]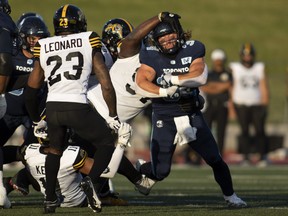 Article content
The Argonauts were once again sloppy and unable to sustain much of an offence.
Article content
Thankfully, however, the pre-season is officially in the books and no one will remember the missteps or the few moments of execution.
Which jobs were lost, positions solidified and how many players remain on the bubble were all being debated late into the night as the Argos' braintrust huddled following Friday's pre-season finale at the University of Guelph. The conversations will continue Saturday, the day rosters are set.
Article content
For what it's worth, the Argos ended exhibition play on a 33-yard walk-off field by Boris Bede in an 18-17 win over the Ticats. In a familiar theme from last year, Bede kicked four field goals on six attempts as the Argo produced only one touchdown.
Chad Kelly operated the offence on the final drive, showcasing quick throws to move the Argos into field goal range. This was after, the Argos made a stop and forced a punt and scored the game-winning points.
Article content
Again, it's quickly forgotten. The real work now begins with the season on the horizon.
"We'll be watching the film (late into the night) and we'll re-evaluate in the morning (Saturday) for our final cuts,'' said head coach Ryan Dinwiddie. "It's going to be one of those nights. We're looking forward to it and to see how it's going to play out."
By his estimates, there are four or five guys on the fence.
"I went through our roster with all the personnel guys,'' he added. "We feel good on most of our roster, but there are four or five guys who hopefully changed our opinion."
The hope is to have all the roster moves done by high noon Saturday.
"We'll probably start rounding guys around 10 a.m., who aren't going to be here,'' continued Dinwiddie. "It's a tough day, some tough conversations with those guys, but hopefully we get it all done by noon."
Article content
All three quarterbacks saw action against the Ticats, including incumbent McLeod Bethel-Thompson, who looked fine playing the entire opening half, though no touchdowns were scored.
Kelly led the Argos; lone scoring major, tossing a six-yard TD to Isaiah Wright, but he was also intercepted.
Third-stringer Austin Simmons saw action for much of the fourth quarter on a night he served primarily as the team's short-yardage quarterback.
It's hard to assess an offence when featured back Andrew Harris doesn't play. He will when the Argos kick off their regular season in two weeks. The Argos want to be physical and establish a downhill running attack, which can only be achieved with Harris lining up in the backfield.
Article content
Toronto's offence featured more vets than it did last week and that experience helped Kelly get into a rhythm.
Brandon Banks played his former team and was targeted seven times.
He wore yellow gloves and showed his customary burst.
SECONDARY MOVES
A couple of former Stamps lined up in Toronto's back end for the first time Friday night.
Barring something completely out of the ordinary, Royce Metchie and DaShaun Amos will be starting in the Argos' defensive secondary on opening night.
The Argos acquired Metchie's rights and later signed him to a new deal, while Amos came via free agency after he was named an Western all-star.
One of the most impressive defensive backs has been Tarvarus McFadden, who recorded an interception in last week's pre-season opener in Ottawa.
Article content
Outside of Metchie and Amos, the rest of the starting back end against Hamilton was a collection of relative unknowns.
"We like our young guys,'' said Dinwiddie. "We're not afraid of change. They obviously have to learn the scheme and fit in and do what coach Mace (Toronto's defensive co-ordinator Corey Mace) asks of them."
Dinwiddie had to mix and match his roster with different players last season when three defensive co-ordinators were used..
"As coaches, we need to coach them up,'' said Dinwiddie.
Caleb Holden and Deion Harris rounded out Toronto's starting unit in the secondary Friday night.
Harris recorded an interception in the first quarter after McFadden failed to secure a ball he would have turned into a touchdown.
Article content
END AROUND
Toronto's book-end pass rushers were also on the field for first time Friday night.
The highlight was the debut for Ja'Gared Davis, who came to Toronto from Hamilton in free agency.
On the other side is Shane Ray, the former first-round NFL draft pick, who had an injury-plagued first season as an Argo in 2021.
However both entered camp wearing No. 56 jerseys. But given his seniority and pedigree in the CFL, Davis was able to continue wearing his old number while Ray took No. 5.
"Shane and I hashed it out like professionals,'' said Davis.
THE POINT AFTER
Bede's holder was 6-foot-5 Aussie punter John Haggerty, the global player who seems to have a lock on a job, handling both assignments … RB Javon Leake, who returned a kickoff 39 yards after scoring a rushing TD last week in Ottawa, has the makings of a 2022 version of D.J. Foster … A total of 15 Canadians on Toronto's roster are injured with various degrees of severity … Ticats rookie receiver Kiondre Smith attended Guelph and got to play at his former university home Friday night. He had one reception for 11 yards. Smith's dad is former Argos DB and three-time Grey Cup champion Adrion Smith … Darece Roberson showed his lack of CFL experience by running the football out of the end zone following a Ticats punt. He should have conceded the single point. Instead, the Argos scrimmaged from inside their five-yard line.
[ad_2]

Source link