Article content
The estranged wife of tennis great turned jailbird Boris Becker agonized over telling their son where his famous father was.
Article content
"Telling our son his daddy was in jail is the worst thing I've ever had to do … it's always women who have to clean up his mess," Lily Becker said in pouring out her heart to the Daily Mail.
"My instinct was to say it as it is: 'Your father is in jail. He has f—- up'. But you can't say that to a 12-year-old child, can you? Not when you are the mother, the Tiger Mother whose job on this earth is to protect that child."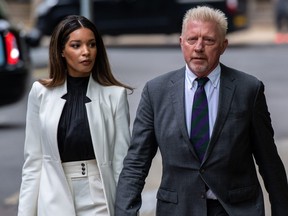 In the end, she enlisted a teacher friend to help tell her son Amadeus the terrible truth.
The Wimbledon winner was sentenced to two years in prison earlier this month over fraud charges relating to his bankruptcy. He is now in a British jail.
But even for Lily  — who split from the legend in 2018 — the idea that the legendary tennis star could be jailed was unthinkable.
Article content
"No one expected Boris to be jailed, so why would I want my child even to know about the trial?" she told the Mail. "When the sentence came, though, everyone was in shock, but I was the one who had to tell Amadeus.
"I will never forget looking into his blue eyes — as blue as Boris' — and watching them just go from left to right and back again. He was flabbergasted. He just couldn't get a grip on it.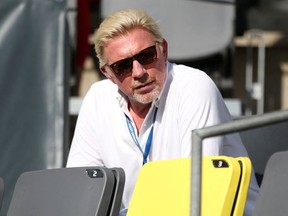 'I said: 'Do you want to cry?' And he said, really quickly: 'No.' Then I said: 'Do you want to be left alone?' and he said 'Yes', and we went downstairs. He came down 20 minutes later. Then I told him Boris wasn't a criminal.
"He hasn't murdered anyone. He hasn't robbed a bank. I tried to keep it kind of light, sort of 'he didn't pay his bills, Amadeus. Let this be a lesson, you must pay your bills'."
Article content
Home for Becker is now H.M.P Huntercombe near Henley-on-Thames in Oxfordshire, for foreign national men.
Lilly hopes the tennis titan has learned his lesson.
Tennis champ Boris Becker having hard time in prison

MEIN GOTT! Tennis great Boris Becker jailed two years for fraud

Ex-tennis ace Boris Becker facing seven years in prison for fraud
"It's about time he took responsibility for his actions. He's got a year in jail to think about what he's done; that's a year of no alcohol, of getting fit, praying, meditating, whatever he needs to do," she said.
"I hope that this is a wake-up call for him. I really do. Boris has never had to take responsibility for anything, but this time he has learned that there are consequences. You can't just go through life like he does, with multiple kids all over the place …"