[ad_1]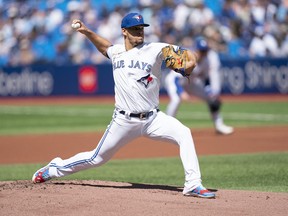 Article content
Jose Berrios was gift-wrapped the same four-run lead in back-to-back starts.
Article content
That was the extent of the similarities between his gem against the Minnesota Twins on Saturday and his forgetful outing six days earlier in Anaheim.
Berrios took that four-run lead he had after two innings on Saturday and made sure it stood up by basically playing his own personal game of keep-away with the Twins. Minnesota hitters barely touched the ball while Berrios remained in the game in an eventual 12-3 cakewalk for the Jays.
Article content
From a lead-off double by Nick Gordon in the second inning, Berrios did not give up another hit until he left after 90 pitches and seven innings.
With the win, Berrios improved to 4-2 on the year.
It was a far cry from his previous outing when he couldn't make it through even three innings and coughed up the early lead his team had staked him.
Article content
The Jays came back and won that one 11-10, but the sour taste from that game drove Berrios all week.
Manager Charlie Montoya confirmed Berrios was dealing with what pitchers call a "dead arm" in that start a week ago with his fastball normally in the 94-to-95 mph range, down from around 90-to-91.
It was back up to its normal levels on Saturday and, combined with his best slider of the year, it did a number on the Twins.
"He made one mistake, 2-0 to a good hitter, (Jorge) Polanco, who took him deep, and from then on he made the adjustment," Montoya said of his starter. "His slider was huge today. I don't know if you guys could see it on TV, but it was like a frisbee today."
Berrios said he had a pretty good idea it was going to be a good day based on how the ball was coming out of his hand in his pre-game bullpen.
Article content
Even giving up two early runs didn't shake him because he knew his stuff was good. That's how it played out after that first little bump in the first.
All of the Twins' damage against Berrios came in the first inning when Luis Arraez went first-pitch hunting and stroked a single up the middle. A Byron Buxton strikeout later, Polanco hammered a 2-0 Berrios offering into the seats in centre for his sixth homer and a 2-0 Minny lead.
Those two hits and the Gordon double, along with a hit batsman in the third and a walk in the fourth, were the only blemishes on a nice bounce-back effort after Berrios lasted just 2-1/3 innings in his previous start against the Angels.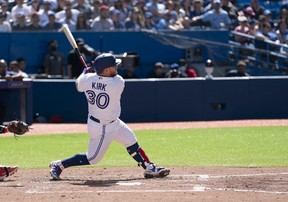 No one was talking about tiring out the Jays' overworked bullpen yesterday, not after Berrios went seven strong and struck out a career best 13 hitters.
Article content
That alone might have been the single biggest positive takeaway from this game, given how busy that 'pen has been for the past few weeks.
Last Sunday wasn't the first time Berrios has experienced a dead arm.
"Yeah, I don't know, it's something that happens to me," he said. "We're human. We always work and try to get our bodies fresh from outing to outing, but that doesn't always happen normally. I've been dealing with that (periodically) since 2014 when I was down in the minors."
Berrios says the key is eating right between starts to aid in the recovery.
Toronto's offence made sure this gem didn't get wasted, either, battling back from the early 2-0 deficit on homers from Bo Bichette, Alejando Kirk and Vladimir Guerrero Jr. It was all part of a 16-hit attack by the Jays, who got at least one base hit from every member of the starting nine save for Matt Chapman, who walked and scored in the seventh.
Article content
It was nearly impossible to pick just one hitting star from the Jays lineup on a day when so many had so much success, but you could probably start with Kirk, who has been on a tear for a while.
His home run was his third of just this homestand, during which he's hitting well over .400.
Montoyo believes Kirk's approach is at the root of his success.
"He has one of the best approaches in baseball — and that's saying something, because there are a lot of good hitters," Montoyo said. "He doesn't strike out, he puts the ball in play and he has good at-bats every time, and it's paying off. He's a good hitter already and he's only going to get better."
Kirk has struck out just 14 times in 157 plate appearances this season. That's sixth among all major-league hitters for strikeouts per plate appearance.
Twins starter Dylan Bundy was handed an early lead by his offence, but never threatened to make it stand up.
He was gone after 2-1/3 innings, having surrendered six of the 12 runs the Jays would score in the game.
The win comes after the Twins ended the Jays' season-long eight-game winning streak in the opener on Friday night.
[ad_2]

Source link