Article content
BURBANK, Calif. — Black Adam isn't just going to be another Dwayne Johnson action movie. When it releases in theatres Oct. 21, the DC superhero film will be the realization of a "passion project" over 10 years in the making.
Article content
Johnson was on hand Tuesday to unveil a first look at the trailer for the upcoming action blockbuster and he told a small group of press on the Warner Bros. lot that the comic book film has the potential to upend the genre later this year.
"This has been a passion project of mine for years," Johnson, 50, said. "Many years ago, when you look at the mosaic of the DC Universe, about say almost mid-2000s, the superhero genre was just kicking off and finding its roots … but when you look at the comics and the mythology, Black Adam was such a cool character with a really cool, interesting backstory. And he is also blessed with these incredible superpowers that a lot of people didn't know when we were talking about (him)."
Knowing that DC had plans to launch an interconnected series of films featuring Superman, Batman, Wonder Woman, Aquaman and the Flash, Johnson said he saw potential for Black Adam to reshape the power balance of the DCEU, and zeroed in on playing the character that first appeared as an antagonist to Shazam in the 1940s.
"It's not hyperbole. He was blessed with these powers that are so unique and awesome. He has the ability to change the hierarchy of power in the DC Universe," Johnson said.
Article content
Black Adam is set to follow the titular antihero after he is freed from an earthly tomb, where he's been imprisoned for 5,000 years. In a series of action-packed clips, we see a vengeful warrior ready to unleash his unique brand of justice on the modern world. But it's a conflict that puts him directly in the path of the Justice Society of America, which features Pierce Brosnan as Doctor Fate, Aldis Hodge as Hawkman, Quintessa Swindell as Cyclone and Noah Centineo as Atom Smasher.
"Heroes don't kill," Hawkman warns Black Adam, to which he replies, "I do."
Directed by Johnson's Jungle Cruise helmer Jaume Collet-Serra, the filmmaker said he was drawn to the movie because he was intrigued by the idea of setting a genre picture in a world "where not everything is black and white."
Article content
"Our movie has an unusual structure for a superhero movie," Collet-Serra said. "The world is harsh and it needs something harsher."
Black Adam's brand of justice will put him at odds with other heroes we've seen so far in the DCEU.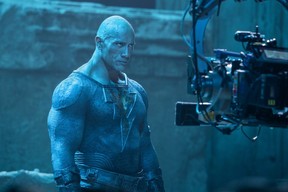 "It's not gory, but he kills people," the film's producer Hiram Garcia told the Sun after the trailer debut. "He's a hero who believes in doing what's right. You've heard the debate with Batman — how many people have died because the Joker keeps (getting out) of prison as opposed to if Batman just took care of him. It's a great debate. I think Black Adam is on the other side of that. He's the one saying, 'Why would I let this person go if they're going to kill more people? I'm going to resolve it myself.'"
Article content
"We definitely push the envelope," producer Beau Flynn added in a separate conversation. "It's important that we deliver for the fans of Black Adam and he can be rough and very violent — and we don't shy away from that in the film."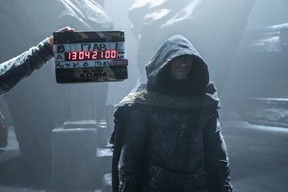 Black Adam is the 11th film in the DC Extended Universe and the role is one Johnson says he is ready to play long term.
"I'm 100% committed to not only Black Adam, but expanding the Black Adam universe and the DC universe. I'm an optimist from the word go. I will — we all will — work hard to make sure we're honouring the mythology, but also giving fans what they want. This is the beginning, hopefully, fingers crossed, of a long storytelling road where Black Adam is the anchoring jet fuel that will push the (DC) universe out."
Black Adam is set to be released in theatres on Oct. 21.