'You know, you never want to overstay your welcome at a party,' Oscar nominee says of possible return of Marvel hero
Article content
Andrew Garfield is having a very good year.
Article content
In the past 12 months, the actor has portrayed disgraced televangelist Jim Bakker in The Eyes of Tammy Faye, landed an Oscar nom for playing Jonathan Larson in Tick, Tick … Boom! and dusted off his web-shooters to return as everyone's favourite wall crawler in Spider-Man: No Way Home.
This week he'll be seen in the small-screen adaptation of Jon Krakauer's true-crime best-seller Under the Banner of Heaven. In the limited series, Garfield plays a Mormon cop investigating the brutal murder of Brenda Wright Lafferty (Daisy Edgar-Jones) and her baby girl by a group of fundamentalist followers of the Church of Jesus Christ of Latter-day Saints.
Following on the heels of his second Academy Award nod, the show is a dark turn for Garfield, who earned raves for his portrayal of Rent creator Larson in Tick, Tick … Boom! last winter.
Article content
But the part of Det. Jeb Pyre and the series' exploration of the violent consequences of unyielding faith were too irresistible to pass up.
As he uncovers more secrets behind the murder, the series charts Pyre's emotional struggle as he begins to grapple with his faith in the LDS religion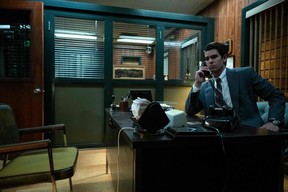 "I loved the book so much," Garfield, 38, says in a video call from Los Angeles. "When Jon Krakauer's book came out, I gobbled it up. Then I read the scripts from Dustin Lance Black, and it's such a hard book to adapt, but he did it so beautifully."
The seven-episode series also stars Sam Worthington, Wyatt Russell, Gil Birmingham and Rory Culkin.
Garfield says he was fascinated by how the story delves into the idea of people doing evil things and using their faith in God to justify their actions.
Article content
"It was a different kind of character for me," added Garfield, noting that he also liked the idea of being part of an ensemble.
But after working non-stop for the past two years, Garfield is ready to take a breather. Of course, he's aware Marvel fans are eager to know whether we'll see more of his Peter Parker, who — despite his many denials — returned in December's No Way Home, alongside current web-slinger Tom Holland and the O.G. wall-crawler Tobey Maguire.
Of a possible return, all he'll say is, "We'll see." Well, not all.
Below, Garfield spoke more about Under the Banner of Heaven, his true-crime obsession and tried to convince us why you might not want to see him back as Spidey.
The past 12 months have been huge for you. You had The Eyes of Tammy Faye, then Tick, Tick … Boom! Your Spider-Man came back. Now we have Under the Banner of Heaven. What made you say yes to this role?
Article content
"I wanted to work with Dustin Lance Black and I wanted to work with (producers) Ron Howard and Brian Grazer again. I love FX and Hulu — I love the work that they put out. It felt like a no-brainer … Dustin had such a personal connection to the material, being an ex-Morman himself. It was very heartfelt and personal in the way that it honoured Brenda Lafferty and her daughter Erica, who were murdered so brutally.
"But it was also different. I went from Jonathan Larson, who was this expressive, flamboyant theatre guy, to an internal, less-expressive Mormon cop from the '80s. That felt like an interesting place to try working some different acting muscles. So that was a great experience as well."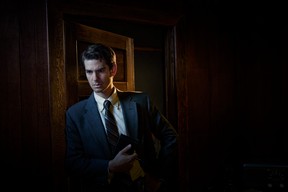 Are you a fan of true crime?
Article content
"Yeah. Who isn't? I know it's become a comfort thing for people during the pandemic. I don't know what the psychological insanity behind that is, but I have that too where I watch something that I find so compelling and it makes me feel connected to life in a way that maybe I haven't been for myself. I don't know what it is. I know a recent one of these that I watched was Murder Among the Mormons, which is a great documentary on Netflix that I thought was handled so perfectly."
So, I can't talk to my favourite Spider-Man and not ask any Spider-Man questions. Where's the costume?
"The costume is … I don't know where it is, but I think it's safe."
Would you come back to play Peter and Spider-Man again?
"If it felt right and I thought it was different and unique and was adding to the history of the character, then definitely. But it would have to be right. I know everyone would feel the same way. You know, you never want to overstay your welcome at a party. There's a part of me that thinks me and Tobey might have had that peak party moment where we got the crowd going and then we kind of made a 'French exit.' Everyone might be saying, 'Oh my God, we want them back,' and maybe you think you do, but maybe it's better to just leave on a high. So I don't know. I'm not sure. Life is long, but life is also short. You're welcome."
Under the Banner of Heaven debuts Wednesday, June 8, on Disney+
Andrew Garfield and Tobey Maguire sneaked into theatre to watch 'Spider-Man: No Way Home'

Andrew Garfield enjoyed lying about 'Spider-Man: No Way Home'

Andrew Garfield taking a break from Hollywood to 'be ordinary'