Aquaman star will 'absolutely' appeal judgement, Elaine Bredehoft says
Article content
Amber Heard's lawyer Elaine Bredehoft thinks Johnny Depp prevailed in his defamation lawsuit against her client because the actor's legal team was able to suppress "an enormous amount of evidence."
Article content
A Virginia jury ruled in Depp's favour this week, agreeing that Heard libelled him and ruined his career when she penned a 2018 op-ed in which she described herself as a survivor of domestic abuse. Depp was awarded $15 million.
At the same time, the seven-person jury also found that Depp, through his former lawyer Adam Waldman, defamed Heard in one of three counts in her countersuit and awarded her $2 million.
Bredehoft made a stop on the TODAY show Thursday morning and told Savannah Guthrie that the jury was "confused" by the case.
"A number of things were allowed in this court that should not have been allowed," she said, adding that Heard is "absolutely not" able to pay the damages to Depp.
Depp, 58, sued Heard, 36, for $50 million, accusing her of libelling him with the op-ed she wrote for the Washington Post in which she described herself as "a public figure representing domestic abuse." The three-time Oscar nominee claimed her article ruined his career and led to a series of cancelled film projects, including a sixth Pirates of the Caribbean instalment.
Heard hit back with her own $100 million counterclaim after the star's former lawyer called her allegations a hoax. Both accused one another of ruining their respective careers.
Depp was awarded $10 million in compensatory damages, due to lost work, and $5 million in punitive damages in his defamation suit. In its finding, the jury effectively said it didn't believe Heard's allegations that Depp had physically and emotionally abused her throughout their five-year relationship.
"It's a significant setback," Bredehoft said of the verdict. "It's a horrible message … Unless you pull out your phone and you video your spouse or your significant other beating you, effectively you won't be believed."
Article content
After the jury ruled in his favour, Depp issued a statement to his Instagram page: "Six years ago, my life, the life of my children, the lives of those closest to me, and also, the lives of the people who for many, many years have supported and believed in me were forever changed. All in the blink of an eye … And six years later, the jury gave me my life back. I am truly humbled."
Heard responded in a message shared with the Toronto Sun in which she said she was "heartbroken" by the judgement.
"I'm disappointed with what this verdict means for other women. It is a setback. It sets back the clock to a time when a woman who spoke up and spoke out could be publicly shamed and humiliated," she wrote.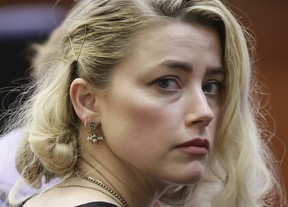 JUSTICE FOR JOHNNY DEPP: Jury finds Amber Heard guilty of defamation

Petition to drop Amber Heard from 'Aquaman 2' hits record high

Johnny Depp's rep calls Amber Heard's testimony 'performance of her life', actress accused of stealing from 'Talented Mr. Ripley'

Johnny Depp's lawyer Camille Vasquez casts star as 'romantic hero'
Article content
Many of the sordid details aired from inside the Virginia courtroom had already been heard during a 2020 trial when Depp sued a U.K. tabloid for calling him a "wife beater." The Edward Scissorhands star lost that case when the London High Court judge ruled that the allegations against Depp were "substantially true."
Shortly afterwards, Depp was scrubbed from the Harry Potter spinoff, Fantastic Beasts.
Article content
In mounting her defence, Heard claimed that Depp had physically and sexually assaulted her during their relationship, including in one instance with a bottle. The attacks, she said, left her with cuts and bruises.
During her tearful testimony, Heard painted a picture of an allegedly controlling and abusive Depp, who, as he was known to the world as one of Hollywood's biggest film stars, was a Dr. Jekyll-Mr. Hyde-like "monster" behind closed doors.
When he took the stand, Depp spoke about finding revenge poop in their marital bed and maintained that he never struck Heard. He also claimed that she was the one who abused him, multiple times.
"She has a need for violence. It erupts out of nowhere," Depp said.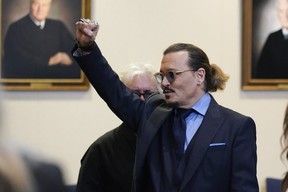 Bredehoft said Heard's legal team wasn't able to present any evidence from the 2020 case, in which a London High Court judge found court Depp had committed at least 12 acts of domestic violence.
Article content
"So what did Depp's team learn from this? Demonize Amber and suppress the evidence," Bredehoft said. "We had an enormous amount of evidence that was suppressed in this case that was in the U.K. case. In the U.K. case when it came in, Amber won and Mr. Depp lost."
Bredehoft said that lawyers were able to strike important medical records from being entered as evidence.
"They were able to suppress the medical records, which were very, very significant because they showed a pattern going all the way back to 2012 of Amber reporting this to her therapist," she told Guthrie.
During an appearance on CBS Mornings, Bredehoft said a vicious social media campaign aimed at discrediting Heard's allegations also likely played a role in their decision.
Article content
"Not only did we have a group of Depp fans that were there every day – 100 were allowed in, they lined up at one in the morning for their wristbands to be in that courtroom – but we had everything on camera, and we had tremendous social media that was very, very, very much against Amber."
Bredehoft said Heard plans to appeal the verdict and "has some excellent grounds for it."
But to appeal, Heard will have to post a bond for $10.35 million, attorney Sandra Spurgeon told CBS MoneyWatch. As part of her countersuit against Depp, Heard claimed that his abuse allegations had cost her acting jobs and almost led to her being removed as Queen Mera in next year's Aquaman sequel.
"For an individual who doesn't have the ability to pay the judgement and no ability to post the bond, then there is a real issue if the winning party intends to execute the judgement," she said.
Article content
Meanwhile, Depp will now attempt to resurrect his stalled acting career. Last month, fans rejoiced when his name was listed among those set to appear in Beetlejuice 2.
"I think Johnny Depp is going to work again. He's going to get some big project," Clayton Davis, senior awards editor at Variety, told Reuters.
In 1999, Robert Downey Jr. was sent to prison for violating probation from a past drug charge. Less than a decade later, he helped launch the Marvel Cinematic Universe as Iron Man. Likewise, Mel Gibson's career was stalled by a string of abusive incidents and anti-Semitic outbursts, but he eventually returned in front of the camera and is set to direct a fifth Lethal Weapon movie.
"We have a culture that allows these people to work again," Davis said.