In a revealing interview with Savannah Guthrie, actress maintains she 'always told the truth' during defamation trial
Article content
Amber Heard says her defamation case against her ex-husband Johnny Depp was the most "humiliating and horrible thing I've ever been through."
Article content
The actress sat down with the TODAY show's Savannah Guthrie to give her first interview since a seven-person jury in Virginia found her guilty of defaming her former spouse after she wrote a 2018 op-ed for the Washington Post in which she declared she was a survivor of domestic abuse.
During her chat, the Aquaman star conceded that her behaviour during her "toxic" five-year relationship with Depp was something she was embarrassed the whole world got to see.
"I did do and say horrible, regrettable things throughout my relationship. I behaved in horrible, almost unrecognizable to myself ways," Heard said, adding: "We were awful to each other … This is the most humiliating and horrible thing I've ever been through."
Article content
Depp, 58, sued Heard, 36, for $50 million, accusing her of libelling him with the article. The three-time Oscar nominee claimed her opinion piece ruined his career and led to a series of cancelled film projects, including a sixth Pirates of the Caribbean feature.
Heard hit back with her own $100 million counterclaim after the star's former lawyer Adam Waldman called her allegations a hoax. Both accused one another of ruining their respective careers.
Last month, the jury sided with Depp, finding there was "clear and convincing evidence" that Heard had defamed him. He was awarded $15 million (an amount that was reduced to $10.4 million). But Heard also had a small victory of her own when it found that she too was also defamed through statements Waldman made to the Daily Mail.
Article content
During her testimony, Heard painted a picture of an allegedly controlling and abusive Depp, who, as he was known to the world as one of Hollywood's biggest film stars, was a Dr. Jekyll-Mr. Hyde-like "monster" behind closed doors.
On a 2014 flight from Boston to Los Angeles, Heard alleged that Depp kicked her from behind in a jealous rage over intimate scenes she had filmed with actor James Franco.
"No one did anything. I felt so embarrassed that he could kick me to the ground and no one would do anything about it," she said tearfully.
Another time, Heard described Depp's tantrum when he accused her of flirting with someone at the 2014 Met Gala in New York. In their hotel room after the event, the pair got into a physical altercation.
Article content
"Johnny shoved me and grabbed me by my collarbone. I think at that point I shoved him back. I remember he threw a bottle at me, it missed me, but it broke the chandelier," she said.
"He shoved me down on the sofa and at some point, he whacked me in the face. I think that was the first time (where I thought), 'Is this a broken nose?' I remember my nose being swollen, discoloured and red.
Elsewhere in her testimony, Heard spoke about allegations that Depp abused her with a liquor bottle during an explosive fight in 2015 and threatened to "f—ing kill me."
"I didn't know if the bottle he had inside me was broken," she said. "I couldn't feel it. I couldn't feel anything."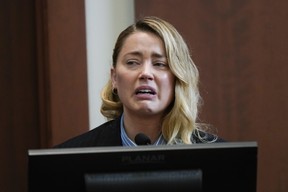 But Depp's legal team was able to cast doubt on the veracity of Heard's testimony.
Article content
During one viral moment, Depp's attorney Camille Vasquez showed the jury a knife Heard had given Depp for his birthday that she had engraved with the words "till death" in Spanish. "That's the knife you gave to the man who was hitting you? … This is the knife you gave to the man who would get drunk and violent with you?" Vasquez asked.
Article content
Vasquez was able to further discredit Heard when she brought up the couple's 2015 fight in Australia during which the actress alleged that Depp sexually assaulted her with a bottle and repeatedly struck her, pointing out "there is not a single medical record" to back up her claims.
The 37-year-old lawyer expertly picked apart Heard's accusations of violence and used photographic evidence from various red carpet premieres and photo shoots to prove that after those alleged incidents, she showed no signs of visible injuries.
Vasquez also got Heard to admit that she hadn't donated her $7 million divorce settlement to the Children's Hospital Los Angeles and the American Civil Liberties Union — as she had promised to do.
Article content
But during her sit down with Guthrie on Tuesday morning, Heard said she stands by her accusations against Depp.
"To my dying day, I'll stand by every word of my testimony," she said. "I made a lot of mistakes, but I've always told the truth."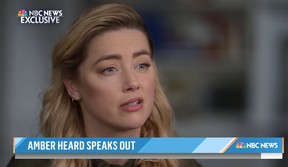 Heard also spoke about Depp's overzealous fanbase, who hounded her in person and online with hashtags like #amberturd and #justiceforjohnnydepp generating billions of views on TikTok.
"Every single day I passed from three, four, sometimes six blocks — city blocks lined with people holding signs saying, "Burn the witch," "Death to Amber." After three and a half weeks, I took the stand and saw a courtroom packed full of Captain Jack Sparrow fans who were vocal, energized," she said.
Article content
As for Depp's claims that she had put on the "performance of a lifetime" during her tearful testimony, Heard shot back, "I'm the performer? I had listened to weeks of testimony insinuating that, or saying quite directly, that I'm a terrible actress. So I'm a bit confused how I could be both."
'Broke' Amber Heard can't pay Johnny Depp after losing defamation trial

JUSTICE FOR JOHNNY DEPP: Jury finds Amber Heard guilty of defamation

Petition to drop Amber Heard from 'Aquaman 2' hits record high

Amber Heard recoils as she and Johnny Depp lock eyes in viral clip
In a preview of her interview with Guthrie that aired Monday, Heard also spoke about her unfair treatment on social media.
"Even somebody who is sure I am deserving of all this hate and vitriol, even if you think that I am lying, you still couldn't look me in the eye and tell me that you think on social media there's been a fair representation," she said.
Article content
In a statement sent to the Toronto Sun on Monday, a spokesperson for Heard addressed why she decided to take part in a televised interview.
"Johnny Depp's legal team blanketed the media for days after the verdict with numerous statements and interviews on television, and Depp himself did the same on social media," the spokesperson said. "Ms. Heard simply intended to respond to what they aggressively did last week; she did so by expressing her thoughts and feelings, much of which she was not allowed to do on the witness stand."
Part two of Heard's chat with Guthrie airs Wednesday morning on the TODAY show and a special will screen this Friday on NBC's Dateline.